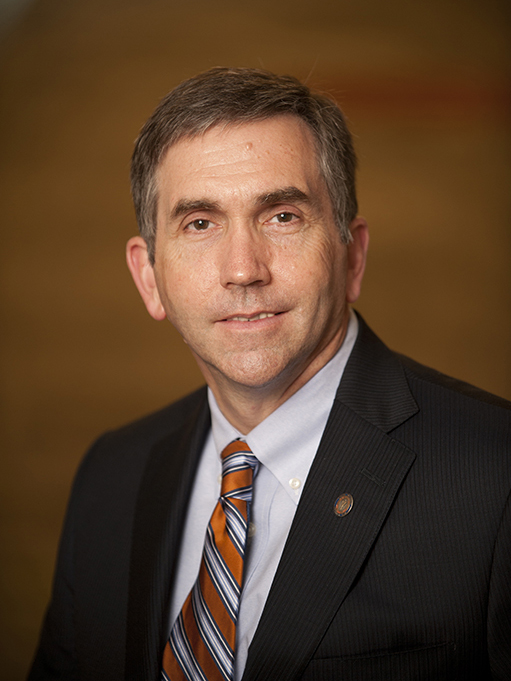 On May 3, 2016, the Auburn University College of Veterinary Medicine conferred its 6,656th Doctor of Veterinary Medicine degree since its establishment as a college in 1907.  Among those graduates was the 1,638th student to benefit from the Regional Contract Program of the Southern Regional Education Board (SREB). Auburn has enjoyed 65 consecutive years of educational partnerships with southeastern states through the SREB, including Florida, Mississippi, Tennessee, Kentucky, Louisiana, North Carolina and Virginia. Today, Auburn University proudly serves as the principal educator of veterinarians in Alabama and Kentucky.
At the commencement ceremony for the Class of 2016, we celebrated this 65-year milestone with members of Auburn's Class of 1955, including Kentucky veterinarians, Dr. Abram Allen and Dr. Steele Mattingly, and the fifth dean of the College of Veterinary Medicine, Dr. John Thomas Vaughan. Special guest speakers included the Commissioners of Agriculture from Alabama and Kentucky, The Honorable John McMillan and The Honorable Ryan Quarles, respectively, who spoke on the benefits of inter-state collaboration on a thriving agricultural industry and robust markets for agricultural products.
On the heels of the national "Fix the Debt…Our Future, Our Responsibility" symposium in Michigan, state-collaboration simply makes sense as a strategy to curb the high cost of veterinary medical education. Students who attend Auburn's College of Veterinary Medicine through the SREB Regional Contract Program pay some of the lowest tuition rates in the country and graduate with significantly lower student debt than the national average while obtaining a veterinary education renowned for its high quality and its preparation of leaders in the veterinary profession.
It's interesting to note that eight graduates of the Class of 2016 were hooded by direct relatives (parents or grandparents) who are also veterinarians. The ties that bind families together in veterinary medicine also serve as the foundations for good business, whether it be veterinary practice or veterinary medical education. Those traits could include mutual appreciation, effective communications, a commitment to unity, and shared, deeply held convictions. These principles have served Auburn well in its longstanding relationship with Kentucky and with a host of other partners (preceptors, referring veterinarians, veterinary practitioners, non-profits, corporations, and other colleges) who enrich our program and continually refine the identity of an Auburn Veterinarian.
Thank you for your interest in the Auburn University College of Veterinary Medicine.
Sincerely,
Calvin M. Johnson, DVM, PhD
AU CVM Class of 1986
Dean