From scientific breeding and puppy development to training, evaluation and research, Canine Performance Sciences has one goal: creating the ultimate detection dog to defend the nation.
For 25 years, Auburn University's College of Veterinary Medicine has had a canine detection program, buildi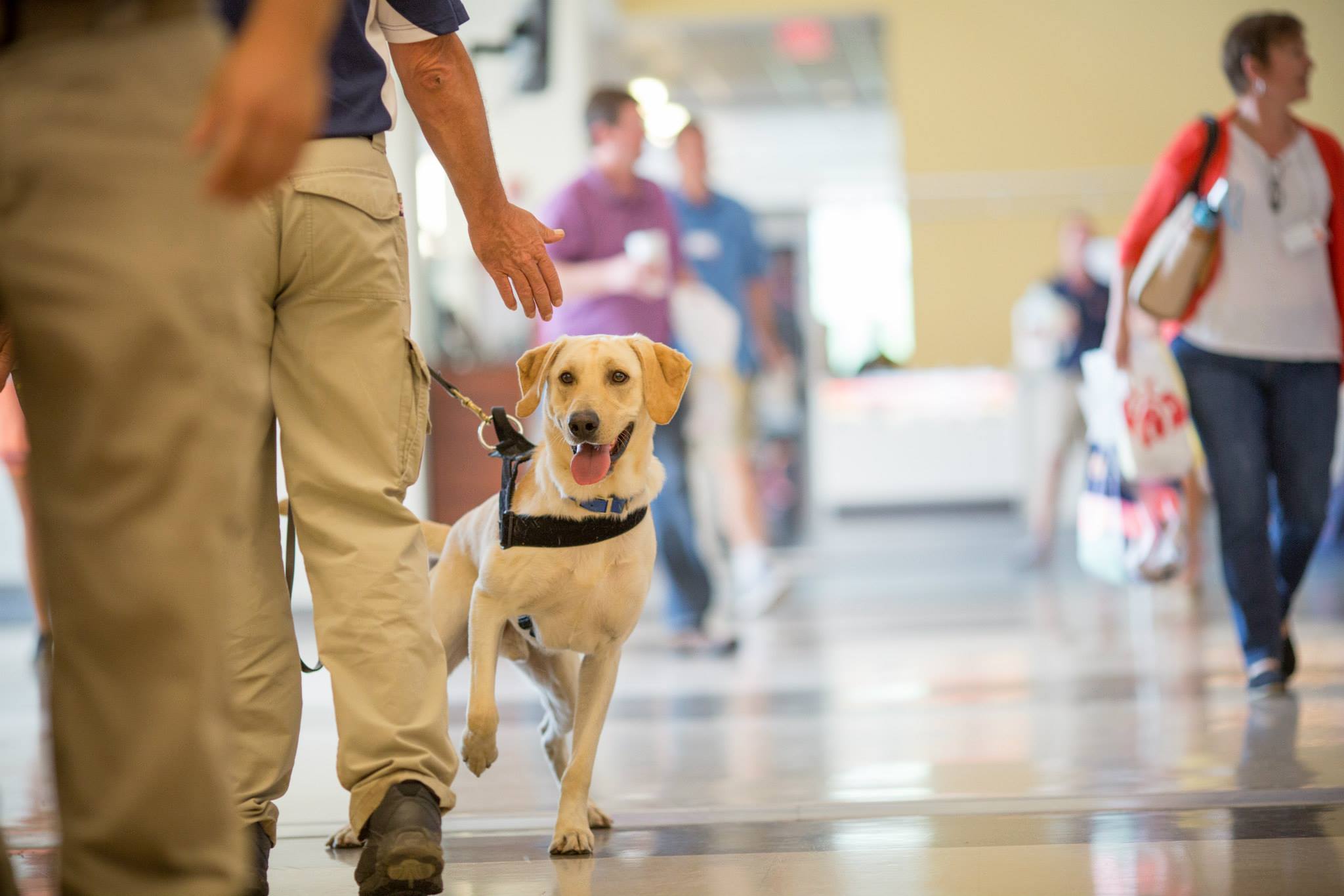 ng on the science and research of the program and growing it into today's internationally-respected leader in the research and training of working dogs. It is one of only two such programs at a veterinary college in the United States.
Using the patented Vapor Wake technology and research designed to learn how a dog's nose and brain work together to detect specific targets, CPS researchers and training staff are making advancements to protect against explosive, narcotic, biological and ecological threats.
The key to the mission of CPS is centered on understanding the dog as a technology. "Dogs are an extraordinary mobile detection technology and are more sensitive than our most sophisticated machines," said Craig Angle, co-director of CPS. "We look at the dog itself as the hardware, what we have to do is figure out how to program its software so to speak, we look for ways to program the dogs psychology, physiology, and genetics to become the most superior mobile detection system on the planet."
The primary breed in the CPS program is the Labrador retriever, known for their friendly, task-oriented demeanor.
Key to the mission of the center is the dog itself and that starts with a scientifically-sound breeding program. They identify the most elite detection dogs and pair them using a long list of checks and balances. Once the puppies are weaned, staff begin initial work to train them to be working dogs, advancing it until the dogs are one year old. At that time, final decisions are made on what role each dog will play – breeding, research, detection work or the elite Vapor Wake dog.
 CPS has expanded its breeding program and this summer, eight females whelped 42 puppies. Those puppies, born between May and July, are in the early phases of training to become advanced working dogs.
Theriogenology
The science and technology of breeding superior canines begins in the Theriogenology Service at the Wilford and Kate Bailey Small Animal Teaching Hospital where veterinary faculty ensure the desired selections are being made.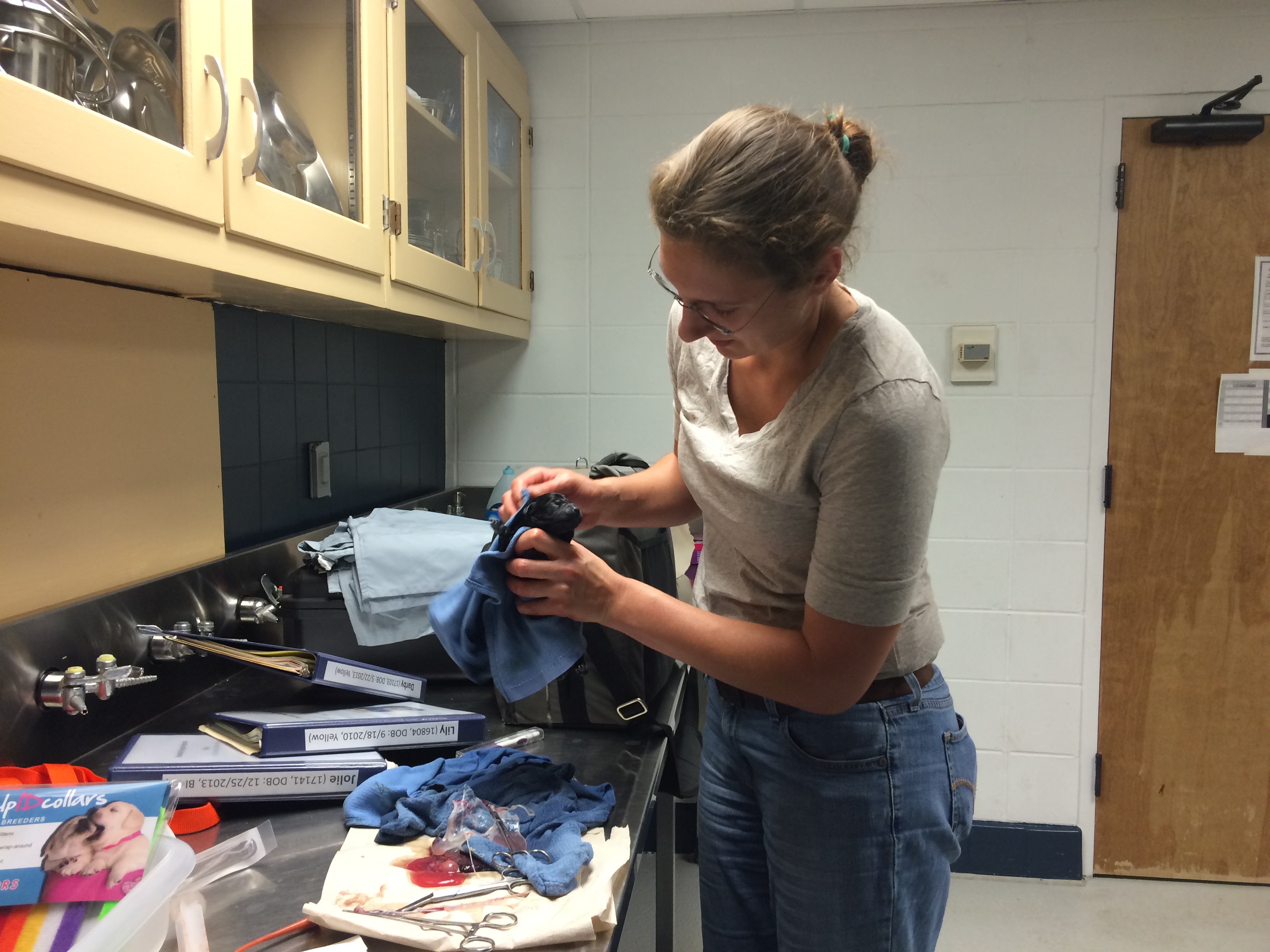 "The technology in the past few years has advanced to the stage that we are able to get some nice litters from superior males," said Dr. Robyn Wilborn, an associate professor who specializes in animal reproduction.
"What we do in our service includes all phases of reproductive care," said Dr. Natalie Fraser, a resident in the Theriogenology Service who oversees the whelping of CPS dogs.
"For female breeding management, we begin care as soon as she goes into heat, and afterwards for the mom and her puppies," she said. "On the male side, we take care of any male reproductive issues, routine breeding management, infertility problems, and we can also freeze semen to help preserve genetics for future generations.
"Theriogenology can be used to improve the genetic health of dogs, mostly through selective breeding, so it's very important that we help produce healthy, sound dogs for the betterment of our detection program, and also that we can produce puppies that go on to have very long, productive working lives," said Fraser, who holds one of three resident positions funded nationally by the AKC and Theriogenology Foundation.
"A purpose-bred dog is very important for this program. They have a very high likelihood of going on to do the jobs that we've intended for them to do."
Puppy Development
For their first few months, the pups are introduced to sounds, sights and interaction, with the goal of ensuring the dog will not lose focus on its task. From as early as six weeks, evaluations begin, identifying if the dog has the natural talent to become an elite working dog.
"From zero to six weeks, they go through initial socialization, introducing them to people and toys," said Pam Haney, who oversees the puppy development program for CPS. "They are exposed to a lot of different stimuli so they do not become fearful to noise or light."
At six weeks, the socialization is expanded, and volunteers, Auburn University students and community members assist in the puppy's training.  "We focus on each canine's early months because it is a critical time, and the training lays the foundation for their future," Haney said.
Training and Evaluation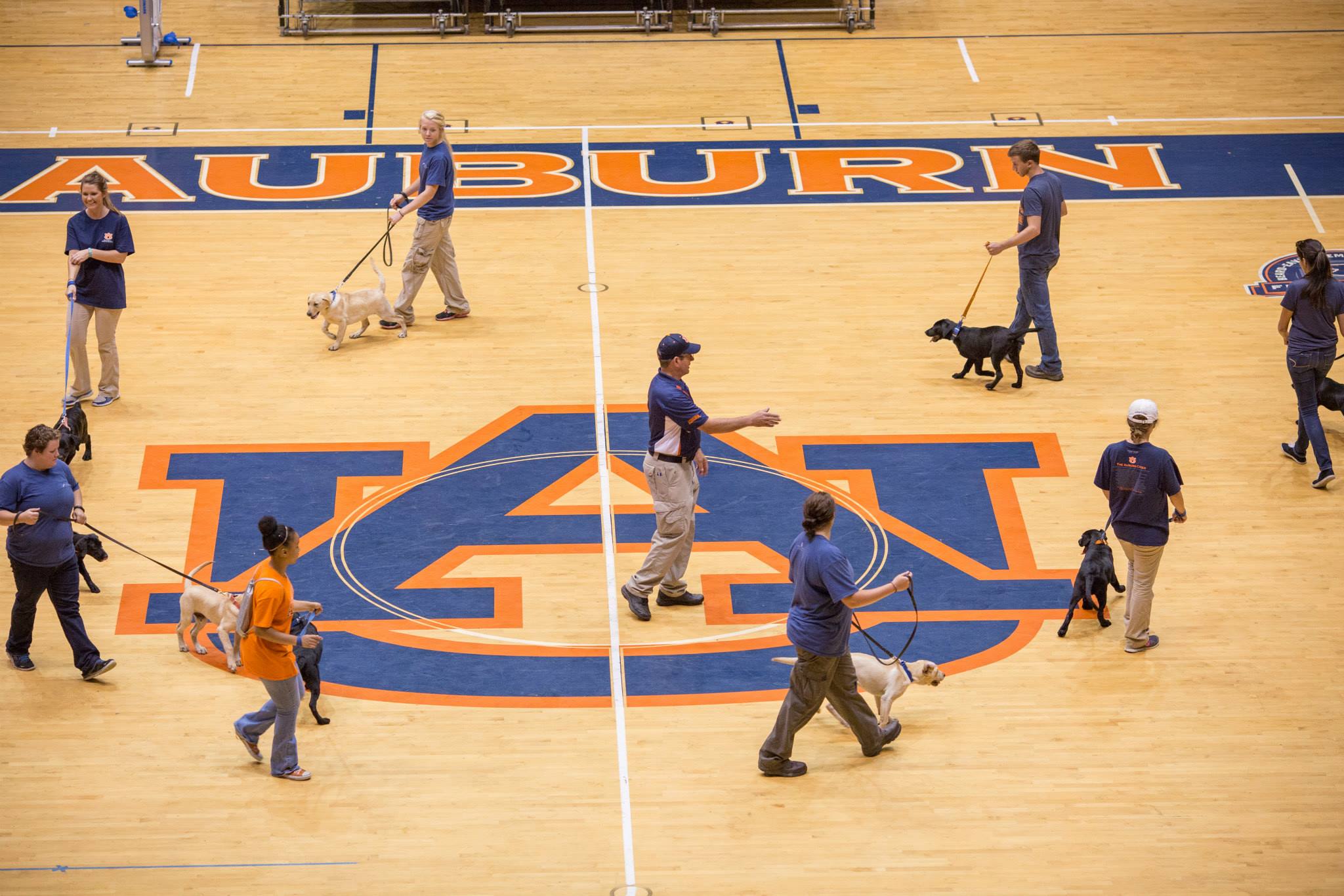 CPS K9 instructors Terry Fisher and Bart Rogers work with the pups, evaluating their interest in reward, hunting ability and train ability. They look for a dog who has:
High reward – A dog that is willing to hunt/search for long periods of time for multiple rewards
High hunt – A dog that activity investigates, in buildings, fields, and is stimulated to investigate with its nose
High trainability – A dog that has the ability to learn any new task quickly
Highly motivated – A dog that is not discouraged easily, does not give up, and enjoys the job
Attentive – A dog that is not easily distracted from tasks, including retrieving, hunting and searching
Environmentally sound – A dog that is able to adjust to a variety of highly stimulated environments: a mall, construction zone, schools and urban areas, and multiple surfaces such as vibrating/moving floors like those in mobile homes or airports.
Prison Program
CPS partners with two private prison systems to take puppies at six months old for about four-to-five months to continue the dog's training and conditioning exercises to prepare them for detection work.
Jeanne Brock, who manages the prison program, has extensive experience training working dogs. "As the puppy grows, each age group – 0-6 weeks, 6 weeks to 6 months, 6 to 10 months, there are optimal things that puppies need to learn to be detection dogs.
"While with the prison system, trained prisoners and staff are conducting developmental exercises, continuing searches, and other steps so when they return to CPS, where Auburn trainers continue to advance their education."
Brock says there are multiple benefits to the inmates and dogs while in the prison program. "The dogs get the chance to be one-on-one with a handler, living with people around the clock doing developmental exercises that continue their learning.
"Inmates also benefit. For many it's the first time the prisoner has been responsible for something," she added.
Prisoners selected to participate in the program must complete a continuing education course with CE credits offered in the prison. "Inmates learn basic skills with dogs that is broad – more than training, care, handling, it includes the theory of dog training and conditioning."
Advanced Training and Research
Once the dogs are returned to Auburn, their training expands and Fisher and Rogers test each dog's ability to perform – scent detection, and the dog's ability to work for reward.
CPS has made ground-breaking and industry-changing scientific advancements in canine performance, and some Auburn-trained dogs have been credited with countering explosive, narcotic, biological, and ecological threats.
The research technologies created by CPS co-directors Paul Waggoner and Craig Angle have been proven effective and have been utilized in government and private industries around the world.
"Currently we are pushing the envelope in two areas of our research, we are trying to venture into the dogs brain and understand how it processes information and we are teaching dogs to identify certain biological targets like viruses and cancer," Angle said.  "These are exiting new areas of research for our program, understanding how dogs process information will be key in moving the canine technology forward.
"Also, we have shown that dogs are cable of detecting viral infections which opens new frontiers to their operational capabilities. We have focused on expanding our knowledge base and have brought in a diverse group of collaborators in fields such as neuroscience, engineering, pathobiology, analytical chemistry, and oncology. These collaborators have helped us reach new frontiers in canine performance."
One current research project is a better understanding how a dog's nose and brain work together to detect odors and interpret human emotions. CPS researchers have teamed with faculty in the Samuel Ginn College of Engineering to explore the nose-brain relationship with functional MRI (fMRI).
"Auburn has a unique situation in that we have a very sophisticated MRI research center coupled with our program researching detection dogs and a College of Veterinary Medicine with a Department of Anatomy, Physiology and Pharmacology that has a strong focus and tradition looking at the fundamental aspects of olfaction," Waggoner said.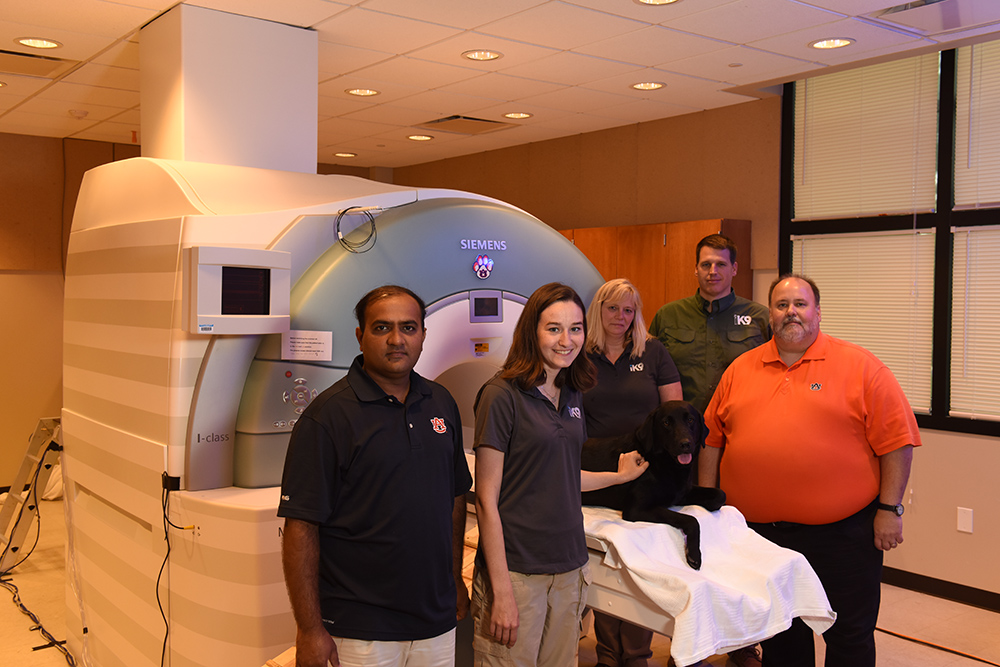 "There has been a great deal of work in olfaction related to how receptors respond to odor and information and some work in terms of how the brain may react to that information,"  he added.
"But with functional MRI, we're able to put together total cascade of events, from initial impact of receptors of that odorant to how the brain processes that information. We use that information to better understand how odor is perceived by the dog and thereby use it to tailor training programs and the types of odorants we use to train dogs to maximize the performance of the dog.
"We're utilizing a collaboration between the Colleges of Veterinary Medicine, Engineering and our program to investigate the processing of odor information by dogs. With the functional MRI, we are able to examine how dogs sense odor information, and how they process and categorize that information. We're really the first to ever do this."
In another research initiative, Angle and Dr. Thomas Passler, an associate professor of food animal in the College of Veterinary Medicine, are investigating the ability of dogs to detect viral infections and cancer. "We have successfully trained two dogs to detect a virus in cattle and to discriminate that virus from other cattle viruses.  Dr. Passler, who is an expert in bovine viruses, has been instrumental in educating us about the viral targets so that we can understand how to teach the dogs how to detect and discriminate them".
Dogs could be used in the future as a mobile pathogen detection system to detect pathogens on the front lines in humans, animals, and plants, Angle added. Currently there are no technologies that can detect pathogens in real time in front line operational environments.
The CPS has also teamed with the University of Arkansas Medical School to evaluate the ability of dogs to detect thyroid cancer.  A large number of patients present with thyroid pathologies and ultimately surgically remove their thyroid glands only to find out that it was not necessary.  Currently there are no detection technologies that can detect thyroid cancer and a small percentage of thyroids actually need to be removed. "We are currently working with surgeons and scientists at the University of Arkansas to utilize the dog as a noninvasive sampling method for thyroid cancer detection," Angle said. "If successful, dogs could one day be utilized to help patients make the decision to surgically remove the thyroid and begin a life time of thyroid replacement therapy."