Annual Conference & J.T. Vaughan Equine Conference
Annual Conference 2018 is moving to FALL! Mark your calendar for Oct. 18-21, 2018 for next year's Annual Conference.
Class reunions will also move to the fall, and will be held for the members of the classes from 1968, 1973, 1978, 1983, 1988, 1993, 1998, 2003, 2008, and 2013.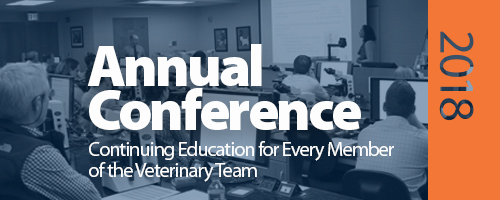 Sponsor and Exhibitor Information and Registration
The Auburn University College of Veterinary Medicine invites you to join us in celebrating our 111th year of providing continuing education and fellowship for veterinary practitioners, professionals, and students at our 2018 Annual Conference and J.T. Vaughan Equine Conference. We are offering several sponsorship and exhibitor options for your company. This year's program, "Healthy Practices, Healthy Patients," will offer a variety of professional continuing education in various disciplines of small animal, farm animal, and equine veterinary education. We will also provide continuing education courses designed specifically for veterinary technicians.
The conference will be held at The Hotel at Auburn University and Dixon Conference Center Oct. 18-21, 2018. A block of rooms has been reserved at the hotel for conference attendees. Reservations may be made by contacting the hotel directly at (800) 228-2876. Mention the veterinary annual conference to receive a group rate.
Read the 2018 Annual Conference Prospectus.