The Auburn University College of Veterinary Medicine is dedicated to providing high quality educational programming in animal care and technology to the veterinary and animal health community. Programs are offered for veterinarians, veterinary technicians, breeders, owners and trainers, ranging in a wide variety of topics.
Summer Continuing Education Series for Referring DVMs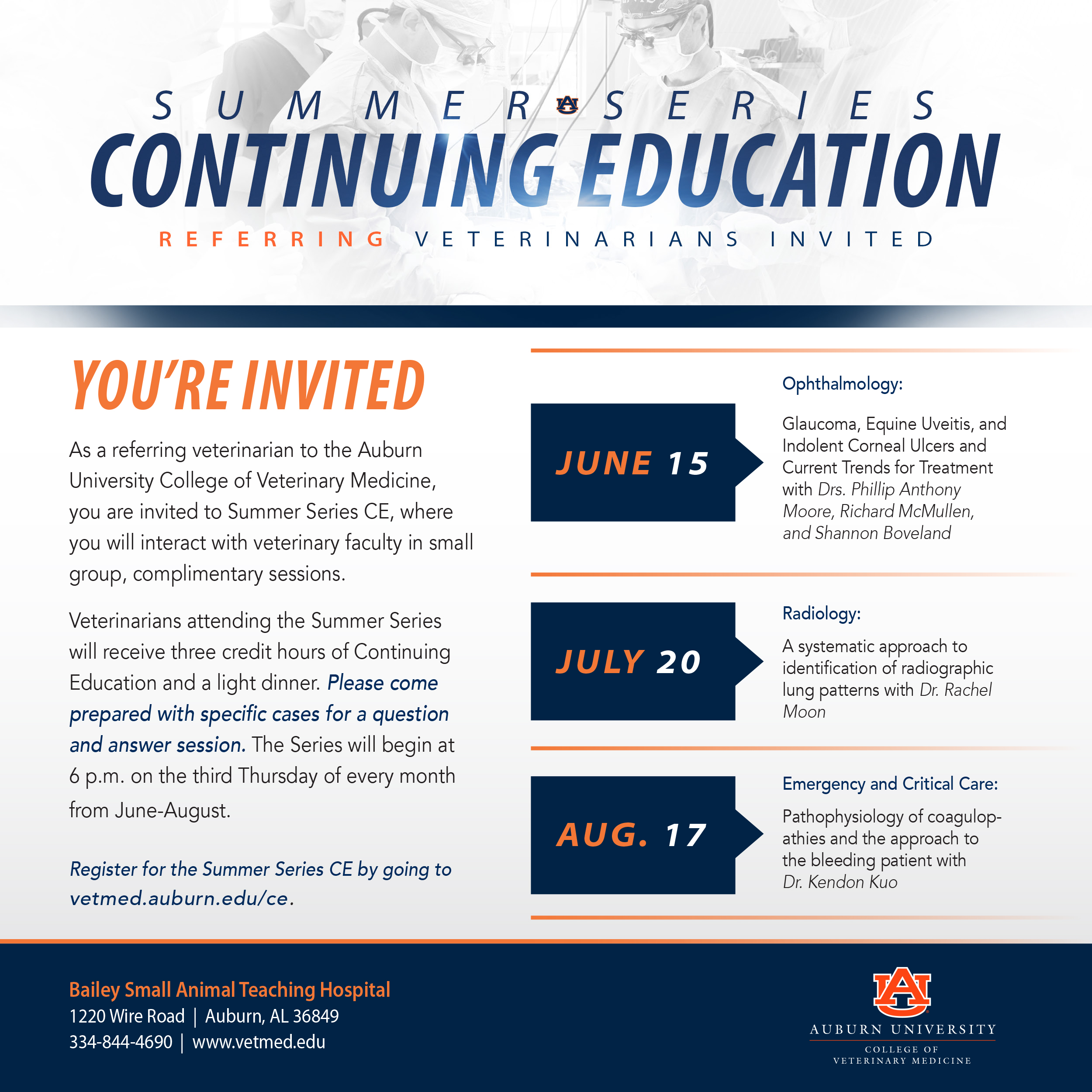 The Auburn University College of Veterinary Medicine will host a Summer Continuing Education Series for Referring DVMs. Courses will take place in the Veterinary Education Center (VEC) on the College of Veterinary Medicine campus. Courses begin at 6 p.m. Three hours of continuing education credit will be available. There is no charge for these courses.
June 15– "Glaucoma, Equine Uveitis, and Indolent Corneal Ulcers and Current Trends for Treatment" with Drs. Anthony Moore,  Richard McMullen, and Shannon Boveland
July 20– "A Systematic Approach to Identification of Radiographic Lung Patterns" with Dr. Rachel Moon
August 17– "Pathophysiology of Coagulopathies and the Approach to the Bleeding Patient" with Dr. Kendon Kuo
Online Pharmacy Law/Pharmacology Courses
The Auburn University College of Veterinary Medicine offers on-line Pharmacy Webinar Courses which can be taken at your convenience. The courses meet the two-hour pharmacy requirement set  by the Alabama State Board of Veterinary Medical Examiners. These courses are available 24/7 as needed; participants have to take and pass a quiz to receive credit for the continuing education course. Continuing education certificates will be available for download immediately upon completion of course.
Register for the Pharmacy Law/Pharmacology Courses. 
Additional Opportunities for Veterinarians:
Practitioner Sabbaticals
The Practitioner Sabbatical Program at the Auburn University College of Veterinary medicine is a unique program offered to veterinarians interested  in continuing education in a particular specialty area in an effort to develop improved skills and knowledge.
The program offers facilities of the college as well as one-on-one work with our faculty and staff. Pick an area of interest and contact the Office of Continuing Education; we will assist you in developing a program for your specific interests.
The fee is on a sliding scale, $125-$200 per day for up to 5 days of intensive, hands-on experience with a faculty mentor and college staff devoting their time and expertise to your individualized program. Some programs will be more expensive due to intensity and instructional time. An application to the Practitioner Sabbatical Program must be submitted at least 45 days prior to your proposed starting date. There is a registration fee of $25.00.