I can think of no other veterinarian who profoundly influenced through his professional lifetime, the health and wellbeing of this whole region of this country, than Charles Allen Cary.
Dr. Calvin W. Schwabe '54
Father of Veterinary Epidemiology
Professor Emeritus of Veterinary Epidemiology
University of California-Davis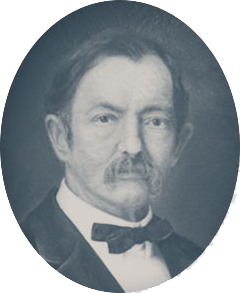 Charles Allen Carry
One Health a Proud Tradition at Auburn College of Veterinary Medicine
Fittingly, it was an Auburn veterinary alumnus — Calvin W. Schwabe '54, legendary epidemiologist and professor emeritus at the University of California-Davis — who in the 1980s first popularized the term "One Health," referring to an approach recognizing that the health of people is closely connected to the health of animals and our shared environment.
Fittingly, because the One Health concept has been at the core of everything we do in the Auburn University College of Veterinary Medicine, from the very beginnings of the program until the present. Dr. Charles Allen Cary, who became Auburn's first veterinary professor in 1892, was one of the earliest pioneers of the One Health idea, conducting veterinary clinics for local farmers and lobbying the city of Montgomery to begin meat and dairy testing. As a result, the city later became the first in the nation to implement food supply safety initiatives through food inspections.
Dr. Cary continued to be an early champion of what would become today's One Health concept throughout his long and distinguished career. His Tuberculosis Eradication Program among Alabama dairy herds proved effective after years of intense, state-wide effort during which he and his team tested more than 60,000 dairy cows. As a result of combined API and USDA efforts led by Dr. Cary, Alabama became one of the first states in the nation to implement the use of Tuberculin to detect TB in cattle, enforce public meat and milk inspection and incorporate the pasteurization process.
Today, Dr. Cary's emphasis on the importance of the One Health idea continues to be an Auburn veterinary medicine core value. Recent examples abound, from Auburn clinicians participating in a revolutionary National Institutes of Health-funded clinical trial consortium to evaluate immunotherapy for both human and canine glioma brain tumors to Scott-Ritchey Research Center scientists pioneering a potential cure for GM1 gangliosidosis, a rare, neurodegenerative disease found in animals and humans.
For well more than a century now, Auburn veterinary medicine faculty and researchers have improved the health and safety of both humans and animals across Alabama, the U.S. and the world. It is a proud tradition we are totally committed to continuing, both today and far into the future.
2022
Auburn Vet Med awarded the university's single largest research contract ever, a 5-year, $24 million award by the U.S. Department of Homeland Security Science and Technology Directorate (DHS S&T) to advance detection canine sciences and enhance operational threat detection capabilities through establishment of the Detection Canine Sciences, Innovation, Technology and Education (DCSITE) program.
2021
Bald eagle Spirit retires from pregame stadium flights as bald eagle Independence begins her stadium flight career.
Auburn Vet Med enters into a five-year partnership with the USDA-Agricultural Research Service to establish the new Animal Health and Agro-/Bio-Defense (AHAD) program to serve as a southern regional node in the Coalition for Epi Response Engagement Science (CERES).
NIH grant led by Auburn Vet Med focuses on recruiting, admitting and supporting highly qualified doctoral students from underrepresented groups.
First-ever Foundation of Dentistry grant awarded to Auburn clinical lecturer Dr. Erin Chamorro to grow veterinary dentistry teaching in the college.
2020
For the first time in history, students transition to remote learning in the spring of 2020 due to the quickly spreading COVID-19 pandemic.
Vet Med researchers join worldwide efforts to identify existing or novel therapeutics and technologies to combat SARS-CoV-2.
Dr. Vitaly Vodyanoy-led research team discovers naturally occurring metal (zinc) nanoparticles, which could help restore animal or human sense of smell.
2019
Auburn Veterinary Specialists Gulf Shores established as part of new Auburn University Educational Complex in Gulf Shores, Alabama.
College of Veterinary Medicine ranked first in known Auburn disciplines through a national survey of respondents with no known Auburn University connection.
Patent awarded for extended-release, novel topical formulation of approved drug to treat trichomoniasis — an infectious reproductive disease in cattle.
Next-generation Varian Edge linear accelerator installed for non-invasive stereotactic radiation therapy to accurately target tumors and other abnormalities without an incision or the need for recovery in a hospital setting — the only one in the U.S. for veterinary use.
2018
Auburn's Veterinary Teaching Hospitals ranked first by referring veterinarians among 26 veterinary teaching hospitals in the U.S.
SAVMA bovine palpation team wins national championship, marking its 11th national title since 2000 — the most of any veterinary medical program in the U.S.
Auburn clinicians participate in revolutionary NIH-funded clinical trial consortium to evaluate immunotherapy for both human and canine glioma brain tumors.
First cardiology resident, Dr. Danny Newhard, awarded prestigious ACVIM Resident Research Award for groundbreaking research in clinical trials of the human drug Entresto as a heart disease treatment for dogs.
AKC Canine Health Foundation and Theriogenology Foundation fund third theriogenology residency at Auburn — one of only two in the U.S.
2017
Four new research faculty hired under the university's strategic cluster hiring initiative to advance research and scholarship through Pharmaceutical Engineering, Omics and Informatics.
Farm Animal Ambulatory Service launched to aid farmers in central Alabama and west Georgia.
Kentucky Rural Grant Program established through USDA grant funds to support veterinary medicine in rural Kentucky.
Bailey Small Animal Hospital earns ACVECC designation as a Veterinary Trauma Center — the only recognized 24/7 veterinary trauma center in the Southeast.
Online Reproductive Science and Health course expands reach to China.
AURIC research team synthesizes longest virus ever created in breakthrough cancer treatment with cutting-edge recombinant DNA techniques.
Auburn DVM student tuition cost and education debt ranked among lowest in the nation.
Auburn's Veterinary Teaching Hospital ranked among the top five in the U.S. for client satisfaction.
2016
Custom standing CT installed to aid in more accurate diagnosis and treatment of injuries and diseases of the large animal head and neck — one of the few in veterinary use nationwide.
Human pacemaker successfully placed in dog patient by Auburn cardiologist Dr. SeungWoo Jung, helping advance the field of veterinary cardiology.
In collaboration with the U.S. Department of Energy's National Renewable Energy Laboratory in Colorado, Southeastern Raptor Center resident eagles test new technology developed to keep birds of prey safe from wind turbines.
Small Animal Teaching Hospital becomes one of only a handful of veterinary hospitals in the country performing stereotactic surgery to treat animals with brain disease.
Small Animal Emergency and Critical Care service becomes one of only 18 rated as Level I nationwide by the Veterinary Emergency and Critical Care Society.
Project ALIAS founded, offering a state-of-the-art optimal imaging laboratory allowing researchers better understanding and treatment development for progressive diseases.
2015
Small Animal Teaching Hospital services expand to include avian and exotic species.
DVM student exchange program established with prestigious University of Veterinary Medicine in Hannover, Germany.
Board of Trustees approves construction of new state-of-the-art Food Animal Research Facility.
Shelter Medicine Program launched in partnership with the Greater Birmingham Humane Society, providing DVM students with hands-on experience in spay/neuter surgical procedures and companion animal wellness exams.
Patent awarded for VaporWake detector dog technology developed by Canine Performance Sciences researchers.
2014
Wilford and Kate Bailey Small Animal Teaching Hospital dedicated as the nation's largest and most advanced animal healthcare and clinical education facility.
Faculty in the Scott-Ritchey Research Center in final development stages of a potential breakthrough treatment for GM1, a rare fatal disease in both animals and humans.
American Kennel Club grant establishes residency in veterinary reproductive medicine — one of only three awarded in the U.S.
First online reproductive science and health course sets the bar nationwide for online education in the field.
Partnership with Hudson-Alpha Institute for Biotechnology creates Center for Comparative Genomics and Translational Research in Huntsville, Alabama.
World's largest canine security company, iK9 Holding, enters into largest licensing agreement in Auburn history for use of the college's VaporWake technology.
2013
Dr. Calvin Johnson '86 becomes seventh veterinary dean upon Boosinger's appointment as Auburn University Provost.
Auburn patented vaccine technologies by Dr. Bernhard Kaltenboeck and Dr. Haroldo Toro lead to advances in the control of the endemic and costly swine disease PRRSV and protection of chickens from the evasive pathogen IBV.
Tech leader TAGG donates sophisticated tracking technology to the Southeastern Raptor Center to aid in GPS location of eagles during stadium flights.
3-D printing implemented to aid in complicated surgical preparation.
2012
Auburn University Research Initiative in Cancer (AURIC) established to accelerate cancer research.
Auburn researchers and detection canines help to locate Burmese pythons in Florida Everglades to help manage and eradicate the non-native, invasive species.
Dr. Bernhard Kaltenboeck and research associates develop vaccine platform to treat intracellular diseases for which antibodies are ineffective.
2011
John and Rosemary Brown pledge $10 million to name new small animal teaching hospital in memory of Wilford and Kate Bailey.
Auburn veterinarians successfully complete equine embryo transfer, leading to birth of champion barrel racer June Bug.
2010
Auburn Vet Med named a Center for Translational Cancer Nanomedicine by the National Institutes of Health (NIH).
Canine Detection Research Institute develops VaporWake training program, revolutionizing canine detection of explosives odor on a moving person to effectively track-to-source, even in crowded public areas.
Research by Dr. Benson Akingbemi identifies the harmful effects of BPA – a compound found in many food containers — on adult male testis function from early-life exposure.
Veterinary faculty and students collaborate with School of Forestry and state conservation agencies to reintroduce the Eastern indigo snake to Alabama in efforts to control the state's venomous snake population.
Auburn's detection canines become trained EcoDogs to help detect and preserve endangered species — one of only four similar programs nationwide.
2006
Dr. Vitaly Vodyanoy invents revolutionary CytoViva Microscope, enabling real-time imaging of living cellular structures for identification of viruses and satisfying a need to visualize nanoparticles that otherwise cannot be seen through a typical light microscope.
2005
War Dog monument installed on Auburn Vet Med campus, a replica of the original on Guam, donated by Betsy Putney and inspired by the WWII leadership of her late husband Dr. William Putney '43.
"Tiger," War Eagle IV, inducted into the Alabama Animal Hall of Fame.
2004
Auburn veterinarians play key role in nation's first veterinary implementation of cardiac resynchronization device, implanting it in 24-year-old western lowland gorilla named Babec.
Maddie's Fund Family Foundation awards $1.5 million grant to establish a comprehensive Shelter Medicine Program to promote outreach and provide hands-on clinical experience for DVM students.
Academic exchange program established with University of Austral in Chile for Auburn DVM students to learn international veterinary techniques not available in the U.S.
2003
The J.T. Vaughan Large Animal Teaching Hospital opens for treatment of large animal patients.
Practice management rotation developed to teach veterinary students about the business aspects of practicing veterinary medicine.
2002
Construction completed on the Carol Clark Laster/W.E. Clark, Jr., Raptor Training Facility at the Southeastern Raptor Center to grow its outreach and educational mission.
"Tiger," War Eagle VI, flies during the opening ceremony of the 2002 Winter Olympics.
2001
Critical care program established in the Veterinary Teaching Hospital, one of only five in the U.S.
2000
College reorganized into three academic departments: Anatomy, Physiology and Pharmacology; Pathobiology; and Clinical Sciences.
Southeastern Raptor Center resident and golden eagle Tiger, War Eagle VI, takes inaugural pre-game flight at Jordan-Hare Stadium.
1998
5,000th DVM graduate receives veterinary degree from Auburn.
Boshell Endowed Chair established in honor of Dr. Buris Boshell, positions Auburn as a leader in diabetes and metabolic disease research.
Plans drawn to build phase I of the Southeastern Raptor Center, establishing a new dedicated rehabilitation facility.
1997
Construction of new lameness arena planned to aid in diagnosing of equine patients.
1996
Linear Accelerator Laboratory, one of only two in the nation at the time, constructed to replace cobalt unit in use since 1966.
1995
Dr. Timothy Boosinger named sixth veterinary dean upon Vaughan's retirement.
1991
Veterinary Sports Medicine Program established to focus on injuries, diseases, nutritional factors and physiological functions of sporting and working dogs and horses.
1989
Canine Detection Research Institute established to lead research in canine detection and the canine olfaction process.
1987
Department of Pathobiology established to combine pathology, parasitology and microbiology.
Holland Ware, philanthropist and timber businessman from Georgia whose dogs had been patients at Auburn, donates funds to build and equip a state-of-the-art expanded imaging center on campus.
1985
School of Veterinary Medicine redesignated as College of Veterinary Medicine.
First group of at-large students accepted into veterinary program.
First African-American DVM degree awarded to Dr. Donita McElroy.
1983
Large Animal Clinic hosts world's first equine thermography course for veterinarians.
Long time veterinary faculty member Dr. Wilford S. Bailey '42 named president of Auburn University.
1977
Dr. John Thomas Vaughan named fifth veterinary dean upon Greene's retirement.
Treatment station for eagles established at Auburn after 13 injured bald eagles were admitted for emergency care to the Southeastern Raptor Rehabilitation Center.
1972
Auburn's Raptor Rehabilitation Program launched in response to a U.S. Department of Agriculture's Fish and Wildlife Service request to establish a hub for raptor rehabilitation in the Southeast — later to be designated as the Southeastern Raptor Rehabilitation Center by federal wildlife officials.
1970
Champion thoroughbred Bold Ruler comes to Auburn for successful treatment of a malignant nasal tumor, prolonging his life for one breeding season and expanding his exemplary bloodline by 33 foals.
1969
National champion male beagle, Blue, becomes first patient to receive successful cobalt cancer treatment with Auburn's new teletherapy unit.
1968
Eleanor Ritchey, Quaker State Oil heiress, makes $11 million gift to Auburn's School of Veterinary Medicine to establish the Scott-Ritchey Research Center.
1965
Dr. James Hicks and Dr. Donald Walker perform first-ever surgery to correct a bull sperm block on famous Aberdeen-Angus bull named Lindertis Evulse.
1963
Prestigious Morris Animal Foundation grant awarded to support canine neurology study by Dr. B.F. Hoerlein.
Eight female DVM students graduate – the most ever in the history of Auburn veterinary medicine to that point.
1960
API officially re-named Auburn University.
1958
Dr. James E. Greene named fourth veterinary dean upon Sugg's death.
Dr. Donald Walker joins the faculty to establish the college's internationally acclaimed theriogenology program.
1954
Calvin W. Schwabe, the Father of Veterinary Epidemiology credited with coining the phrase "One Medicine," earns DVM degree from API.
1951
First class of veterinary students admitted under SREB agreement.
1949
Department of Surgery and Medicine divided into Small Animal and Large Animal divisions.
1946
API named the official veterinary school for six southern states by the Southern Regional Education Board (SREB).
1944
Dr. William Putney '43, Commander of 3rd War Dog Platoon, leads a battalion of U.S. Marines and War Dogs to help secure the liberation of Guam from the Japanese in WWII.
1943
Lucille Sandahl Dimmerling becomes API's first female DVM graduate.
1940
Dr. Redding S. Sugg '15 named third veterinary dean upon McAdory's return to teaching.
Large animal ambulatory clinics begin.
1938
First female vet student enrolled at API.
Junior and senior veterinary students gain hands-on clinical practice experience by operating a weekend small animal clinic on campus.
1936
API only veterinary school in U.S. operating a completely equipped abattoir, providing students training in both ante- and post-mortem meat inspection.
1935
Dr. Isaac S. McAdory named second veterinary dean upon Cary's death.
Cary Veterinary Medical Library established in API School of Veterinary Medicine with the donation of Dr. Cary's personal collection.
1933
After paralyzing the South's cattle industry, the cattle tick eradicated in Alabama due to the work of Cary and API
Dr. M.W. Emmel announces breakthroughs in the two most physically and economically devastating diseases affecting fowl — fowl paralysis and leukemia — bringing international fame to API.
1932
Graduate education begins at the School of Veterinary Medicine.
First master of science degrees awarded in biomedical sciences.
1929
Tuberculosis Eradication Program among Alabama's dairy herds proved effective after years of intense, state-wide effort during which Cary and his team tested more than 60,000 dairy cows.
As a result of combined API and USDA efforts led by Cary and widely considered "the finest example of the practice of One Medicine," Alabama becomes one of the first states in the nation to implement the use of Tuberculin to detect TB in cattle, enforce public meat and milk inspection and incorporate the pasteurization process.
1915
13 DVM graduates pass the state's first veterinary licensing exam.
Hog cholera serum plant opens on API campus to produce affordable serum for farmers to eradicate hog cholera, effectively saving the citizens of Alabama millions of dollars in lost livestock costs and avoiding long-term food supply disruption.
1914
Smith-Lever Act establishes today's Cooperative Extension System to educate rural Americans about agricultural and farm animal advances through land-grant universities' outreach programs.
API veterinary students and faculty test dairy herds in Montgomery for Tuberculosis.
1909
First DVM degrees awarded to API veterinary students.
Cary chairs USDA committee on the eradication of Texas Cattle Tick Fever, resulting in laws and livestock regulations leading to the tick's eradication in the state of Alabama by 1929, effectively saving the state's cattle industry, sheltering the state from further post-Civil War economic ruin and helping develop standards to eradicate Texas Cattle Tick Fever nationwide.
Three departments established in the School of Veterinary Medicine: the Department of Veterinary Medicine, the Department of Physiology and the Department of Surgery.
1907
API establishes the nation's first veterinary school south of Pennsylvania with Cary as founding dean.
Cary appointed as Alabama's first state veterinarian.
1899
The A&M College of Alabama renamed Alabama Polytechnic Institute to reflect the institution's changing mission.
1896
Cary lobbies city of Montgomery to begin meat and dairy testing; as a result, it becomes the first city in the nation to implement food supply safety initiatives through food inspections.
1894
Students gain clinical education experience through Cary-led Saturday clinics for area farmers' animals.
1892
Dr. Charles Allen Cary, the Father of Veterinary Medicine in the South, hired to teach the state's first veterinary science classes.
1872
Morrill Act charters state's first land-grant college, the Agricultural and Mechanical College of Alabama, on the site of East Alabama Male College.
1856
East Alabama Male College established in Auburn, Alabama.