Necropsy
About Us
The Department of Pathobiology offers a postmortem examination service exclusively dedicated to clientele from the Auburn University Veterinary Teaching Hospital. This is a predominantly academically-based service directed to advancing knowledge in veterinary pathology, teaching, and research. In the past 5 years, our Department has handled an average of 564 necropsy cases yearly.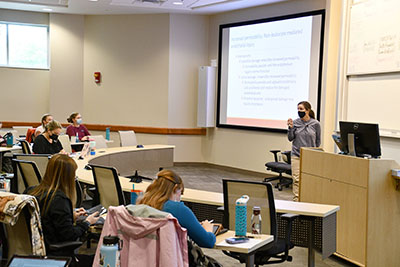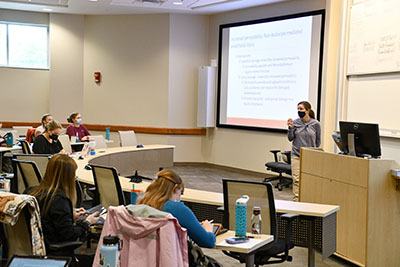 The Department is composed of a vibrant, collegial, and diverse group of faculty with 5 ACVP board-certified anatomic pathologists with special research and diagnostic interests in varying fields, such as aquatic animals, poultry, hepatic, ophthalmic, and neuropathology, who also mentor and supervise 4 anatomic pathology residents in training.
Our faculty members are actively engaged in didactic and laboratory teaching to second, third, and fourth-year students in the professional veterinary medical curriculum, including Principles of Veterinary Pathology, Organs Systems, and Diagnostic Pathology Rotation. Varied additional courses designed and delivered by our Faculty, such as Diagnostic Oncology, Topics in Toxicology, Mechanisms Of Disease, and Ocular Pathology are also offered in the graduate curriculum.
Facilities and Resources
Necropsies are performed at a fully equipped and modern necropsy room with enhanced biosecurity located at the Thompson Bishop Sparks Alabama State Diagnostic Laboratory, under ownership by the Alabama Department of Agriculture and Industries, as a collaborative accommodation. Full-time necropsy technical assistance and assorted supplies are readily available to faculty and residents. The space also hosts a room for rounds with interactive technology, including virtual streaming of macroscopic specimens and slide microscopy accessible to in-house fellow clinicians, faculty, and students.
Ancillary diagnostic tests offered by departmental bacteriology, mycology, molecular virology, and parasitology laboratories are available to pathologists and residents, in concordance with the educational values and mission.
Forms (Internal Use Only)
Lab Animal Health, AU Research and Agriculture Experiment Stations (within Lee County)
Necropsy & Disposal Forms for Lab Animal Health, Auburn University Research, Raptor Center, and Agricultural Experiment Stations (within Lee County)