The Merner Lab
Research
Dr. Nancy Merner has developed a cancer genetics research program at Auburn University's College of Veterinary Medicine that focuses on identifying genetic risk variants of hereditary cancer syndromes. She is particularly interested in syndromes associated with an increased risk of breast cancer since ~65% of hereditary breast cancer cases remain genetically unsolved, despite years of extensive research.
It is hypothesized by many investigators in the field that past breast cancer susceptibility gene discovery attempts were thwarted by genetic heterogeneity. Thus, Dr. Merner and her research team take a number of approaches in order to reduce heterogeneity in their search for breast cancer susceptibility genes. Overall, two closely related, but distinct, breast cancer genetic studies are carried out in parallel. Each research approach focuses on a different species, human or canine. Dr. Merner has two distinct study cohorts, a human hereditary cancer cohort and a canine mammary tumor (CMT) cohort, that can be independently studied to find susceptibility genes but can also serve as validation cohorts once a risk variant(s) is identified in one of the two cohorts. This comparative oncology/genomics approach to breast cancer susceptibility gene discovery is unique and powerful.
Human Studies
Dr. Merner has developed IRB-approved recruitment mechanisms to identify and enroll individuals into her genetic study. Specifically, she has established both hospital and community-based recruitment (CBR) protocols, the latter being a unique approach that involves traveling all over Alabama in The Gene Machine. CBR aims to reach out to the medically underserved in order to educate, build trust, and, ultimately, provide an opportunity to participate in a research study, which ordinarily would not be available to underprivileged individuals. By traveling to rural and isolated areas, Dr. Merner hopes to recruit seemingly unrelated cancer-affected families from the same communities who share a common ancestor and, thus, the same ancestral breast cancer risk variant – aiding in discovery efforts.
Furthermore, through this effort, Dr. Merner is able to address certain cancer disparities that may have a genetic link. Firstly, African American women are generally diagnosed with a more aggressive and less treatable breast cancer sub-type and have a higher incidence rate of breast cancer under the age of 40 compared to Caucasians. Secondly, African American males are generally diagnosed with prostate cancer at a younger age and with larger tumors compared to Caucasians. Thus, considering that (1) an early age of onset is a characteristic of hereditary cancer, (2) the Black Women's Health Study has demonstrated that African American breast cancer is strongly familial, and (3) hereditary breast cancer is associated with an increased risk of hereditary prostate cancer, inherited and potentially overlapping genetic risk factors may explain these disparities.
​Dr. Merner has developed a gene-screening panel to search for risk variants in known, suggested, and suspected breast and prostate cancer susceptibility genes in order to determine the array of mutations that contribute towards these cancers in the cohort, as well as identify families that require further analysis (i.e. genome sequencing) to find the familial risk variants.
Additionally, CBR offers participants the option to receive confidential research-based gene screening results and aims to translate those results to the clinic by providing free UAB telegenetic counseling to underserved individuals through the use of telemedicine carts at equipped Alabama county health departments.
Canine Studies
​Canines are genetic homologies to humans that can be studied separately or in parallel to enhance disease gene discovery efforts that apply to both species. The inbreeding practices of canines to observe desired traits/characteristics associated with certain breeds also results in the presence of undesirable alleles that predispose certain breeds to particular diseases. The resulting large and consanguineous pedigrees reduce heterogeneity, similar to studying isolated human populations for genetic research, but represents a powerful and, perhaps, more simple approach towards gene discovery since there is even less genetic variation.
Canine mammary tumors (​CMTs) represent very practical models for human breast cancer; however, the genetics of hereditary CMTs is incredibly understudied. Currently, Dr. Merner obtains CMT samples for genetic analysis through collaboration with the CHIC (Canine Health Information Center) DNA repository of the Orthopedic Foundation of Animals, as well as collaborating researchers at the College of Veterinary Medicine at Auburn University. Since Dr. Merner focuses on purebred dogs diagnosed with CMT, she can link the dogs of the same breed to a common ancestor through pedigree analysis. Sequencing the genomes of dogs from the same pedigrees will provide information about how orthologs of human breast cancer susceptibility genes contribute to hereditary CMT and, also, offers the opportunity to search for novel genes
Contact
Dr. Nancy Merner
Betsy Stallworth, Recruitment Coordinator
gene@auburn.edu
(855) 388-8270 (toll free)
Giving
If you are interested in providing financial support for Dr. Merner's research and outreach programming, please contact the Auburn Vet Med Office of Advancement at (334) 844-1274 or giving@vetmed.auburn.edu, or visit them online at vetmed.auburn.edu/giving.
Community-Based Recruitment – The Gene Machine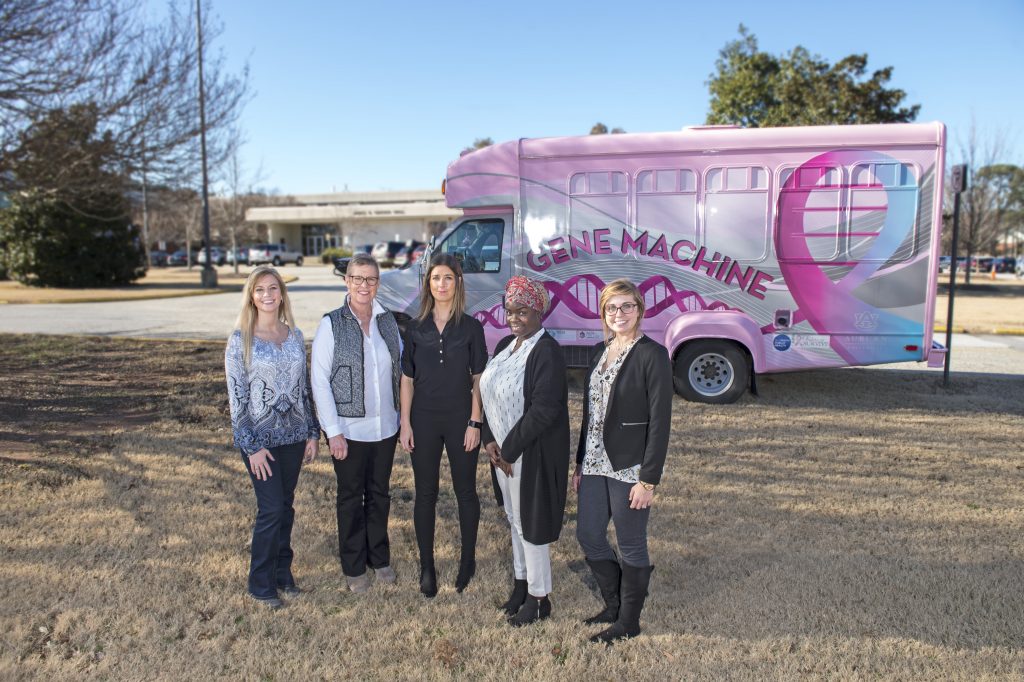 Community recruitment is key. It allows our research team to step outside the laboratory and personally meet community members. Team members drive a bright pink converted shuttle bus, known as The Gene Machine, around the state for education sessions, community events, and study enrollment appointments. The team enrolls those affected by cancer and their family members to examine cancer genetic mutations.
The Gene Machine is a 15-passenger bus that serves as a mobile recruitment and enrollment station. It underwent extensive interior and exterior renovations for this effort. Auburn University Facilities Management staff renovated the interior, which included the installation of laminate floors, curtains, a table, chairs, storage cabinets, two phlebotomy chairs, a refrigerator, and biosafety equipment. A local business designed and installed a wrap for the outside of the bus, which serves to advertise the study. The wrap includes recruitment criteria as well as sponsors and community partner logos. Members of the CBR team must undergo bus safety and defensive driver training to operate The Gene Machine.
Education Sessions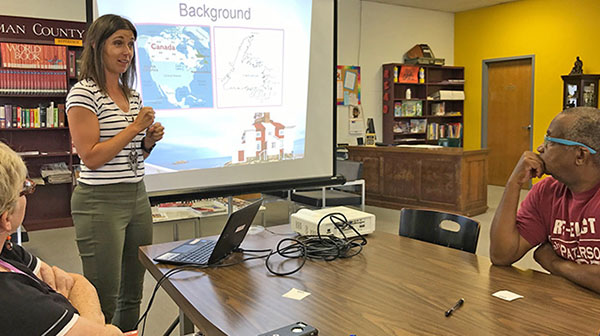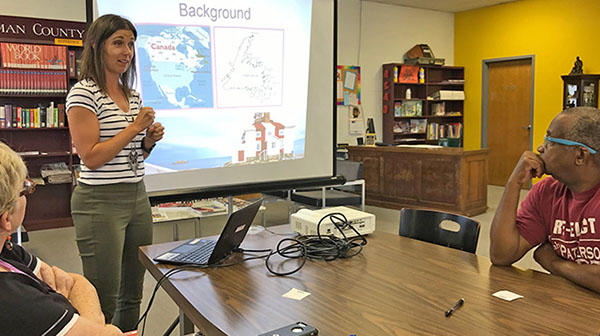 Dr. Merner and her team provide free education sessions about cancer risk factors. The team travels to locations statewide to groups who schedule sessions and want to learn more about cancer risk factors. Their presentation, "Cancer Risk: Do Your Genes Matter?" acknowledges family history and ethnicity as genetic risk factors of cancer. She specifically discusses how genetics can contribute towards risk with a focus on breast, ovarian, and prostate cancers. These sessions are perfect for cancer support groups, church groups, family reunions, etc.
Enrollment Appointments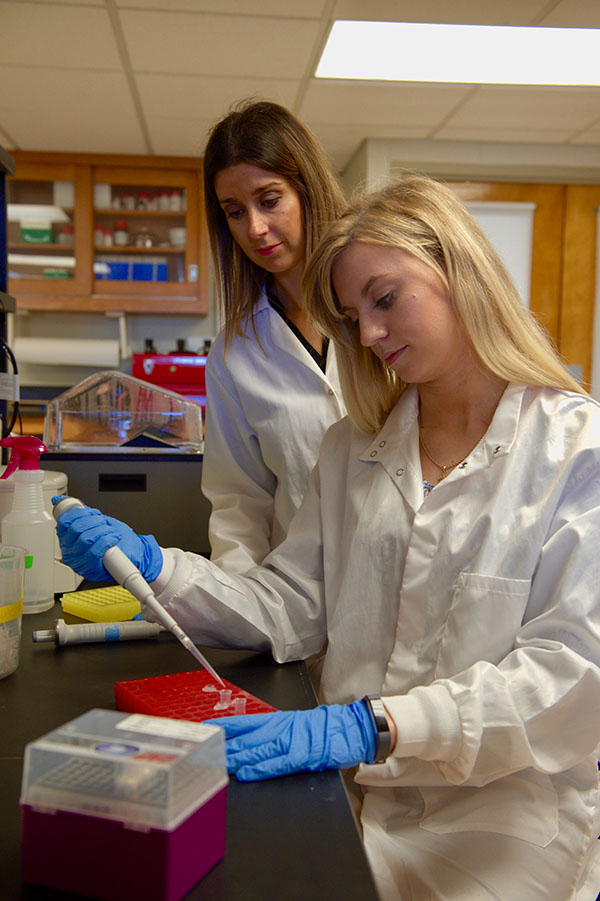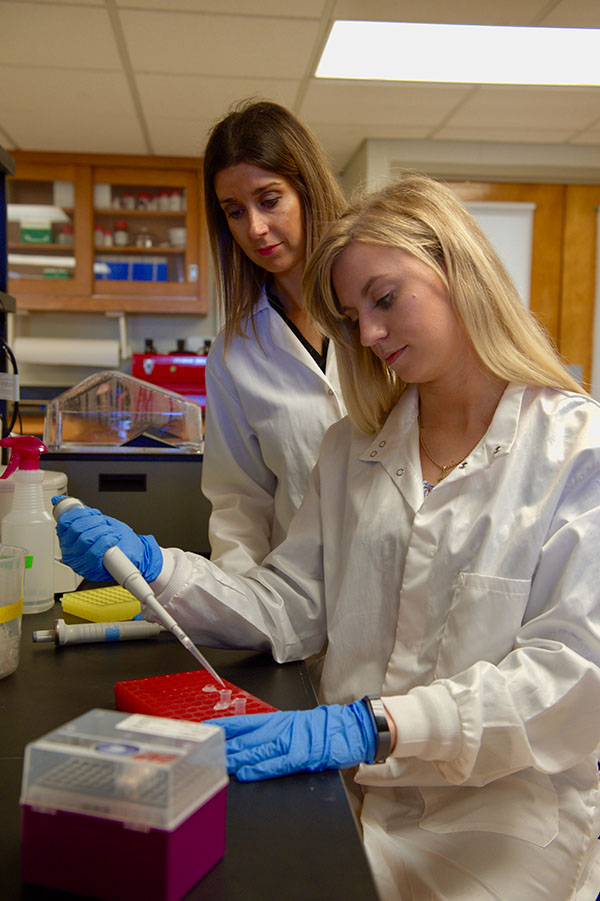 The Gene Machine team travels to interested individuals who qualify for the cancer genetics research study.
Study Criteria
Previously diagnosed with breast, ovarian, or prostate cancer at any age with a family history of cancer; or
Previously diagnosed with breast, ovarian, or prostate cancer under the age of 45 with or without a family history of cancer; plus, family members of current study participants.
During an enrollment session, that takes about 30 minutes, applicants are guided through study consent forms and provide information about demographics, cancer diagnosis, and family history. A blood sample is collected for DNA, which is stored in a bio bank and used for genetic analysis. If a blood sample is not possible, a saliva sample can be taken.
During the consent process, you can request to receive confidential gene screening results regarding clinically manageable mutations.
Gene Screening
The first cancer-affected participant from each family is screened for a panel of more than 50 genes that are known to or thought to increase the risk of breast, ovarian, and prostate cancer, including BRCA1 and BRCA2. If a mutation is detected, participating family members are screened for the mutation. Ultimately, this screening determines the individuals in the study who have inherited mutations in known cancer genes and identifies participants who need additional screening.
Novel Gene Discovery
Individuals/families who do not have mutations in known cancer genes will be studied to find new cancer genes. Resulting discoveries can help better assess genetic risk and gain a more clear understanding of the driving forces of cancer, which can aid in the development of enhanced disease management strategies, including personalized drug therapies.
The Team
A dedicated team is key to making these research and outreach initiatives a success. See the links that follow to learn about Dr. Merner's team and their roles.
Principal Investigator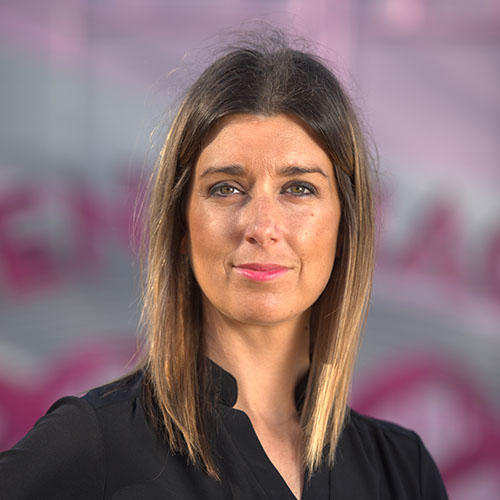 Nancy Merner
Memorial University
PhD Genetics, 2011
Lab role: Principal investigator of this cancer genetics research program as an Assistant Professor in the Department of Pathobiology at Auburn University's College of Veterinary Medicine (CVM). Overall, Dr. Merner takes a comparative genomics approach towards finding inherited breast cancer risk variants by studying both dogs and humans affected by the disease. While a committed team leader for this program, she has equally important duties at home as a wife to Dr. Bradley Merner, who is an Assistant Professor at Auburn University, and as mother to two daughters. Their family also has three dogs.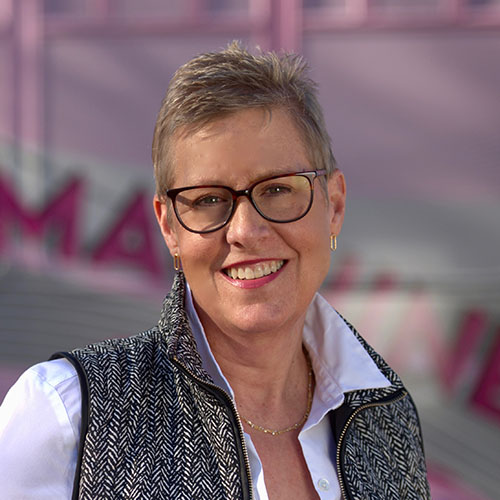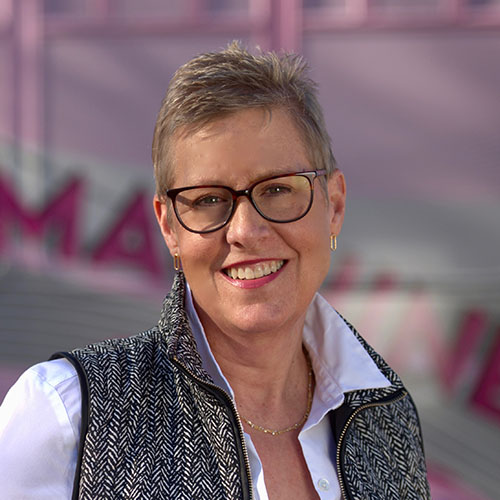 Betsy Stallworth, RN IBCLC
Vanderbilt University
BSN, Nursing and Psychology
Auburn University
B.Arch, Architecture, magna cum laude
Lab role: As the Recruitment Coordinator, Betsy works with community members to promote cancer risk education and coordinates the enrollment of study participants. Betsy also carries out the DNA extractions of blood/salvia samples collected from newly enrolled study participants, and manages the lab's DNA Bank and Database.
Betsy is originally from Maryland. She holds a bachelor's degree in Nursing from Vanderbilt University and a Bachelors of Architecture from Auburn University. Betsy is passionate about women's health care issues and has a wide range of experiences. She has worked in both urban and rural hospital settings, been involved with community groups through volunteer work with the American Red Cross, the Lee County Literacy Coalition, and through medical mission trips. She is acutely aware of disparities that exist, health among them, and she is committed to connecting people with programs that can help improve their lives.
Graduate Students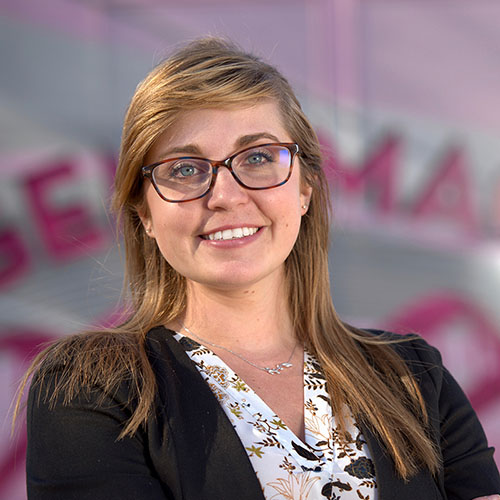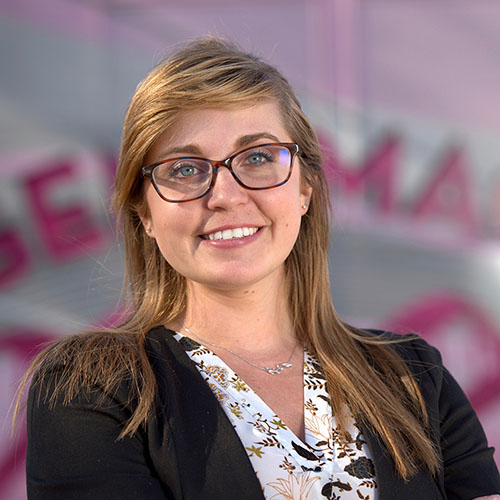 Madison (Chandler) Bishop
Berry College
B.S., Biochemistry A.C.S., 2014
Lab role: Madison's graduate research involves identifying genetic risk factors of hereditary cancer in the medically underserved state of Alabama. She helped establish the human cancer cohort by participating in the initial CBR efforts and is lead over the lab's gene-panel screening. Madison custom-designed the gene-panel, and, subsequently, carries out the targeted capture for massively-parallel sequencing as well as the bioinformatics analysis for variant calling. Madison was seminal in the development of the bioinformatics pipeline for the lab's next-generation sequencing data analysis. Ultimately, her focus on gene-panel screening will provide greater insight into the true contribution of mutations in known and suspected breast cancer susceptibility genes in this underserved population.
Madison grew up in Vestavia Hills, Ala. and attended Vestavia Hills High School. She then moved to Rome, Ga. where she earned her B.S. degree in Biochemistry from Berry College in May of 2014. In August 2014, Madison began pursuing her Ph.D. in Pharmacology in the Department of Drug Discovery and Development at Auburn University where Dr. Merner held a Research Assistant Professorship before moving to the College of Veterinary Medicine. Thus far, she has co-authored four peer-reviewed articles; five additional research articles are in preparation for submission to high-impact journals. In total, she has six published abstracts and was the presenting author on 23 presentations. She was awarded first place at the Auburn University Three Minute Thesis competition in November of 2016 and the Auburn University Research Initiative in Cancer (AURIC) Graduate Fellowship for the past three years (2015-2018).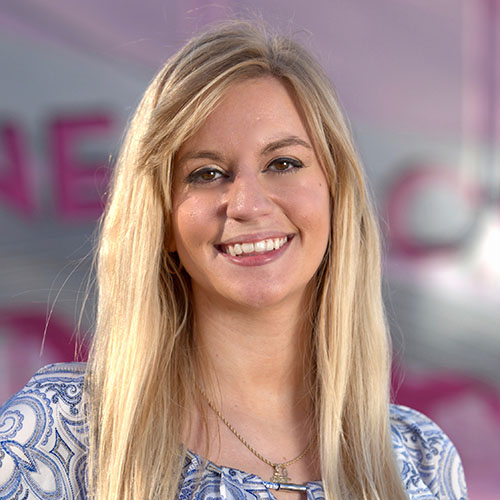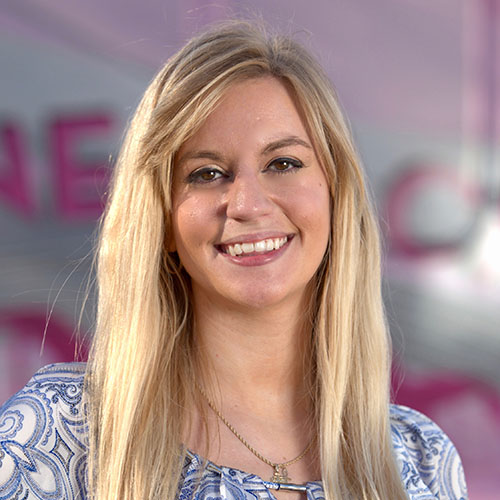 Anna (Watkins) Huskey
Berry College
B.S., Biochemistry (ACS Certified)
Lab Role: Anna's research focus involves comparative genomics using dogs as a model of hereditary breast cancer. Her analysis of whole-genome sequencing data currently includes investigating orthologs of known hereditary breast cancer susceptibility genes and will transition to examining other areas of the canine genome for the possible discovery of novel breast cancer susceptibility genes. Such discoveries will be facilitated by the comparison of the canine sequencing data to that of human hereditary breast cancer cohorts.
Anna is from rural South Georgia. She attended Berry College in Rome, for undergraduate work, and graduated magna cume laude. While an undergraduate she assisted Dr. Kevin Hoke as a research student. This research focused on the Rieske protein, an essential protein in the mitochondrial electron transport chain. She started graduate school in the Department of Drug Discovery and Development in August 2016 to pursue her PhD in Pharmacology while Dr. Merner held a Research Assistant Professorship before moving to the College of Veterinary Medicine. During her time at Auburn, Anna has been awarded a CMB Peaks of Excellence Research Fellowship, an AURIC Graduate Fellowship, and a Dean's Graduate Travel award. She has been the presenting author for six presentations, and, currently, co-authors four research articles that are in preparation for journal submission.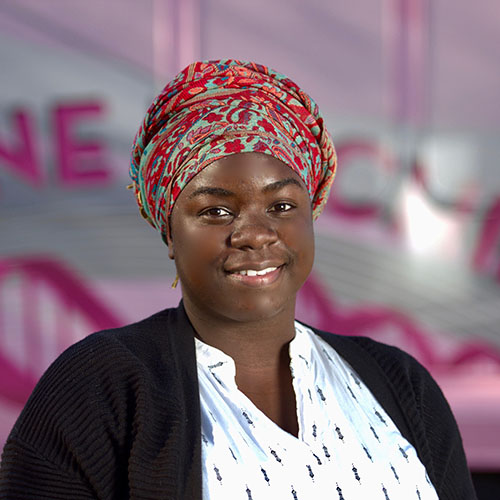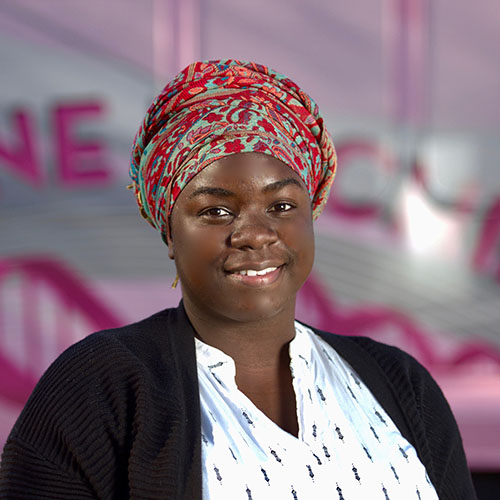 Sophonie Marthe Omeler
Becker College
B.S., Veterinary Science, Clinical Laboratory Animal Medicine 2015
A.S., Veterinary Technology 2014
Lab Role: Sophie joined Dr. Merner's laboratory in the Department of Pathobiology in the Fall 2017. Sophie contributes to the human gene-panel screening effort. She currently assists with the validation of panel-identified variants, and is becoming familiar with the bioinformatics pipeline to carry out the gene-panel analyses of study participants who have yet to be screened. Her interest in hereditary cancer stems from the loss of several family members to various types of cancer.
Sophie is a first-generation college graduate, Haitian American who graduated Becker College in 2015. During her time at Becker, Sophie had the opportunity to intern at Harvard University's Office of Animal Research, under the director, Dr. Steve Niemi. From this experience, Sophie grew to love research. Prior to joining Auburn University's Biomedical Science program, Sophie worked at a research facility where she cared for, and milked rabbits. In the future, Sophie would like to continue to study underrepresented and underserved groups in this area of research.
Community Partners
Community partners are critical team members who connect our program with individuals and groups throughout Alabama.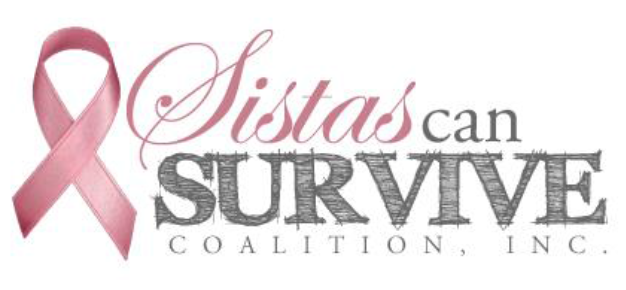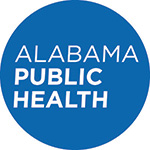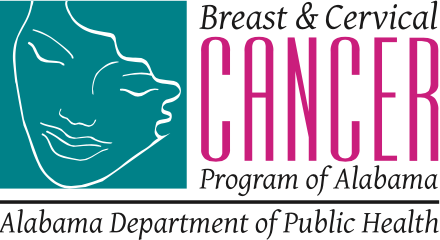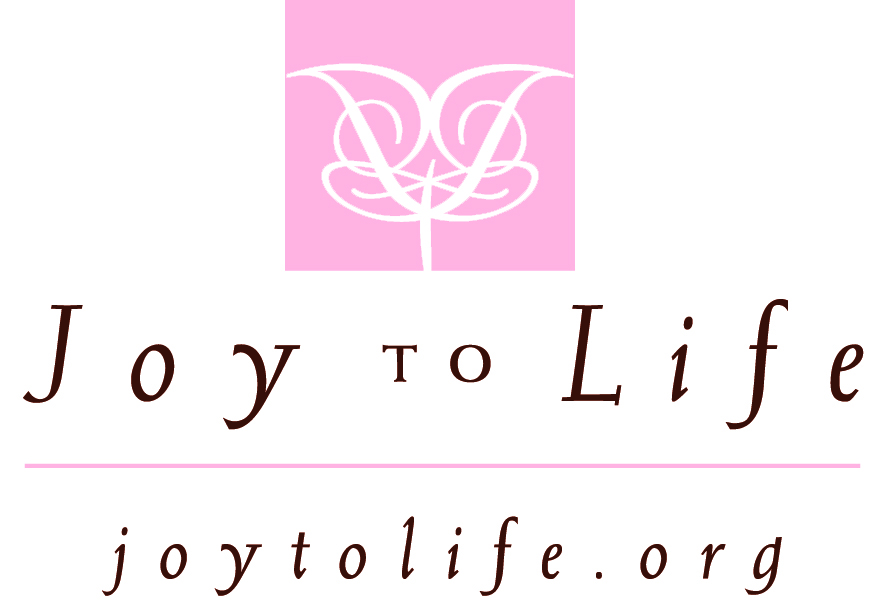 Study Participants
Our most valuable team members are our study participants who make all of this possible. When an individual enrolls in the study, they become a team member. To date, more than 250 individuals have enrolled in this genetic study!
A study participant's role can be as simple as providing information and samples for the genetic study during an enrollment appointment. This is extremely important because it will help us learn more about cancer genetics. We are very grateful to each person for donating their time and a little part of themselves to further this research. Not only may your contribution help your family but it may help others across the state and beyond. A study participant's contribution does not need to stop there. Here are other ways to help:
A study participant may also:
(1) Provide us with advice/guidance, based on their experience through cancer, to help us improve our program and benefit study participants.
(2) Invite us (and The Gene Machine) to attend local health fairs, cancer specific events (i.e. a breast cancer walk), or even a Relay for Life.
(3) Book an education session in your area for any group interested in Dr. Merner's presentation "Cancer Risk: Do Your Genes Matter?"
All contributions are welcomed. We are available to answer your questions- please feel free to contact us at any time, even for project updates!
* Please know that enrolling in the study is confidential. All identifying information collected during an enrollment session is confidential. The individuals in the photos below signed digital/media disclosure agreements to help promote the study.