Online Reproductive Science & Health
A New Online Suite of Resources for Teaching & Learning Reproductive Physiology – VBMS 3903
Employing research-validated instructional design and based on content presented in Pathways to Pregnancy and Parturition (3rd Edition, by PL Senger), the intent of Reproductive Science & Health (RSH) on-line is to increase educational flexibility and extend the reach of this discipline globally to all with an interest in teaching and learning about the function of the reproductive system in animals and humans.
Goals
Upon completion of the entire suite of RSH content units, students will understand: vocabulary specific to reproductive science; anatomy and function of male and female reproductive organs and tissues; endocrine and neuroendocrine regulation of reproduction; mechanisms regulating reproductive behavior, establishment of pregnancy, gestation, and parturition; and principles of modern assisted reproductive technologies (ARTs).
Content and Design
This on-line resource for teaching and learning consists of a suite of 16 Content Units. Some content units contain a brief "Human Health Highlight" and/or "Animal Health Highlight". Health highlights describe important health components that are linked to concepts explained in content units.
Content Units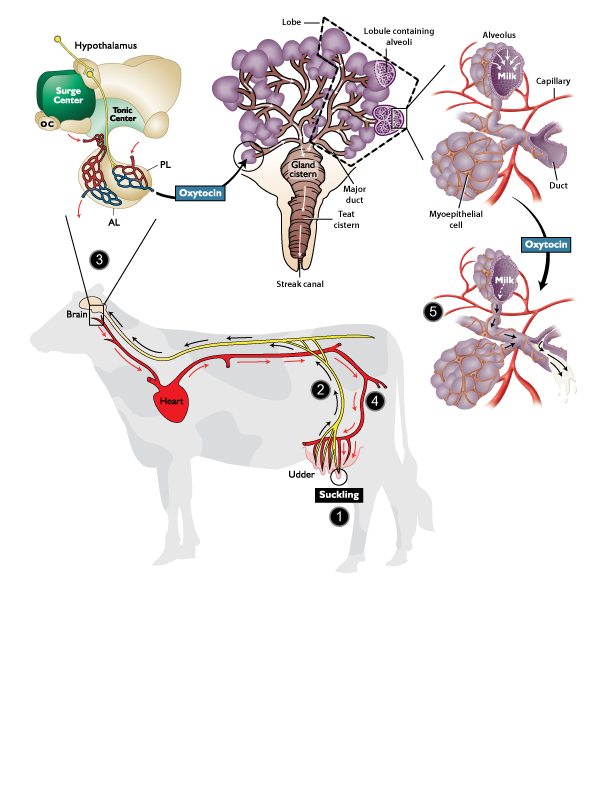 Content Unit 1 – Overview and Importance of Reproductive Science.
Content Unit 2 – The Female Reproductive System-Structure and Function
Content Unit 3 – The Male Reproductive System-Structure and Function
Content Unit 4 – Embryogenesis of the Pituitary and the Male and Female Reproductive Systems
Content Unit 5 – Regulation of Reproduction: Nerves, Hormones and Target Tissues
Content Unit 6 – The Acquisition of Puberty
Content Unit 7 – Reproductive Cyclicity: Terminology and Basic Concepts
Content Unit 8 – Reproductive Cyclicity: The Follicular Phase
Content Unit 9 – Reproductive Cyclicity: The Luteal Phase
Content Unit 10 – Endocrinology of the Male and Spermatogenesis
Content Unit 11 – Reproductive Behavior
Content Unit 12 – Spermatozoa in the Female Tract-Transport, Capacitation and Fertilization
Content Unit 13 – Early Embryogenesis and Maternal Recognition of Pregnancy
Content Unit 14 – Placentation, Gestation and Parturition
Content Unit 15 – The Puerperium and Lactation
Content Unit 16 – Reproductive Physiology: The Human Factor
Instructional Design
Highly Visual. The course includes detailed specimen photographs, animated 2-D graphics, animated 3-D anatomical reconstructions, and real-time videos illustrating reproductive behavior, parturition, in vitro fertilization, etc.
Narrated Content. Narrations are carefully synchronized with animations to maximize learning.
Concise. Each unit is 30-60 min. divided into 2-3 "mini units" for self-paced learning.
Knowledge Practice. Each content unit includes several practice quizzes consisting of 10-20 items. All quizzes are "auto-graded" for immediate feedback.
License the course
License as a complete course by Universities/Organizations. Under this agreement, the home institution or organization can use the content as either a stand-alone course, a course supplement, or as a resource with which to "flip" the course so that advanced problem-solving can take place after basic information has been learned. See the Academic Agreement link for fee structure.
For more information contact Ms. Amelia Pendleton (cvmrsh@auburn.edu).
Certificate Credit
Certificate credit for any individual wishing to expand, advance or refresh their understanding of reproductive science. Performance of 70 percent or better is required to receive a certificate of completion. Actual performance will be noted on the certificate. The cost of certificate enrollment is $825.
For certificate information please contact Ms. Amelia Pendleton (cvmrsh@auburn.edu).
Academic Credit
Academic credit (3 semester credit hours) for students seeking to accelerate their academic progress, or searching for a state-of-the-art elective course in the life sciences. This course is approved for award of academic credit by the Auburn University Curriculum Committee. Students pursuing this option must enroll on-line at Auburn University. Standard tuition rates (in-state or out-of-state as appropriate) apply. Academic credit from Auburn University can be transferred to other institutions of higher education contingent upon their admission guidelines and standards.
For more information contact Ms. Amelia Pendleton (cvmrsh@auburn.edu).
Faculty
Leadership Team:
Dr. P. L. (Phil) Senger is Professor Emeritus at Washington State University, Affiliate Professor in the Department of Anatomy, Physiology and Pharmacology at the Auburn University College of Veterinary Medicine, and President of Current Conceptions, Inc. The author of Pathways to Pregnancy and Parturition, Dr. Senger has over 30 years of experience teaching systemic physiology and reproductive physiology at both Washington State University and Pennsylvania State University. Email: pls0012@auburn.edu
Dr. Frank F. (Skip) Bartol is Alumni Professor of Anatomy, Physiology and Pharmacology and Associate Dean for Research and Graduate Studies at the Auburn University College of Veterinary Medicine. He conducts research in reproductive/developmental biology focused on economically important domestic animals and has taught reproductive physiology at undergraduate and graduate levels for more than 30 years. Email: bartol@auburn.edu
Consulting Faculty:
Faculty members at the Auburn University College of Veterinary Medicine with expertise in the reproductive sciences, theriogenology, endocrinology and physiology have and will continue to contribute to Reproductive Science and Health through review and development of content presented in this on-line course. These individuals are listed below:
Timothy D. Braden
Misty A. Edmondson
Instructor's Preview
Instructors seeking to evaluate Reproductive Science and Health, the on-line course, are invited to request a 'test drive.' Send your request to Ms. Amelia Pendleton (cvmrsh@auburn.edu).
Acknowledgements
Support and Collaborators
Reproductive Science and Health did not just happen!!
Developed through a partnership between the AU College of Veterinary Medicine and Current Conceptions, Inc., this on-line course is the result of over six years of research and development, field testing and immeasurable input provided by reproductive scientists from around the world. Instructional design for the course was validated experimentally through controlled studies involving reproductive physiology courses at seven Land Grant universities throughout the U.S. Current Conceptions, Inc., received a Small Business Innovation Research (SBIR) contract from the U.S. Department of Education through the Institute of Educational Sciences to fund this R&D effort (contract # ED-08-CO-0050).
Exam items used in generating achievement scores for academic and certificate credit were reviewed and critiqued by a team of eight professors of reproductive science.
Portions of Reproductive Science and Health were "test driven" on-line by students at four additional Land Grant universities.
Collectively, R&D and field testing associated with production of the course involved over 1,400 university students. Their input was invaluable.
University faculty members identified below contributed to the R&D effort that produced this course. We thank them for their dedicated contributions aimed at advancing education in the reproductive sciences.
C. A. Bagnell (Rutgers University)
J. G. Berardinelli (Montana State University)
J. A. Clapper (South Dakota State University)
D. A. Coleman (Auburn University)
J. L. Edwards (University of Tennessee, Knoxville)
C. E. Farin (North Carolina State University)
M. J. Fields (University of Florida)
D. R. Hagen (Penn State University)
J. W. Knight (Virginia Tech)
D. J. McLean (Washington State University)
T. L. Ott (Penn State University)
J. S. Ottobre (Ohio State University)
J. J. Parrish (University of Wisconsin)
D. H. Poole (North Carolina State University)
M. F. Smith (University of Missouri)
C. S. Whisnant (North Carolina State University)
J. V. Yelich (University of Florida)
C.R. Youngs (Iowa State University)
Course content for RSH is based upon information presented in:
Senger, PL. 2012. Pathways to pregnancy and parturition. 3rd edition. Current Conceptions, Inc., Redmond, OR, USA. ISBN 0-9657648-3-4
Refereed publications supportive of instructional design include:
Oki AC, Berardinelli JG, Clapper JA, Poole DH, Senger PL. 2014. Enhancing the learning experience of students in reproductive science with multimedia platforms. Clinical Theriogenology 6(Suppl. 3):147-153.
Oki AC, Senger PL, Bartol FF. 2015. Multimedia and global communication of scientific concepts: An example using animal reproduction. Animal Frontiers. 5 (3). doi: 10.2527/af.2015-0034.
Senger PL, Oki AC, Trevisan MS, McLean DJ. 2012. Exploiting multimedia in reproductive science education: research findings. Reproduction in Domestic Animals 47(Suppl. 4):38-45.
Trevisan MS, Oki AC, Senger PL. 2010. An exploratory study of the effects of time compressed animation delivery multimedia technology on student learning in reproductive physiology. Journal of Science Education and Technology 19:293-302.