Auburn Vet Med Community Wellness Initiative
The Auburn University College of Veterinary Medicine is dedicated to providing an environment that encourages habits of wellness, increases availability of resources contributing to well-being and inspires individuals to take responsibility for their own physical, mental and spiritual health.
The Dean's Office and Office of Academic Affairs are committed to providing a culture of wellness across the Auburn Vet Med community by enhancing wellness through:
1. providing two full-time embedded counselors to provide services to students and house officers;
2. adding dedicated wellness blocks to the schedules of all DVM students in the 1st through 5th semesters;
3. incorporating wellness content into the professional DVM curriculum;
4. supporting the first national Not One More Veterinarian (NOMV) student representative; and
5. streamlining examination schedules.
Meet the CVM Counselors
Email to make an appointment!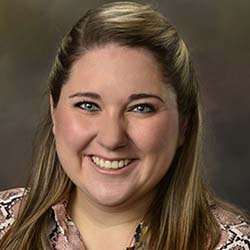 Mary Catherine Turner
(334) 844-2685
mct0023@auburn.edu
Mary Catherine is the embedded counselor for Auburn Vet Med, providing individual counseling to veterinary students, residents, interns and graduate students, as well as consultation and resources as needed for faculty and staff. Her goal is to provide veterinary students with a supportive environment to share concerns and learn to effectively manage those concerns while simultaneously becoming a healthy and successful veterinarian. She graduated from Auburn University with a master's degree in clinical mental health counseling and is a Licensed Professional Counselor. Her clinical interests include transition, anxiety, interpersonal relationships and compassion fatigue. Outside of work, Mary Catherine enjoys time at Lake Martin, spending time with family and friends and shopping for bargains.
Christy Newberry
Christy is the embedded Licensed Psychologist for Auburn Vet Med, providing therapy and consultation services. She earned her doctoral degree in Clinical Psychology from the Illinois School of Professional Psychology at Argosy University, Chicago, a master's in Clinical Psychology from Indiana University of Pennsylvania, and a master's degree in Professional Psychology from Geneva College in Beaver Falls, PA. Christy incorporates warmth, empathy, and humor into her strengths-based, collaborative approach. Specific clinical interests include compassion fatigue, burnout, stress, anxiety, depression, suicidal ideation, and trauma. Originally from southeast Tennessee, Christy enjoys coffee shops, spending time with her sister, friends, and her sweet rescue pup, Joy.
Wellness Nook
AUCVM's Wellness Nook was purposefully designed to create a safe space for students. Are you feeling a bit overwhelmed, need some silence, relaxation, or a change in study scenery? We welcome you to take a seat in the Wellness Nook and to use our in-house relaxation and wellness tools so that you can get in the right headspace to conquer whatever is coming next. This room includes a Book Nook for students to donate to and rent books from, aromatherapy oils with a diffuser, a Seasonal Affective Disorder (SAD) light, yoga mats, comfortable chairs and couches, a white noise machine, inspirational wall art, and a binder full of wellness resources.
Thank you to Auburn's SAVMA organization and AVF funding for this room.
Wellness Events
Dedicated Wellness Week Every Spring Semester
5 days full of wellness meetings, outdoor events, and wellbeing baskets/prizes for students.
Dedicated Wellness Series Every Fall Semester
One meeting every 2 weeks, each focused on 1 of the 9 wellness pillars.
CVM Recreational Center
Free exercise classes and equipment for students, faculty and staff.
Weekly group exercise program:
Total body workout
Yoga
Weight Training
Kobudo
Professional Self Care Skills Course
Beginning fall 2022
Available for all 1st, 2nd and 3rd year students
Includes lectures about resiliency, emotional self-awareness, empathetic exhaustion, and more.
Wellness Resources
Campus Resources
Physical & Mental Health
Food, Shelter & Clothing
Auburn Cares
Auburn Cares is designed to support students throughout their college career in order to best achieve their academic and co-curricular goals.
(334) 844-1305
Campus Career Closet
Provides students access to FREE professional attire appropriate for career fairs, interviews, networking events and the workplace.
(334) 844-4744
Campus Food Resources
Multiple resources for food insecurity including the Campus Food Pantry, Feed the Family Fund and Share Meals programs.
Safety
Security Shuttle
The Night Security Shuttle will continue to provide door-to-door on-campus transportation from 6 p.m. to 7 a.m., seven days a week while classes are in session. Request a ride through the free Auburn Safety app or by calling (334) 844-7400.
Intimate Partner Violence & Sexual Assault
Safe Harbor
Safe Harbor believes, supports and assists students and employees of Auburn University who have experienced power-based personal violence, including dating/domestic violence, sexual assault and stalking/ harassment.
(334)-844-SAFE(7233)
Diversity, Equity & Inclusion
Academic-Related Stress
Financial
Glen Sellers teaches the Professional Development and Business course during first year and counsels Auburn Vet Med students to help prepare for their financial future and handle student debt with confidence.
On-Campus & Area Activity Opportunities
On-Campus
Donald E. Davis Arboretum
The Donald E. Davis Arboretum is a 13.5 acre botanic garden facility located in the heart of Auburn.
AUCVM Wellness Center: basement level of Bailey Teaching Hospital.
Yoga at the vet school: check emails and the community calendar to see when sessions are being held.
Off-Campus
External Resources
Physical & Mental Health
Compassion Fatigue
TED – Beyond the Cliff
The cumulative toll that can occur when we are exposed to the suffering, hardship, crisis or trauma of humans, other living beings or the planet itself.
Academic-Related Stress
Intimate Partner Violence & Sexual Assault
Diversity, Equity & Inclusion
Body Image/Self-Esteem
Financial
Miscellaneous
Emotional Support Animals