Cardiology Service
About the Service
Our Cardiology service helps diagnose and treat heart diseases in animals of all ages. They provide out-patient and emergency care for their patients, including minimally-invasive interventional procedures as well as long-term medical treatment for chronic conditions. Our cardiologist is committed to working with your veterinarian to ensure your pet gets the care they need. Comprehensive, compassionate patient and client care are primary goals of the Cardiology service.
Animals we treat:
Dogs
Cats
Equine
Livestock
Exotic
What We Do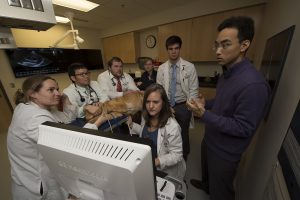 The Cardiology service uses state-of-the-art equipment to diagnose and treat their patients. They provide long-term care and follow-up for common, chronic diseases such as Degenerative mitral valve disease, Dilated cardiomyopathy, Arrhythmias, Hypertrophic cardiomyopathy, and Heartworm disease. They also treat Congenital heart diseases such as Patent ductus arteriosus (PDA), Pulmonic stenosis, Subaortic stenosis, and other complex congenital heart diseases with minimally-invasive interventional procedures to help your pet live a better, longer life.
Services we provide:
Minimally-invasive cardiac surgical procedures

Patent ductus arteriosus (PDA) occlusion
Balloon valvuloplasty or stenting for Pulmonary stenosis
Balloon valvuloplasty for Subaortic stenosis
Diagnostic angiography
Hybrid cardiac / surgical approaches for complex congenital defects
Other interventions for complex congenital defects
Heartworm extraction
Catheter-based therapy for Atrial Fibrillation
Pacemaker implantation

Echocardiography (ultrasound of the heart)
Electrocardiography (ECG)
Doppler blood pressure
24-hr Holter monitoring (ambulatory ECG)
Who We Are
Dr. Randolph Winter is the head of the Cardiology service. He is board certified by the American College of Veterinary Internal Medicine, subspecialty Cardiology, and he has the experience and passion needed to provide your pet with the best possible care. The service also has 3 veterinary technicians that assist the veterinarians and senior level veterinary students with management of the service.
Keri Harrelson, LVT