Neurology & Neurosurgery
About the Service
The Neurology/Neurosurgery Service strives to provide state-of-the-art medical care to pets with neurological disease. A team of neurologists, residents, technicians, and students care for animals with neurologic disease from initial diagnostic tests to the application of treatments for these disorders.
What We Do
The Neurology & Neurosurgery Service treats animals with diseases of the brain, spinal cord, nerves and muscles. We work with advanced technology, such as MRI and CT imaging, and specialists throughout the hospital to provide comprehensive care for your pet. At the same time we are caring for your pet, we are also responsible for the education of future veterinarians, our fourth year veterinary students, and the training of future specialists, our residents and interns.
Stereotactic Surgery
The Neurology/Neurosurgery Service is offering advanced Stereotactic Surgery for patients, one of only a handful of veterinary medicine teaching hospitals able to offer this highly-specialized procedure. Read more about Stereotactic Surgery.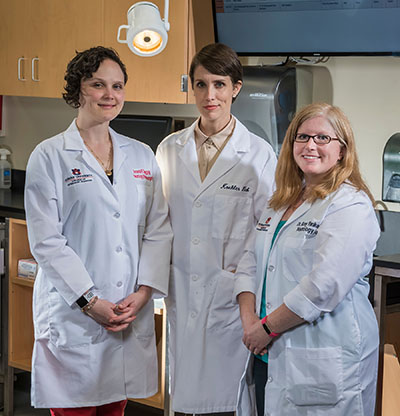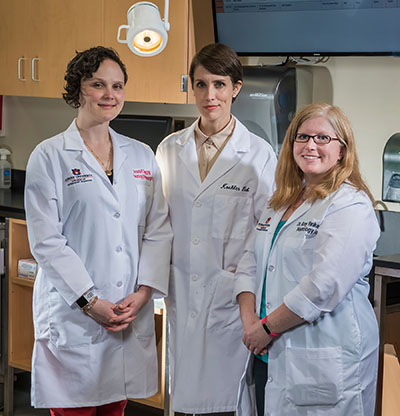 CANINE Clinical Trial
People and animals suffering from the deadliest form of brain cancer are undergoing similar treatment in an NIH-funded clinical trial through the University of Alabama at Birmingham, Auburn University's College of Veterinary Medicine and two other currently enrolled Southeastern veterinary programs.
Veterinarians and human medical doctors are collaborating on an NIH-funded clinical trial in which the same immunotherapy
is being used to treat people and dogs with glioma, the most aggressive form of brain cancer. Dogs and humans develop malignant brain tumors at about the same rate and with similar biology.
Information about Auburn College of Veterinary Medicine's CANINE trial can be found here.
Auburn faculty Amy Yanke, veterinary neurologists who specialize in brain surgery, and Jey Koehler, a veterinary pathologist, are investigators in the clinical trial.
Our Neurology team believes in advancement of care and diagnostics for your pet through hard work, education, collaboration, and innovation. Compassion is the driving force behind our efforts in our care for the well being of your pets.
Meet the Team
Neurology Support Staff
Danielle Derringer, LVT