Orthopedic Service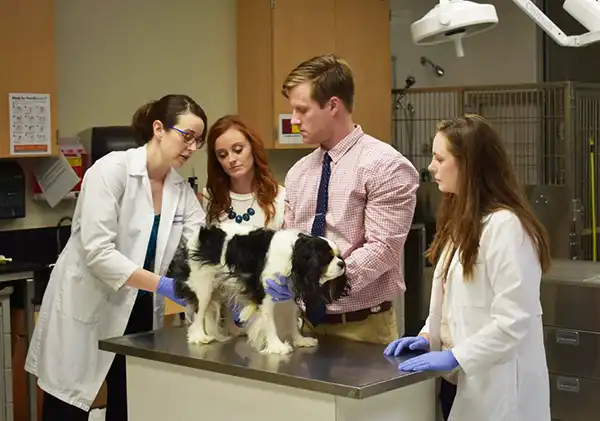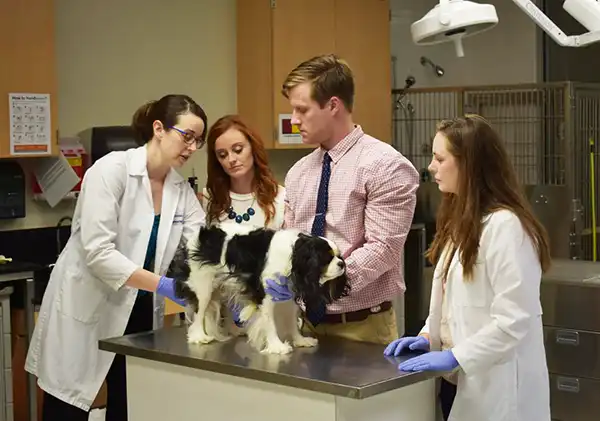 About the Service
The Orthopedic Service specializes in the diagnosis and treatment of orthopedic conditions and injuries in dogs and cats. The service provides diagnosis and treatment of fractures, injuries to tendons, ligaments, and joints, congenital abnormalities, osteoarthritis and generalized lameness. The Orthopedic Service has the goal of providing patients and clients with outstanding care and support for treatment and management of companion animal orthopedic conditions.
What We Do
The Orthopedic Service evaluates dogs and cats with a variety of orthopedic conditions. These include, but are not limited to:
diagnosis of hip dysplasia
patellar luxations
joint luxations
angular limb deformities
cranial cruciate ligament injuries
elbow dysplasia
fractures
tendon and ligament injuries
osteoarthritis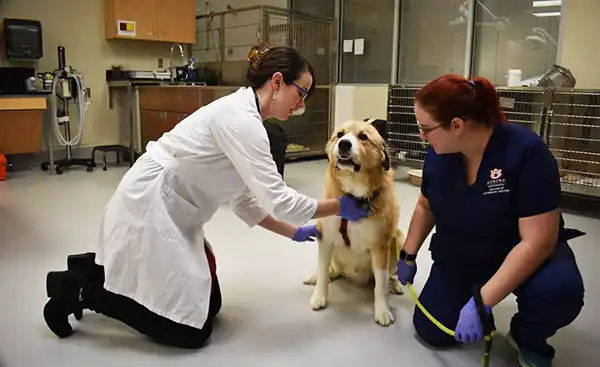 The Orthopedic Service has access to in-house advanced imaging equipment in the Radiology Service including: radiography, computed tomography (CT), magnetic resonance imaging (MRI), ultrasonography and nuclear scintigraphy that is used to assist in the proper diagnosis of existing orthopedic conditions.
Surgical interventions offered include but are not limited to:
fracture stabilization using a variety or implants
tibial plateau leveling osteotomy (TPLO)
CORA-based leveling osteotomy (CBLO)
lateral suture
arthroscopy
correction of angular limb deformities
double/triple pelvic osteotomy
femoral head and neck ostectomy (FHO)
proximal abducting ulnar osteotomy (PAUL)
The Orthopedic Service also offers product fitting for specialized orthotics, education on osteoarthritis management, physical rehabilitation for selected conditions, and regenerative medicine options.
Frequently Asked Questions
What do I need to know before the appointment?

Please arrive 15-20 minutes before your appointment to allow for check in. Auburn is in the central time zone, in case you are coming from a different time zone. Please do not give your pet pain medication or anti-inflammatories after 8 p.m. the night before your appointment. Please withhold food after 8 p.m. the night before your appointment to allow for fasted sedation and blood work if needed. Water should always remain available. If your pet is a pediatric patient or suffers from any diseases that require consistent or frequent meals (i.e. diabetes, liver shunt, etc.), please talk directly to a veterinarian prior to performing any fasting.

What do I need to bring?

Please bring any medical records or imaging studies (i.e. radiographs, CT, etc.) that have not been previously faxed or emailed to our team. Please bring the medications and joint supplements that your pet is currently taking and a list of any additional medications previously tried for the presenting problem.
We carry several varieties of prescription and bland diets from Purina, Hill's Science Diet, and Royal Canin but you are encouraged to bring your pet's regular food and treats if they are on other specialty foods or are known to get gastrointestinal upset with rapid food changes.
We have a large supply of bedding for your pet to use while staying with us so you don't need to bring a bed. We would highly advise not bringing any bedding or toys from home as we do not want your property to get lost or misplaced with our rigorous cleaning protocols.

How long will the appointment take?

The length of your visit will depend on the quantity and nature of the diagnostics and treatments performed. The initial appointment including referral record review, history, physical exam, orthopedic evaluation, and discussion of diagnostic recommendations will take approximately 1.5 to 2 hours. Advanced imaging (i.e. radiographs, CT, etc) for orthopedic conditions typically requires sedation and may take 1 to 3 hours for preparation, acquisition, recovery, and interpretation. After completion of the approved diagnostics, a treatment plan will be discussed.

Who will I speak with during my appointment?

During your appointment you will speak with several members of your pet's orthopedic team.  A fourth-year veterinary student will take a thorough history of your pet's condition and complete a physical examination. The attending and senior clinicians will verify all physical exam findings and perform a full orthopedic evaluation. The clinician will then discuss the diagnostics and treatment options with you.

If my pet needs surgery, when will that be performed?

We receive appointments on Mondays and Wednesdays. For Monday appointments, surgery is typically performed the next day on Tuesday. For Wednesday appointments, surgery is performed on either Thursday or Friday of the same week. When surgery is booked for the next day, your pet can either board with us overnight or return by 7:30am the morning of surgery. For complex cases, surgery may need to be scheduled for a later date to allow time for proper diagnostics, second opinions, 3D printed models, or additional specialty staffing.

Who performs the surgery?

Our service works as an operative team with the surgical procedure performed by the senior and attending clinicians. The clinicians are assisted by interns and students.

Where will my pet stay once surgery is completed?

Your pet will recover from anesthesia in our Intermediate Care Unit (IMC) where there is 24/7 patient treatment and monitoring.

Will I be contacted while my pet is in the hospital?

Yes. The veterinary student or doctor on your pet's orthopedic care team will call you at least once a day while your pet is in the teaching hospital. You will also receive a call from the doctor after surgery to discuss the surgical findings.

When will my pet be able to return home?

Usually, your pet will be able to go home once their pain is well managed on oral pain medications. For most elective orthopedic cases, patients go home 1-2 days after surgery. You will be provided daily updates from the veterinary student or doctor on your pet's orthopedic care team that will keep you updated with any positive or negative changes that may adjust the expected prognosis or discharge date.
Meet the Team
Veterinary Support Staff
Hilliary Bailey
Lindsey Strickland