Equine Breeding at Auburn
Stallions Available for Breeding through the Equine Reproduction Center
The center stands several outstanding stallions which are available for breeding to client mares and semen can be shipped anywhere in the country. Additional photos of the stallions and their offspring, videos, and further information are available upon request. For pricing and booking information, contact the Equine Reproduction Center at (334) 844-4490 or stallions@vetmed.auburn.edu.
Use the drop menus below to view more information on our breeding stallions.
Catiago

Breed: Holsteiner
Birthdate: 2002
Height: 16.3 hands
Sire: Cambridge
Dam: G-Catania
Fully approved with the American Holsteiner Horse Association (AHHA)  Catiago is the son of Cambridge out of a top producing Carthago mare, G-Catiana. Catiago had a successful show career up to the 1.35 m jumpers with strong placings.  His offspring are beautiful athletes with superb movement and correct conformation that have gone on to become successful hunters, jumpers and dressage horses.  They all have easy going dispositions and are very amateur friendly.
Sire: Cambridge, by Caletto I, was himself a vice champ at the Bucha as a seven year old and has produced stallion sons Catoki and Chambertin.  Additionally, Cambridge and Chambertin produced Olympic horses in 2008, Cinque Cento (dressage horse by Cambridge), Cedric and Can Do (show jumpers by Chambertin). Catoki has produce stallion sons, top mares, and himself finished 4th in the CM $1 million Spruce Meadows  Derby in 2012.
Dam: Catiago's dam, G-Catiana, by Carthago produced two full sisters to Catiago, Phylis (aka Magic Fox) and Olivia.  One is a Verband premium mare and top dressage horse and the other a State's premium mare and top level show jumper who finished third place at the German National Championships for 6 year olds..  G-Catiana also produced two other mares who both made premium.  Additionally, she produced a Contender son, Carthano I Z, who was approved at the Holsteiner approvals in Neumunster and sold to the Zangersheide for $180,000 euros and another son Carthano II who was also approved at the Neumunster stallion approval.  All together, G-Catiana produced 5 premium mares and 3 approved stallions.
Francisco El Hombre (deceased)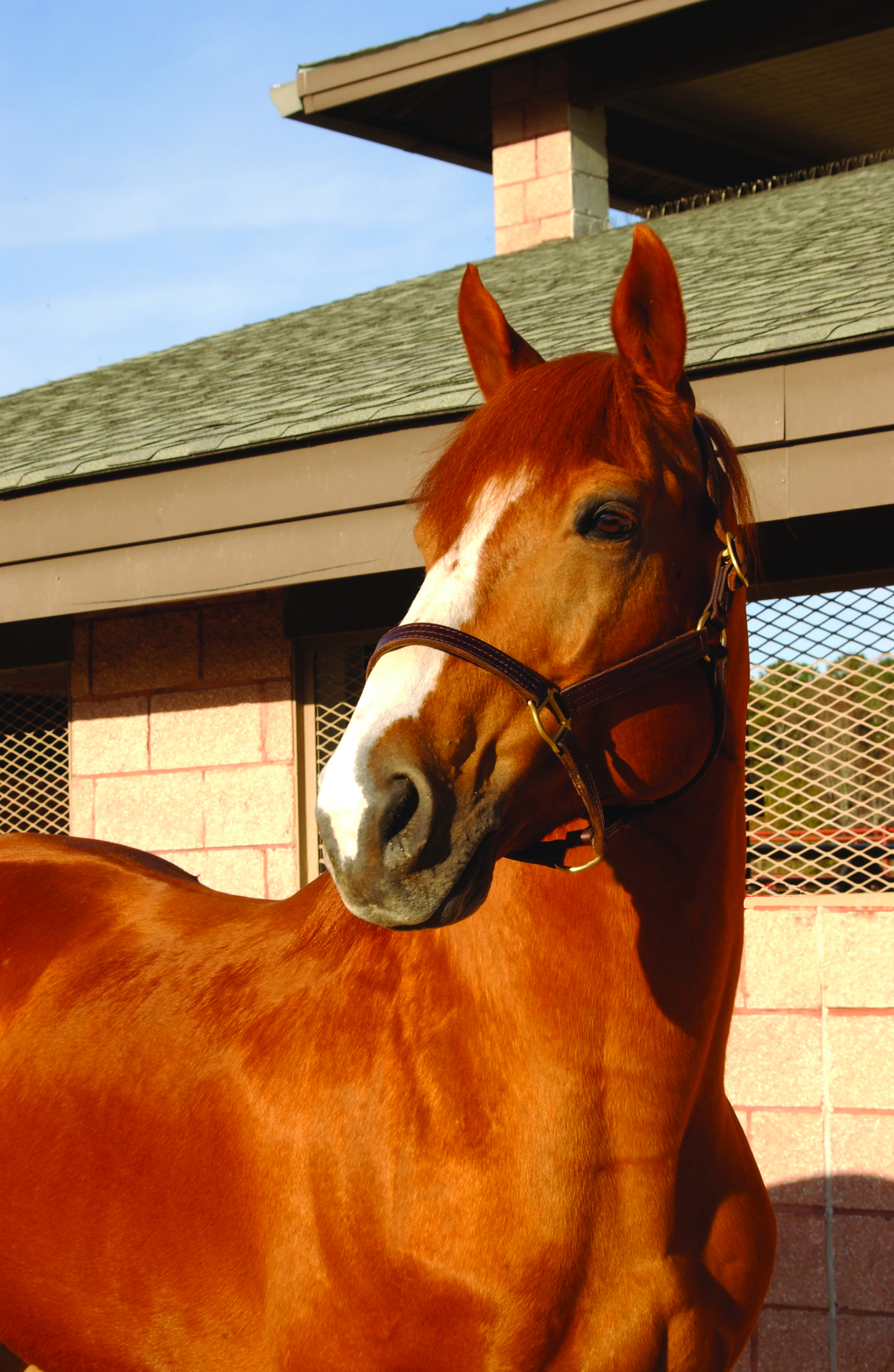 Breed: Colombian Sporthorse
Birthdate: 4/23/93
Sire: Nagir De Baussy (Selle Francais)
Dam: Krishna (WB)
Francisco was a flashy 16.1 hand Colombian Sporthorse out of a Selle Francais stallion and a Chilean Warmblood mare. Francisco was an accomplished jumper, jumping 1 meter 50 to 1 meter 60 consistently in Colombia. Francisco was moved back to the US with his previous owner and continued to compete successfully.  The hope was that he would compete in the Olympic Trials, but an injury just prior to the event prevented this. Francisco was retired to stud and came to Auburn shortly thereafter. His offspring share his handsome good looks and excellent bone. They follow in their father's footsteps and make excellent jumping and eventing prospects and all-around athletes in any discipline. Francisco passed away in 2014, but frozen semen is still available.
Offspring:
Killian
Konrad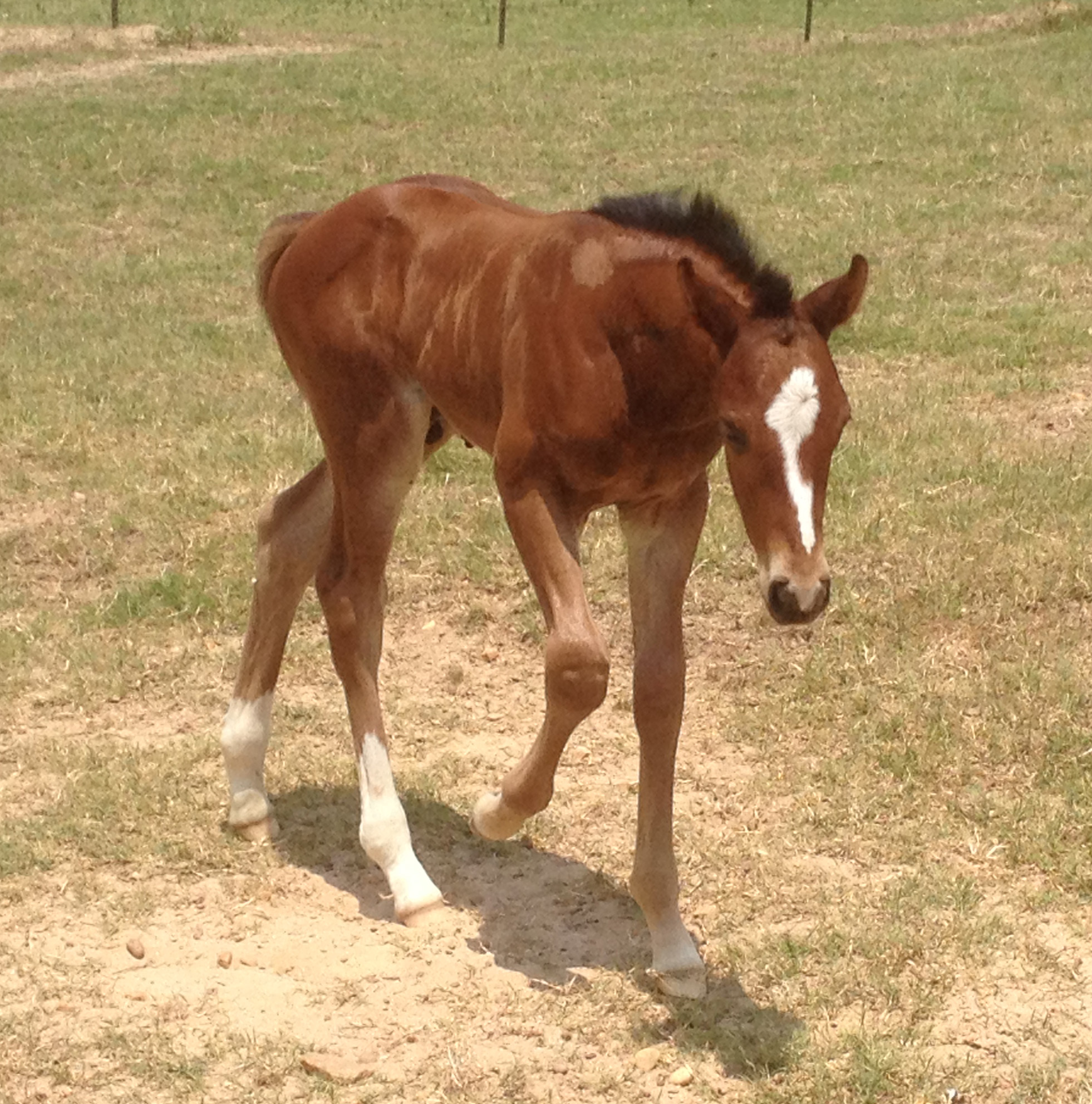 Frenchmans Maximum
Frenchmans Maximum
Owner: Tommy & Linda Bradbury
Breed: Quarter Horse
Birthdate: May 12, 2008
Sire: Frenchmans Guy
Dam: Lil Bit A Moon Luck
Max is by the leading living sire of Barrel Horses, Frenchmans Guy, whose progeny earnings now exceed $10 million. He is out of the 1D barrel producing mare Lil Bit A Moon Luck, a daughter of the AQHA Racing Champion Sire Casady Casanova. This makes Max a full brother to the 17 time 1D winner Frenchmans Bitofluck. He is eligible for BBR Select Stallion Stakes, Triple Crown 100, Future Fortunes, and K.I.S.S. (KY/IN Speed Stallions) Incentive. He will be standing for his sixth year at Auburn, where he will be available for breeding from February to June 2018. To make arrangements for a breeding contract, please contact Tommy Bradbury by phone at (270)307-3409 or by email at  tommy@shininb.com
Offspring:
Eros (Rose Foal 2017)
Sting
Breed: Oldenburger
Birthdate: 5/20/05
Sire: Santa Cruz (Oldenburger)
Dam: Magique Diamant (KWPN)
Sting is a 16.3 hand bay Oldenburger stallion and is the son of the famous Santa Cruz, out of a Sauvage Diamant mare. He came to Auburn as a two year old. He has phenomenal movement and his offspring show the same floating gaits and even disposition. His foals are currently showing promise in all English disciplines including hunter, jumper, eventer, and dressage.
Offspring: