Farm Animal Ambulatory Service
Beginning February 28th, 2022, until further notice, the following temporary changes will be made to the Farm Animal Ambulatory services delivered by the Food and Fiber Animal Service:
Schedulable herd work, such as a breeding soundness evaluation (BSE), palpation for pregnancy diagnosis, castrations, and vaccinations will be performed by the Farm Animal Theriogenology Service, Monday-Friday, and will be scheduled with that service
Appointments for other necessary farm visits will be offered once weekly and will be handled by the Food and Fiber Animal Service, depending on clinician availability
Day-time emergencies will only be attended to within a 35-mile-radius of the College of Veterinary Medicine and will be available throughout the business week
After-hours and weekend emergencies will be continued to be seen by all faculty and house-officers of the Food and Fiber Animal Service within a 35-mile-radius of the College of Veterinary Medicine
Available appointment times are limited and depend on the availability of farm animal clinicians. At this time, scheduled ambulatory appointments will be seen on one day per week. It is at the discretion of on-duty clinicians to decline service if hospital caseload demands. Clients that with means to transport animals for procedures that would typically be carried out on farm but can be performed in the clinic are encouraged to transporting these cases to the hospital, whenever possible. Clients, who currently do not possess means to transport their animal(s) to the Auburn University Large Animal Teaching Hospital are encouraged to seek out other options, such as for-hire animal transporters or family and neighbors who are able to help. Contact information for-hire animal transporters will be made available upon request.
Please note that all other services offered by the Food and Fiber Animal Service will remain unchanged and these changes will not affect the equine ambulatory services, which will be offered as usual.
About Our Service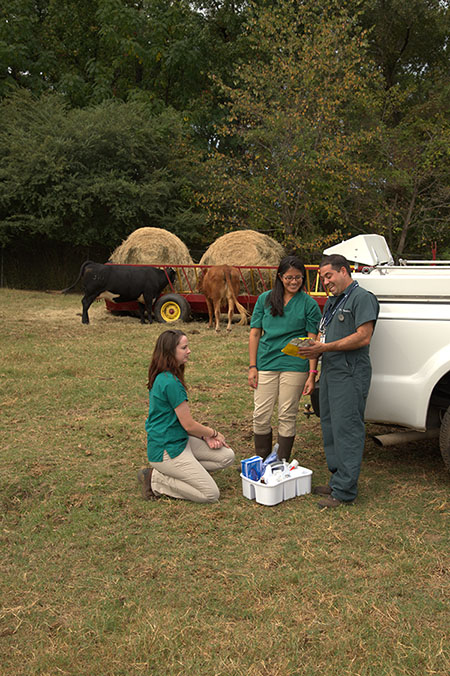 The Farm Animal Ambulatory Service provides on-farm care and consultations to local producers and clients in central Alabama and west Georgia. The service provides individual animal medicine, reproduction and surgery, as well as herd level disease investigation. The service offers a 24-hour veterinary emergency care on the farm, as well as access to the J.T. Vaughan Large Animal Teaching Hospital at the College of Veterinary Medicine.
The service provides on-location care to farm animals – beef and dairy cattle, sheep, goats, pigs, camelids and chickens – as well as consultations to producers, clients and referring veterinarians. In addition, the service will be able to transport a portable cattle chute system to farms to efficiently and economically help the producers work cattle.
The service is a program of the J.T. Vaughan Large Animal Teaching Hospital at Auburn. Its mission is to provide exceptional medical care to animals and clinical, hands-on education to senior-level veterinary students. For more information, call (334) 844-4490
What We Do
Evaluation of sick or injured animals through scheduled or emergency farm visits
Routine herd health care including health management, vaccination, parasite control, diagnostics, biosecurity, nutrition, and reproductive evaluation including pregnancy diagnosis
Meet the Team