Farm Animal Ambulatory Service
The following Farm Animal Ambulatory Service operational changes are effective immediately and until further notice:
Mondays, Tuesdays and Fridays: Regular appointments for herd work and other routine animal care procedures, such as breeding soundness evaluations (BSE), palpation for pregnancy diagnosis, castrations and vaccinations. Appointments are currently being booked through Mary Lawhon at (334) 844-6679.
Wednesdays and Thursdays: Reserved for emergency scheduling only for patients located within a 35-mile-radius of the veterinary teaching hospital. Clients able to transport animals for emergency procedures are expected to transport these cases to the hospital.
After-hours and weekend emergencies will continue as normal for patients located within a 35-mile-radius of the college. For weekend and after-hours emergencies call (334) 844-4490.
Clients with emergencies outside of the 35-mile area who are not able to transport patient(s) to the veterinary teaching hospital are encouraged to seek other options for transportation (i.e., for-hire animal transporters or family and neighbors with necessary equipment). Contact information of for-hire animal transporters is available upon request.
About Our Service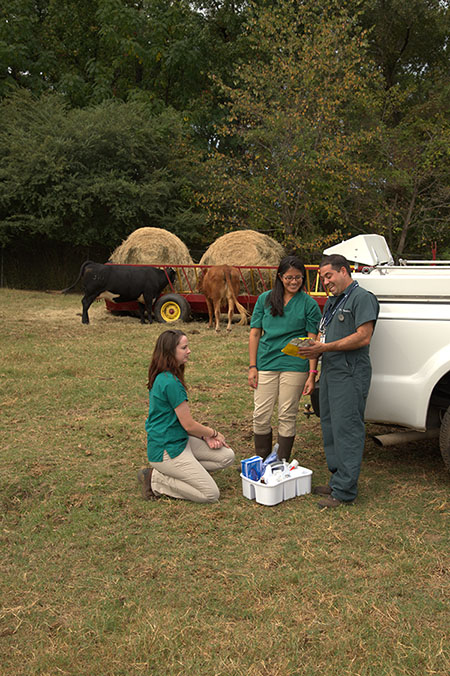 The Farm Animal Ambulatory Field Service provides on-farm care and consultations to local producers and clients in central Alabama and west Georgia through individual animal medicine, reproduction and surgery, as well as herd-level disease investigation. We offer 24-hour emergency care on the farm for patients located within 35 miles of the veterinary teaching hospital, as well as in-hospital care at the J.T. Vaughan Large Animal Teaching Hospital.
The service provides on-location care to farm animals – beef and dairy cattle, sheep, goats, pigs, camelids — and consultations to producers, animal owners, clients and referring veterinarians. In addition, the service is able to transport a portable cattle chute system and a portable hoof trimming chute to farms to efficiently and economically help producers and pet owners work cattle.
A program of the Auburn University J.T. Vaughan Large Animal Teaching Hospital, our mission is to provide exceptional medical care to animals and clinical, hands-on education to senior-level veterinary students. For more information contact our field services representative, Mary Lawhon, during business hours at (334) 844-6679. For after-hours emergencies please contact our main office at (334) 844-4490.
What We Do
Evaluation of sick or injured animals through scheduled or emergency farm visits
Herd and individual health care including health management, vaccination, parasite control, diagnostics, biosecurity and nutrition
Reproductive services including pregnancy diagnosis, artificial insemination, bull breeding soundness examination
Meet the Team