Dr. Lydia Staggs
Lydia Staggs '04, was recently promoted to senior veterinarian after Dolphin Discovery's acquisition of Gulf World. Staggs' promotion comes after working for more than a decade in veterinary practice with Gulf World Marine Park in Panama City Beach, Florida. Dolphin Discovery is an international company now located in nine countries across the world, from Rome, Italy to its headquarters in Cancun, Mexico.
Gulf World is the largest marine rehabilitation center in the panhandle of Florida. Much of Dr. Staggs' time is spent performing the necessary procedures to bring sick and injured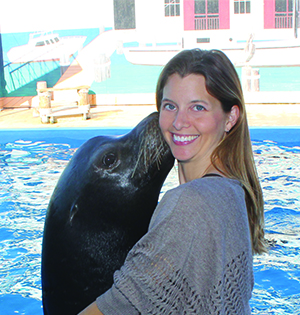 sea turtles, dolphins and small whales back to health. Her unique career choice has provided many unusual rewarding opportunities, including the rescue of dolphins from hotel swimming pools after Hurricane Katrina and de-oiling hundreds of sea turtles during the BP oil spill.
The acquisition of Gulf World by Dolphin Discovery comes with the opportunity for Staggs to work with new, additional facilities. Dr. Staggs will oversee the veterinary care at the four Jamaican locations along with Gulf World and future American marine mammal facilities that Dolphin Discovery opens in the coming years.
Staggs cares for a variety of animals, from small finches to 500-pound sea lions and dolphins. She has been involved with the care of the only collection of rough-toothed dolphins in the western hemisphere and has spent time establishing baseline data for this unique species.
"I am very proud that I can provide a quality of health for the animals under my care that I know that they would not receive in the wild," Dr. Staggs said. This unique position allows her to also care for animals that strand through the non-profit organization, Gulf World Marine Institute.
"I'm making an impact on species that are endangered. Each animal is just as important as any other. Giving animals a second chance at life means the world to me. Helping the wild population that have been so negatively impacted by human and environmental changes is a huge part of why I love my job," said Dr. Staggs.
Dr. Staggs also continues a one day a week practice with her mentor, Dr. Forest Townsend, a '76 Auburn CVM alum at Bayside Hospital for Animals in Fort Walton Beach, Florida. She has been working with Dr. Townsend for 12 years, starting with her post graduate internship. At Bayside, she is able to maintain surgery skills on a weekly basis.
In addition to her career, Dr. Staggs has also become an author and released her first novel, "Shamar."
Written by: Molly Lawrence