QSDA Presidential Rank Award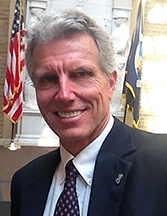 College of Veterinary Medicine Alumnus Dr. Cyril Gerard Gay '85 was one of three recipients to receive the 2017 U.S. Department of Agriculture (USDA) Presidential Rank Award.
Dr. Gay presently serves as senior national program leader of Agricultural Research Service (ARS) Animal Health. With a career spanning more than 30 years in private and public veterinary practice, Dr. Gay is recognized as a leading authority in vaccinology and biodefense research.
U.S. Secretary of Agriculture Sonny Perdue applauded the winners and their service in the department. "It's truly an honor to work alongside such dedicated civil servants, and I'm excited to see their excellent work recognized. USDA employees all across the country work hard every day to provide the best possible help to the people we serve."
As chief of the Biotechnology Section, Center for Veterinary Biologics (CVB), Animal Plant Health Inspection Service (APHIS), Dr. Gay developed procedures that led to the first product license and environmental release of a live recombinant vectored vaccine in the United States.
In the pharmaceutical industry with SmithKline Beecham and Pfizer, Dr. Gay led several cross-functional teams that successfully developed and registered six new veterinary vaccines. As director of Global Product Development for Pfizer Inc., Dr. Gay developed plans that interfaced research and development, clinical development, manufacturing, marketing, and product life-cycle management. Dr. Gay joined USDA-ARS in 2002 to lead the Animal Health National Program and its associated biodefense and global food security initiatives.
Among his primary career accomplishments, Dr. Gay also is recognized for:
Advancing the development of veterinary vaccines to protect farmers against priority animal diseases;
Establishing a biodefense research program for countering biological threats;
Spearheading the development of alternatives to antibiotics to combat antibiotic-resistant bacteria;
Establishing strategic global research alliances to mitigate the spread of transboundary animal diseases;
Connecting research discoveries with successful technology transfers.
Only one percent of career USDA employees receive the Presidential Rank Award, which has two categories: Distinguished and Meritorious. Dr. Gay received the Meritorious Professional Award in recognition for his outstanding career accomplishments and, specifically, for his exceptional leadership in carrying out the mission of the USDA-ARS Animal Health National Program.
In addition to a DVM degree from Auburn University College of Veterinary Medicine, Dr. Gay also holds a Ph.D. in microbiology from George Washington University.