Dr. Misty Edmondson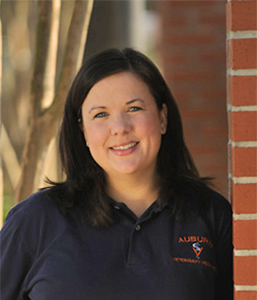 Dr. Misty Edmondson '01 has been named to the International Council for Veterinary Assessment (ICVA) Board of Directors by the American Association of Veterinary Medical Colleges.
The ICVA provides standardized examinations for use by state and provincial licensing boards as part of their licensure procedure for veterinarians. Established in 1948, it is charged with developing a standardized licensing examination for use by state licensing boards.
Currently an associate professor of large animal medicine in the Department of Clinical Sciences, Dr. Edmondson joined the college faculty in 2006. Prior to that, she worked in a mixed animal practice in rural Alabama for two years before returning to Auburn University to complete a residency in food animal theriogenology under the supervision of the late Dr. Bob Carson, and Drs. Dwight Wolfe and Gatz Riddell.
A native of Elmore County where she grew up on a commercial cattle farm, she received an undergraduate degree from Auburn in 1997 and the DVM in 2001. She completed her residency and master's degree in 2006 and became a Diplomate of the American College of theriogenologists in 2005.
Dr. Edmondson teaches numerous courses (including theriogenology, reproductive anatomy, urogenital surgery, production medicine, and others) to veterinary students as well as clinical rotations in food animal medicine and surgery, and advanced rotations in advanced beef production and advanced small ruminant medicine and surgery. She is also involved in therio-genology resident training through clinical instruction and graduate lectures and laboratories.
Dr. Edmondson's clinical interests include infectious causes of infertility in ruminants (trichomoniasis and BVDV), urogenital surgery, advanced reproductive technologies, and pain management.
She is a member of the American Veterinary Medical Association, American Association of Bovine Practitioners, American Association of Small Ruminant Practitioners, Alabama Veterinary Medical Association, and the Alabama Cattlemen's Association. She has been actively involved in research in the area of bovine and small ruminant reproductive health and pain management.