Alumni recognized with College of Veterinary Medicine's highest awards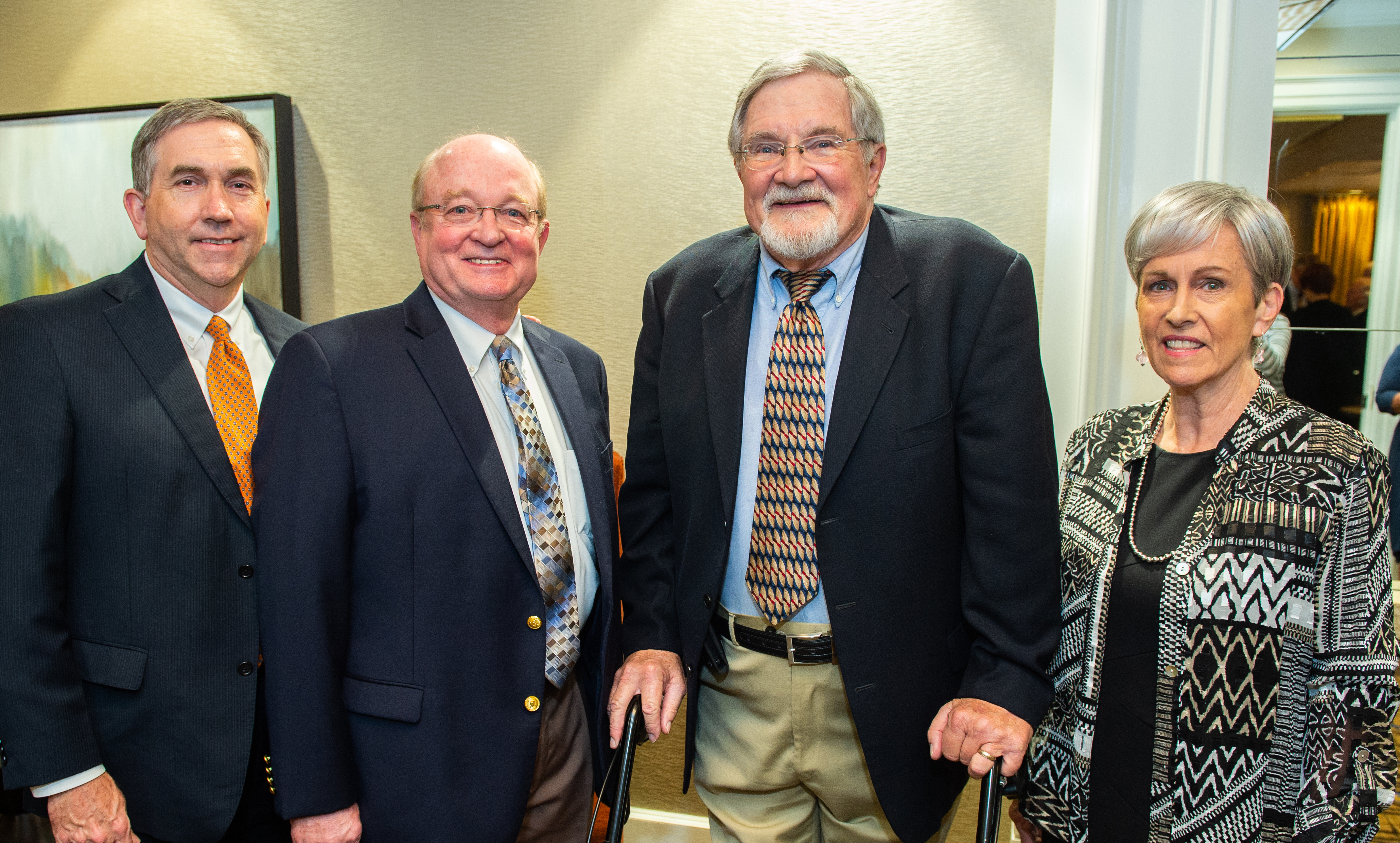 Three outstanding alumni and ambassadors of Auburn University's College of Veterinary Medicine were honored Oct. 19 at The Hotel at Auburn University and Dixon Conference Center by the college for their distinguished professional careers.
Patricia Kennedy Arrington '71, Robert Hoyt '74 and Steven Swaim '71 were recognized as the 2018 Wilford S. Bailey Distinguished Alumni.
The award is the highest honor given to College of Veterinary Medicine alumni to recognize their accomplishments in veterinary medicine, outstanding contributions to his or her community and the advancement of animal and human health.
The award is named to honor the late Wilford S. Bailey, who held a 50-year continuous faculty appointment at Auburn, serving in positions ranging from instructor to university president. A 1942 graduate of the college, Bailey was the first recipient of the Distinguished Alumnus Award. Following his death in 2000, it was named for him.
The awardees were recognized in three different areas of eligibility for the awards; academia, private practice and research and public policy.
Kennedy Arrington is the co-founder and owner of two veterinary practices in Louisville, Kentucky, the Jefferson Animal Hospitals, which includes the Fern Creek Wellness & Surgery Center and the Outer Loop 24-hour Emergency Center. Both are considered among the top practices in the state and beyond for their commitment to animal care and the human bond. Both practices are operated using fear-free and low-stress techniques, ensuring the pet and their owner a positive experience.
"We believe that gentle handling and compassion, not muscling down the animal, will go far in how the animal feels about us and especially ensuring the owner will return their pet for health care visits," she said.
Upon receiving the Bailey Award, Kennedy Arrington said, "I am very passionate in my practice and among my community activities about talking and teaching about veterinary medicine. I like to encourage students, and I tell all that I work with to get involved and move the profession forward. I am extremely pleased and honored to receive this award."
Hoyt, who currently serves as the Animal Program director and attending veterinarian with the National Cancer Institute-Bethesda Lab Animal Science Program, spoke also about giving back.
"I am quite humbled," Hoyt said. "Coming to Auburn has been a wonderful lifelong experience for me and it helped me to develop a lot of confidence and really move forward with my life. I have many lifelong friends whom I met here, and I want to especially thank the Admissions Committee for allowing me to attend veterinary medicine school at Auburn."
Swaim, former director of the Scott-Ritchey Research Center at the college, also talked of his lifelong and deep ties to Auburn University and to the community.
"I cannot tell you how honored I am for the 38 years spent at Auburn," Swaim said. "This award is a great honor and it is an even greater honor to receive recognition like this from an institution like Auburn University College of Veterinary Medicine."
Now making his home in Kansas, Swaim said, "I have to come back at least twice each year to get my blue and orange fix."
 About the Bailey Distinguished Alumni Recipients
Patricia Kennedy Arrington
Kennedy Arrington is a licensed, practicing veterinarian with more than 46 years of experience in both small and large animal medicine and surgery. She is co-founder and owner of Louisville's Jefferson Animal Hospital and Regional Emergency Center, opened in 1978. In 1980, the emergency center was expanded to provide around-the­clock veterinary care with doctors and trained staff on duty 24/7.
An 8,000 square-foot-facility was constructed in 1996, taking the business concept to an increased level of service and earning Jefferson Animal Hospital national recognitions. Her second hospital, Jefferson Animal Hospital Fern Creek, opened in 1985. This "sister" facility operates during normal business hours and works in tandem with the Emergency Center.
Both Jefferson Animal Hospitals are certified by the American Animal Hospital Association (AAHA), which requires strict standards and inspections, the first animal hospitals in Louisville to achieve this honor. Jefferson Animal Hospitals currently employs 14 licensed veterinarians and approximately 50 support staff.
Kennedy Arrington also is active in her community where she is an avid supporter of numerous youth education programs and the arts.
Robert Hoyt
Hoyt is Animal Program director and attending veterinarian for the National Cancer Institute Lab Animal Science Program in Bethesda, Maryland. He directs the program in support of the National Cancer Institute Center for Cancer Research, where he leads a staff of more than 80 professionals.
Among his noted accomplishments, Hoyt developed a waste anesthetic gas management plan for rodent imaging facilities and training plan for investigators which has become the model for the NIH intramural program; developed novel intra-bone marrow delivery system in swine and non-human primates for delivery of hematopoietic stem cells as a potential treatment platform for a number of diseases, including leukemia; developed a hands-on surgical training program for research staff; and co-developed with NCI researchers real-time MRI imaging techniques for lymphatics in primates, dogs and pigs, including real-time visualization of sentinel nodes in prostate cancer model.
He is active on numerous NIH research and advisory groups and boards and has a long list of peer-reviewed scientific research publications. Hoyt served in the U.S. military and holds professional veterinary licensure in the states of Maryland, Georgia, South Carolina and Florida.
Steve Swaim
Swaim earned his DVM from Kansas State University, and after a year in private practice, he served three years as a captain in the U.S. Army Veterinary Corps.
He came to Auburn in 1971 for advanced training in veterinary surgery and earned his Master of Science degree in veterinary surgery under the late Dr. Frank Hoerlein. For the remainder of his career, he served the Auburn College of Veterinary Medicine with distinction, earning every academic rank from instructor to professor.
Swaim provided leadership of Small Animal Surgery and Medicine, and in 1984, became the second director of the Scott-Ritchey Research Center, succeeding its founder, Dr. Hoerlein.
In 1990, he stepped down from that administrative post to become the center's director of the Wound Healing and Reconstructive Surgery and Sports Medicine programs, where his contributions to research and education flourished for the next decade.
Now retired and residing once again in his home state of Kansas, Swaim holds the title of professor emeritus of Small Animal Surgery and Medicine and senior scientist in Scott-Ritchey Research Center at Auburn University.