Auburn Vet Specialists, Gulf Shores, welcomes new internist and director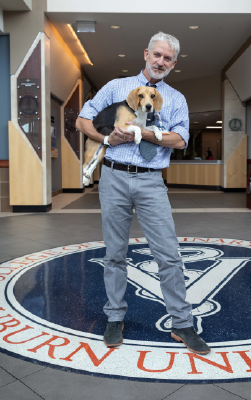 Join us in welcoming Dr. Andrew McGraw to the Auburn Veterinary Specialists-Gulf Shores team!
As the newly hired medical director and internist, Dr. McGraw brings more than 18 years of experience in the veterinary profession to the Gulf Shores area.
McGraw received his DVM from Louisiana State University in 2002. The son of a veterinarian, his life-long dream was to become a veterinarian himself. After working with his father in private small animal practice, he entered the US Army as a Veterinary Corps Officer. He was afforded the opportunity to pursue an internal medicine residency with Auburn University from 2006-2009, and he became board-certified in Small Animal Internal Medicine through the American College of Veterinary Internal Medicine in March 2010.
His military service culminated as the Director of the Department of Defense Military Working Dog Veterinary Service at the LTC Daniel E. Holland MWD Hospital at Lackland AFB, TX. Additionally, McGraw has served as clinical instructor in the First Year Graduate Veterinary Education program, an internship for newly commissioned Army veterinarians. He previously served as the Attending Veterinarian for the Department of Defense Military Working Dog Veterinary Service, primarily responsible for internal medicine and outpatient services for a resident population of over 900 dogs.
McGraw's interests are all things internal medicine related, but especially endocrine, gastrointestinal, and immune-mediated diseases. In addition to serving as internist for the Auburn Veterinary Specialists-Gulf Shores team, he serves as Medical Director. He has a passion for organizational leadership, providing outstanding customer service to both our referring veterinarians, pet-owners, and patients, as well as mentoring.
Beginning September 21, we will be scheduling internal medicine consults with Dr. McGraw with patients requiring diagnostic and therapeutic intervention for diseases of the cardiovascular, respiratory, gastrointestinal, hepatobiliary and urinary systems. Some typical cases for the internal medicine service may include chronic cough, chronic diarrhea or vomiting, liver disease, unexplained fever, urinary problems, endocrine diseases, unexplained lethargy, infectious diseases and cases requiring endoscopy, abdominal ultrasound or non-surgical biopsies.
For more information visit aub.ie/gulfshoresvet. Referring veterinarians needing to schedule a consultation, call the Gulf Shores clinic at (251) 227-8480.