Veterinary Students Dominate Competition at National Theriogenology Conference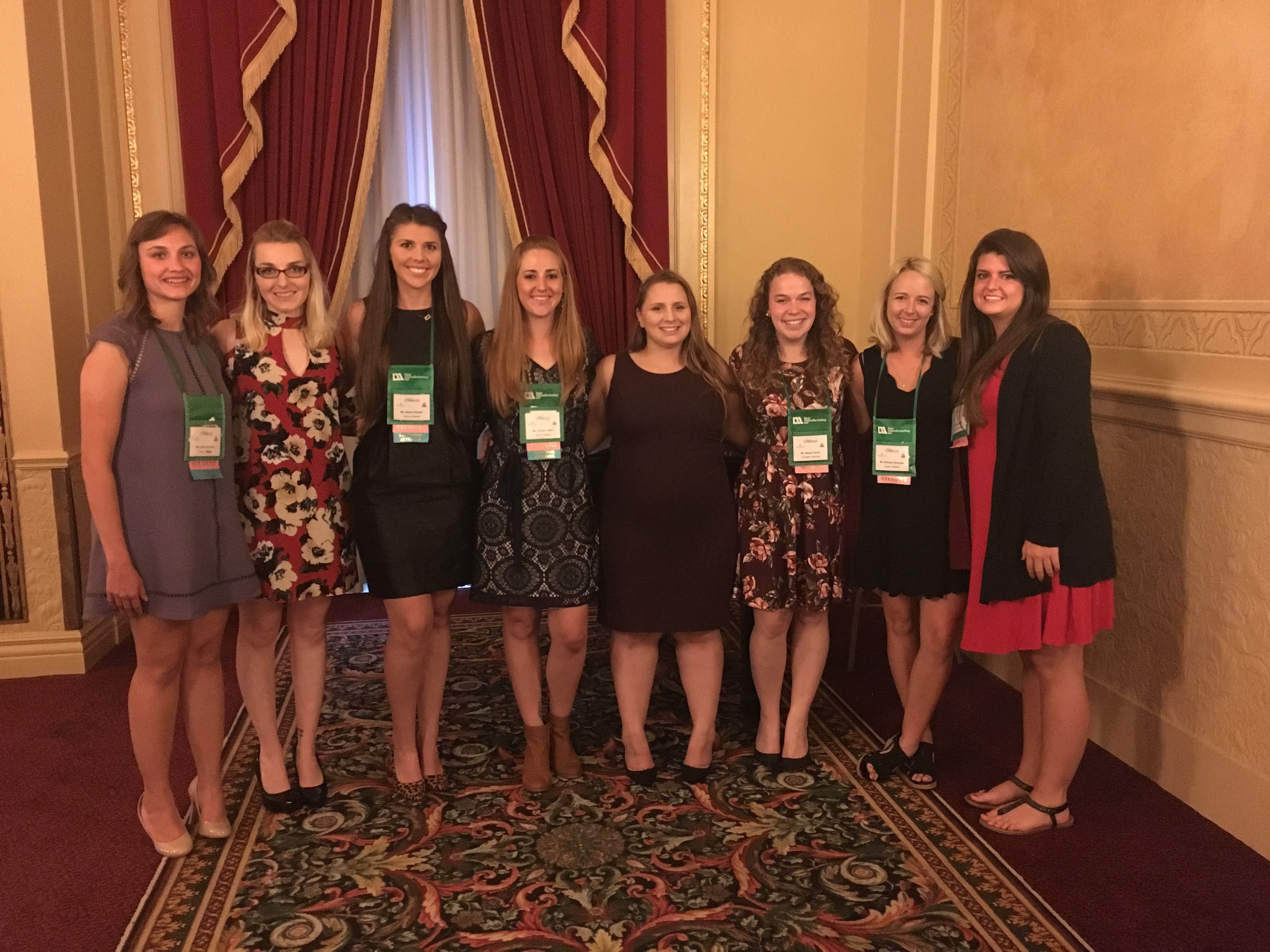 Capturing four of the top six awards, Auburn College of Veterinary Medicine students dominated the academic and scientific competition at this year's Society for Theriogenology National Conference in Milwaukee, Wisconsin.
The team also brought back the organization's highest award, the SCOTY (Student Chapter of the Year Award), presented to the student chapter earning the most points over the year for student activities, participation and involvement.
"The SCOTY award carries some significant bragging rights, and we are very proud of our Auburn veterinary delegation," said Dr. Aime Johnson, an associate professor in Equine and Small Animal theriogenology in the Department of Clinical Sciences.
Dr. Johnson, who has served as the student chapter faculty advisor for the past 10 years, said that the students worked very hard developing their case study abstracts and preparing for their oral and poster presentations.
"We had a total of 13 Auburn veterinary students attend the conference," Dr. Johnson said. "Our chapter placed high in both top award categories, capturing first, second, fifth and sixth place in the oral presentations; first, second, third and fifth in poster competition."
For the oral presentations competition, case summary abstracts are submitted by students from all member institutions. The abstracts are scored blind by a committee and the top six are invited to present. Auburn students claimed four of those six spots.
Poster competition involves the next 10 top abstracts selected, but not among the six chosen to make oral presentations. Auburn claimed four of those spots.
Awards earned by Auburn students:
Oral Presentations
First place: Rachael Thomas: "Management of Dystocia and Fetotomy in a Miniature Horse Mare;"
Second place: Madelyn Pelletier: "Nerve Dysfunction in the Penis of an Angus Bull;"
Fifth place: Michelle Benningfield: "Medical and Surgical Management of a Case of Chronic Mastitis in a Mare;"
Sixth place: Caitlin Sanders: "Paraphimosis and Partial Phallectomy in a French Bulldog."
Poster Presentations
First place: Brittany Killian: "A Case of Retained Fetal Membranes in a Broodmare;"
Second place: Brittany Shumack: "Management of Abortion and Mummification Due to T-Cell Lymphoma in a Labrador Retriever;"
Third place: Megan Hardy: "A Case of Exogenous Estrogen-Induced Paraphimosis in a Chihuahua;"
Fifth place: Carolina Ikard: "Mixed Germ Cell Tumor in the Placenta of an Arabian Mare."
Auburn's delegation also placed second in the Quiz Bowl competition and first in the T-shirt design competition.
The Society for Theriogenology is an organization of veterinarians dedicated to animal reproduction, whose mission is to promote standards of excellence in reproductive medicine, to provide outreach and education to veterinarians, and to foster continual improvements in theriogenology.