Auburn Veterinarians Perform Surgery on Kentucky Derby Winner
Two College of Veterinary Medicine faculty were part of a medical team that performed surgery last month on Kentucky Derby winning horse War Emblem.
Dr. Hui-Chu Lin, a professor of large animal anesthesia, and Glen Sellers, a clinical faculty member, were the anesthesia veterinarians participating the surgery to geld the championship horse.
They were called into service because of their expertise and relationship with the horse's veterinarian, Dr. Bryan Waldridge '91, a veterinarian of Old Friends, a thoroughbred retirement home, in Georgetown, Ky., where War Emblem now lives.
The 2002 Kentucky Derby and Preakness Stakes winner came to Old Friends in 2015, when he was returned to the U.S. by Japanese owners, who purchased the horse in 2003 to stud. He proved to be a reluctant breeder, and was retired and returned to the U.S. to reside at Old Friends.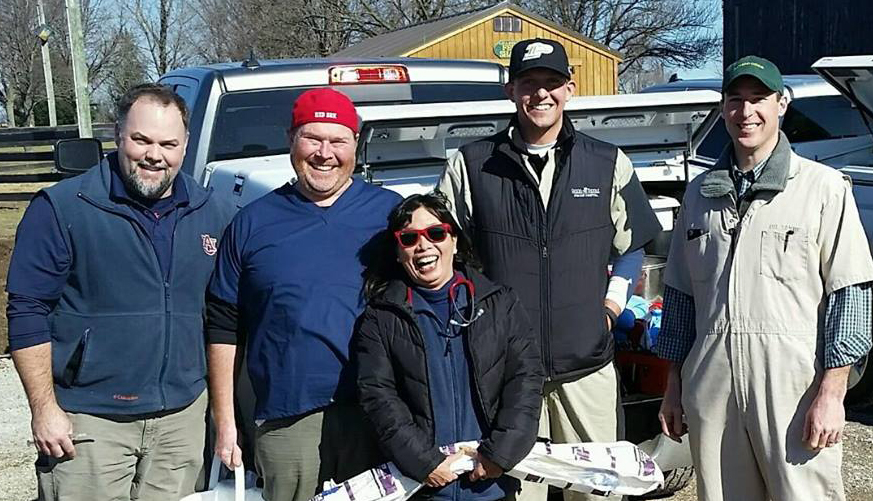 Under U.S. law, stallions imported into the country must cover two mares twice to make sure they are not infected with, or a carrier of, Contagious Equine Metritis, a highly contagious bacteria which, though all but eradicated in the U.S., could still cause serious outbreaks if allowed to spread.
"When a stallion is imported to the United States, the USDA requires that they test breed two mares to be declared clear of CEM," said Dr. Waldridge. "We tried everything and exhausted every option, but War Emblem refused to breed his mares, and so we were left with no choice but to geld him."
The surgery was performed by Auburn CVM alumnus Dr. Brad Tanner '05 and Dr. Colt Daughtery, from Rood and Riddle Equine Hospital, while Dr. Lin and Sellers administered anesthesia. Dr. Waldridge oversaw the operation.
At 17 years old, War Emblem was a high risk for a gelding operation. Recognizing this, as well as the prestige and heritage that War Emblem carried through his life, Dr. Waldridge ask his mentor, Dr. Lin, to assist in the surgery.
"Glen and I were honored to be trusted and be part of this surgical procedure," Dr. Lin said. "It is not often that I am called upon to anesthetize a high profile horse like War Emblem, him being a race horse and 17-year-old made anesthesia more challenging.
"But everything went according to the plan throughout the procedure. I am glad he is now happy and enjoy being just a horse."
War Emblem is fully recovered and settled into his retirement at Old Friends, a non-profit organization that cares for retired racing and breeding Thoroughbreds. The farm was founded in 2003 by former Boston Globe film critic Michael Blowen. Old Friends is home to more than 150 horses across three states, including 1997 Kentucky Derby winner Silver Charm, and three-time Santa Anita Handicap victor Game on Dude, among many others.