Auburn Veterinary Student Selected for USDA–APHIS Scientist Training Program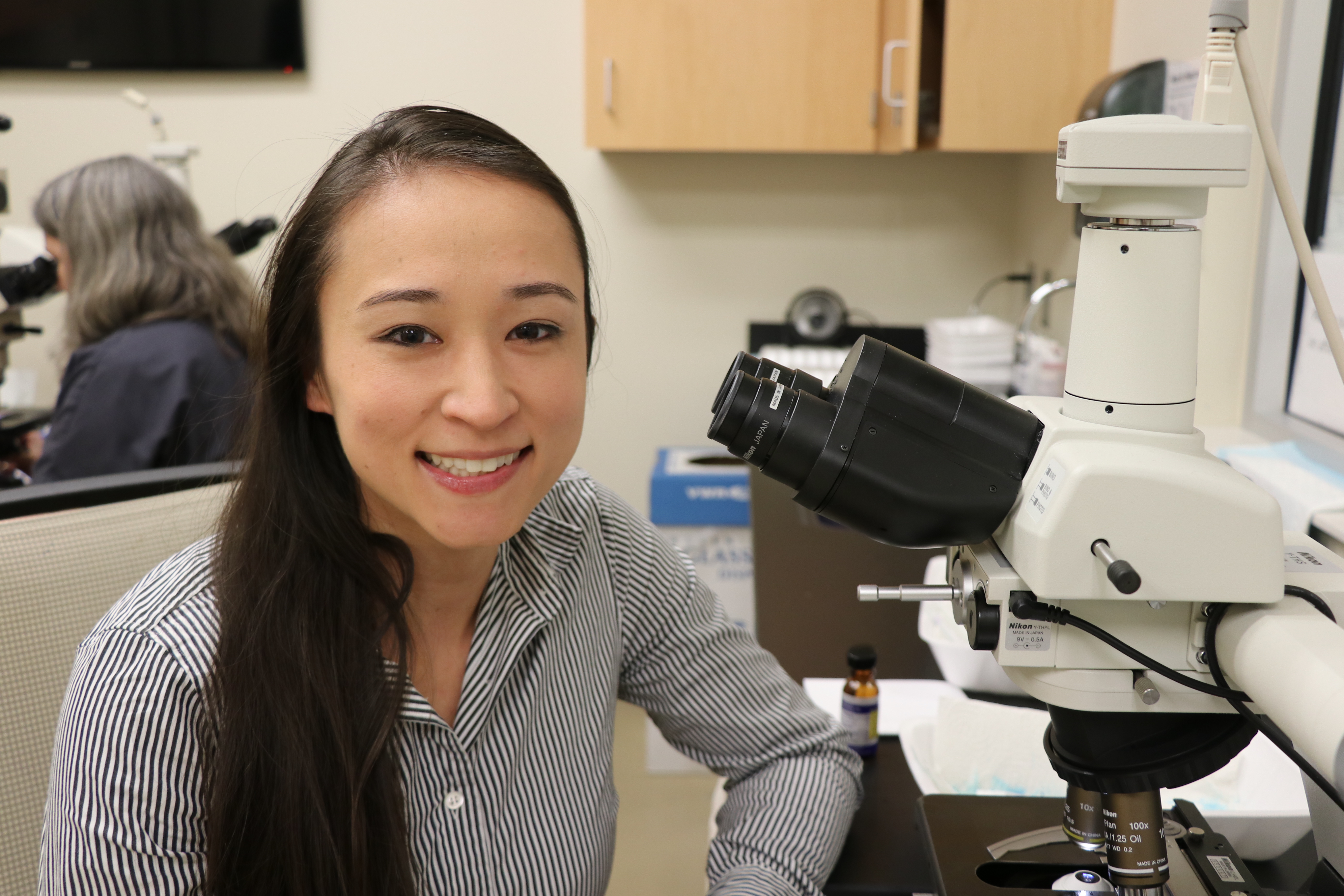 Virginia Aida, a second-year student at Auburn University's College of Veterinary Medicine, is about to begin coordinating a doctoral program along with her veterinary studies as she begins a prestigious program with the U.S. Department of Agriculture's Scientist Training Program that guarantees a job in its foreign animal diseases research program upon graduation.
Aida was recently awarded the fellowship by the U.S. Department of Agriculture through the National Bio- and Agro-defense Facility, or NBAF, Scientist Training Program, or NSTP.
"The NSTP fellowship program was established to build the workforce of doctoral-level scientists required to support the NBAF mission," said Frank "Skip" Bartol, associate dean of Research and Graduate Studies with the College of Veterinary Medicine. "Upon completion of her Ph.D., Virginia will be employed by the USDA at the NBAF, a new federal research facility."
The, Huntsville, Alabama native who is married and recently became a mother, is starting on her Ph.D. work this summer. Upon completion of this five-year program she will begin her career as a scientist through a seven-year career appointment with the USDA Animal and Plant Health Inspection Service, or APHIS, in its Foreign Animal Disease Diagnostic Laboratory at the NBAF in Manhattan, Kansas.
Aida was awarded the NSTP fellowship last fall. The fellowship provides five years of support for tuition and fees, a stipend during the remainder of the recipient's veterinary and doctoral education programs, and covers travel to participate in APHIS training and related professional development activities. In exchange for this support, NSTP fellows agree to work for the program for a minimum of seven years following graduation.
"I am so excited and grateful to get this opportunity," Aida said. "I look forward to starting my work in the APHIS program."
Aida says juggling all of these large puzzle pieces is really not as impossible as it might seem. She says that her curricula are somewhat flexible, and they are structured in a way that is manageable.
"I'll start the Ph.D. work this summer," Aida said. "There are two things that might happen after the summer: I'll come back to the DVM curriculum and finish my third year, then step out of the DVM curriculum just before my clinical year and finish my Ph.D. After I finish the Ph.D., I'll return to complete my clinical year and DVM degree.
"Or, I'll halt the DVM curriculum after this semester, complete my Ph.D. work, and then return afterwards to complete my third year of vet school and the clinical years. So basically, my projected graduations are 2022 for the Ph.D., and 2024 for the DVM degree."
Aida, who earned a bachelor's degree in biology with a minor in chemistry and master's degree in neuro trauma from the University of Alabama at Birmingham, has focused her veterinary medicine research on studying vaccines. Her faculty mentor in the Department of Pathobiology, Constantinos Kyriakis, DVM, specializes in the study of influenza and the development of novel vaccine technologies.
"This work is very similar to the work I will be doing with APHIS," Aida said.
The mission of APHIS is to mitigate the influx and spread of foreign and serious plant and animal diseases into the United States. Its Foreign Animal Disease Diagnostic Laboratory studies these diseases in highly bio-secure conditions. One of the primary goals is to test and validate vaccines to combat and treat those diseases in addition to serve as national diagnostic laboratory.
"Much of my work could involve the study of foot and mouth disease," Aida said, who will work at the APHIS lab this summer.
-30-
(Written by Mitch Emmons, emmonmb@auburn.edu)