Southeastern Raptor Center Readying for Eagle Lure and Jess Game Day Auctions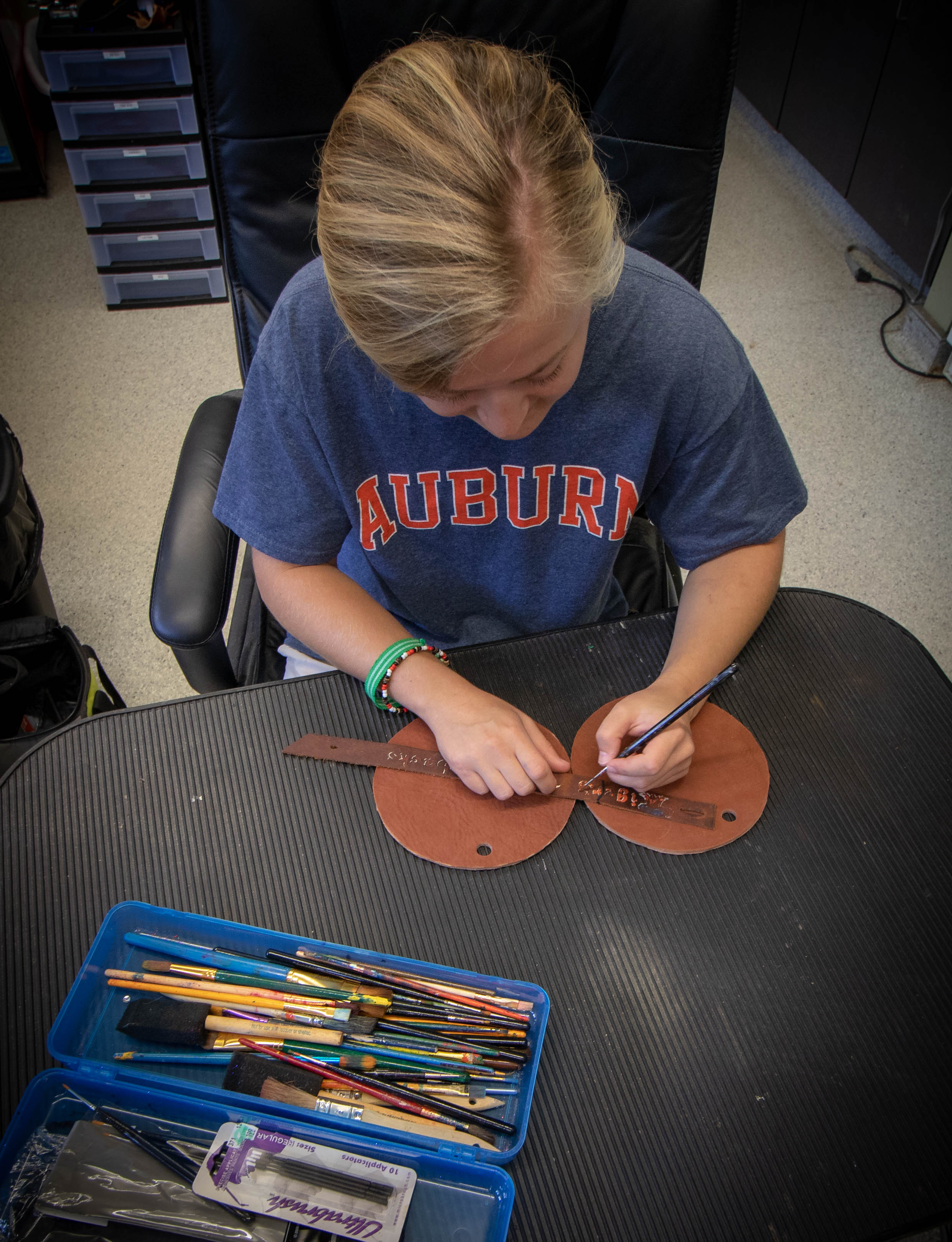 Tara Durboraw is a senior at Auburn University, majoring in wildlife ecology and management. The New Market, Alabama, native also volunteers for the Southeastern Raptor Center, where she works with the eagles and other raptors. At other times, she is an artist who is sharing her love for the raptors and designing the game day lures and jesses used during the pre-game eagle flight in Jordan-Hare Stadium.
Durboraw is one of four volunteers helping the raptor center design the eagle lures and jesses that will once again be auctioned to Auburn football fans this season.
The Southeastern Raptor Center's annual online auction will begin with Auburn's first football game on Sept. 8. The auction will open on Thursday, Sept. 6, and close on Monday, Sept. 10, says Andrew Hopkins, assistant director of raptor training and education at the center and one of the trainers for the Auburn eagles. Each lure and jess is handmade of leather and is unique to the specific game.
"The auction is a way that Auburn fans can obtain a one-of-a-kind piece of Auburn football history, while at the same time, support the eagles and programs at the raptor center," Hopkins said. "The leather is either painted, burned or stamped with the design. Typically the lures feature each team and are dated."
Jesses are cuffs worn around the eagle's ankles with straps to assist the handler in securely holding the eagle. The lure is used by the handler to entice the eagle to land midfield and often has talon marks from being used. The items are handmade and uniquely decorated by volunteers or staff of the Southeastern Raptor Center and are used one time—during the Auburn eagle's pre-game flight.
"We have to get approval from both Auburn and its opponent school for each lure," Hopkins said. "Once we have approval for the designs, the lures are produced and readied for the auction and used on that specific home game day."
The online lure and jesses auction is on the raptor center website, and fans can check out photographs of the lures and jesses, and place bids. Each auction will open at the same time—2:30 p.m. on Thursdays prior to the home game and close on Monday after the game at 2:30 p.m. Money raised from the auctions supports the center's mission of rehabilitation, education and conservation.
"These items are truly a rare piece of Auburn memorabilia and something every Auburn fan will want to own," said Dr. Jamie Bellah, director of the Southeastern Raptor Center and head of the Department of Clinical Sciences at the College of Veterinary Medicine. "We are proud to offer these items to Auburn fans in support of the educational mission of the raptor center."
Lure Auction Schedule:
Fans will have an opportunity to bid to own the lure and jess set used during pregame flights:
Sept. 8, Alabama State. The auction will open Sept. 6 and close Sept. 10
Sept. 15, LSU. The auction will open Sept. 13 and close Sept. 17
Sept. 22, Arkansas. The auction will open Sept. 20 and close Sept. 24
Sept. 29, Southern Miss. The auction will open Sept. 27 and close Oct. 1
Oct. 13, Tennessee. The auction will open Oct. 11 and close Oct. 15
Nov. 3, Texas A&M. The auction will open Nov. 1 and close Nov. 5
Nov. 17, Liberty. The auction will open Nov. 15 and close Nov. 19
-30-
Mitch Emmons,mailto:emmonmb@auburn.edu