College Alumna Receives 2015 Master Thesis Award
Dr. Jacqueline Gimmler, who recently completed a master's degree in biomedical sciences at Auburn University's College of Veterinary Medicine, has been selected to receive a 2015 Master's Thesis Award by Auburn University.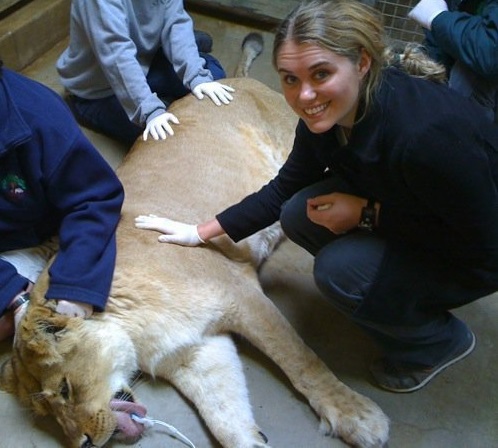 Dr. Gimmler was one of six across the university to receive the award. Her thesis was on "Determining canine skin concentrations of terbinafine to guide the treatment of Malassezia dermatitis."
A native of Highland Village, Texas, Dr. Gimmler completed her undergraduate work at the University of Texas at Austin, and received her DVM from Texas A&M's College of Veterinary Medicine and Biomedical Science in 2010. Upon completing internships in small animal medicine and dermatology, Dr. Gimmler wanted to specialize in dermatology and become board certified.
"Residency programs in veterinary dermatology are extremely rare," Dr. Gimmer said. "At the time, there were only four open spots in the U.S., and I was accepted to the program at Auburn.
"The residency program requires that we also complete a Master's degree at the same time, which is why I enrolled in the graduate school."
During her graduate work, Dr. Gimmler's research focused on measuring the concentration of an antifungal drug, terbinafine (also known as Lamisil), in canine skin. Originally used to treat fungal infections in finger and toenails, terbinafine has seen increased use in veterinary medicine as an inexpensive generic drug, but little was known about its behavior in the skin.
Dr. Gimmler credits her research mentor, Dr. Dawn Boothe, as well as Crisanta Cruz-Espindola in the Pharmacology Laboratory, and her dermatology mentors, Drs. Amelia White and Donna Angarano, and their support throughout her time at Auburn as one of the biggest factors in her success.
"I think the feeling of family is what sets Auburn apart," Dr. Gimmler said. "When I faced some serious adversity during my time, my mentors and colleagues stood by me in every possible way."
As well as receiving her master's degree, Dr. Gimmler also completed her residency in dermatology, and was recently recognized as a Diplomate of the American College of Veterinary Dermatology (DACVD).
Regarding her thesis selection as an award winner, Dr. Gimmler said she was, "so honored that my research was selected. A lot of hard work went into designing, performing and publishing this project, and I'm grateful that anyone thought my research and I are worthwhile."
Dr. Gimmler recently returned to Texas, where she now works at the Animal Dermatology Referral Clinic in Plano.