College of Veterinary Medicine celebrates Brain Awareness Week
A vital alliance comprised of families affected by rare brain diseases, researchers searching for a cure and industry executives was highlighted during a Tuesday event at Auburn University.
The panel event, "Building a Brighter Future for Rare Brain Disease Patients," was held at The Hotel at Auburn University and Dixon Conference Center. There, five family members spoke about the devastating effects of rare and fatal brain disorders known as GM1 gangliosidosis, Tay-Sachs and Sandhoff diseases. Researchers from Auburn's College of Veterinary Medicine and University of Massachusetts Medical School also provided updates to their partnership to develop gene therapies AXO-AAV-GM1 and AXO-AAV-GM2 to treat the disease; and executives with Axovant, which licensed the drugs, told about the clinical development efforts underway for each program.
"This is not like regular drug development," said Dr. Paul Korner, senior vice president of clinical development for Axovant. "Patients are not anonymous, and knowing the patients and knowing the community has made all the change."
"The families have been the key [in] seeing patients," said Doug Martin, professor in the Department of Anatomy, Physiology and Pharmacology in Auburn's College of Veterinary Medicine who assists teaching microanatomy while continuing his research at the Scott-Ritchey Research Center. "Some are struggling very hard, and meeting them, getting to know them, makes the long hours in the laboratory worthwhile."
Martin and a team of Auburn researchers, along with UMass researchers Miguel Sena-Esteves and Heather Gray-Edwards have been working collaboratively for nearly 15 years, combining animal and human medicine studies to cure rare diseases that affect both animals and humans. The three gave a panel discussion outlining their current research and their partnership.
"We fail at about 90 percent of what we do because that's the nature of research," Sena-Esteves said. "Then you meet families like those here today and you realize why you do this, and it doesn't matter how tired you are and how much you want to quit. You try harder to help someone. We've always believed in our team, in 2000 didn't know each of us were working on something similar and 19 years later, here we are."
"It's an unusual and unique opportunity to see the impact of scientists who are closely engaged with families, and from families, see …. science moving toward a treatment," said Dean Calvin Johnson, who welcomed families.
Alexis Buryk, whose twin daughters were diagnosed with adult onset Ta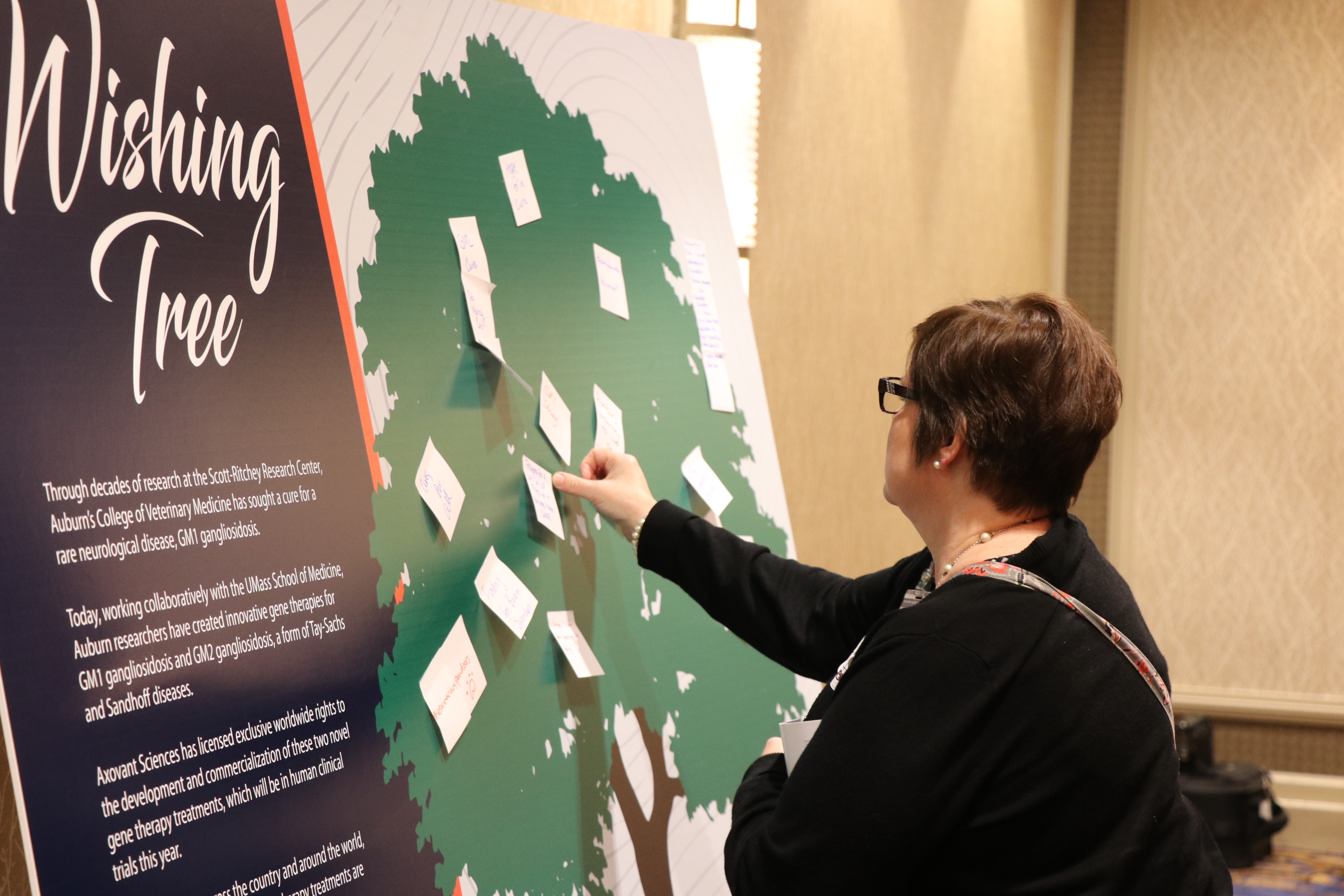 y-Sachs, said in addition to becoming an advocate of healthcare, parents are also at the front lines with researchers to help find cures. Involved with the National Tay-Sachs and Allied Diseases Association, the family also has a non-profit that has raised more than $500,000 and funded seven research grants.
"It's a partnership, from physicians who didn't know what was going on with my children, then finding smart, capable, inspiring people like these researchers I'm with today," she said.
"I'm here to do what I can to help them and stop progression of the disease."
Katie Buryk, who recently resigned from her job because of her health, says, "The future holds enormous challenges for me, but because of Auburn, UMass and Axovant, and others, we do have hope. I'm becoming more resigned because the disease is advancing. That's my reality."
Rojan's Vakili's two-year-old, son, Darian, was diagnosed in January with GM1. A senior product manager in the Los Angeles area, she spoke of the horrifying but real effects of GM1. "Without treatment, he will end up in a wheelchair, [with] a feeding tube and he won't recognize me. I don't know how you are supposed to live with that.
"Hope is what gets me up in the morning; hope that we can pause this disease."
Opelika residents Sara and Michael Heatherly, whose son Porter died in 2016 from GM1, also spoke at the conference. "It's horrifying to receive that diagnosis, but … we found out about research at Auburn. We've had a sense of hope," Michael Heatherly said.
"We understood early on the reach would not help Porter; but we wanted to help spread the word of the research and the progress that was being made."
The event, which was webcast live, was recorded and can be viewed here.