College of Veterinary Medicine offers hurricane safety tips for pets and livestock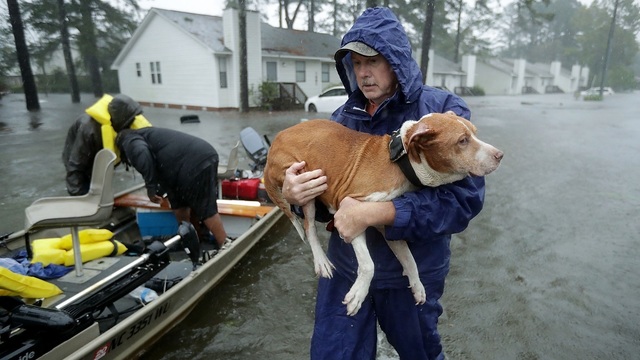 Auburn University's Veterinary Teaching Hospital has advanced emergency and critical care services for large and small animals open 24/7.
The Bailey Small Animal Teaching Hospital and the J.T. Vaughan Large Animal Teaching Hospital have emergency protocol in place to ensure essential personnel are on campus to care for patients.
The college's facilities cannot accept animal boarding as it is reserved for animals needing medical assistance.
The following is advice for animal owners to prepare their pets and livestock for Hurricane Michael.
Small Animals
Dr. Kendon W. Kuo, DVM, MS, DACVECC
Assistant Clinical Professor, Emergency and Critical Care, Department of Clinical Sciences
Kathy Gerkin, DVM, MS
Assistant Clinical Professor, Emergency and Critical Care, Department of Clinical Sciences
Know which storm shelters allow pets to ensure owners have a viable storm evacuation plan.

Greene Hall at the Auburn University College of Veterinary Medicine is open as a shelter, and accepts pets on leash and in carriers if storm warnings are issued for Lee County.

Pets can experience anxiety during storms. If your pet experiences anxiety, be prepared by having your primary veterinarian provide medications to help control the anxiety. If that is not available, try playing "white noise" or other soothing background sounds to help relax and calm an anxious pet.
A pet that has been microchipped is the best way to ensure your pet can be found if it gets lost in a storm. If not, be sure your pet has on an up-to-date identification tag.
Owners should ensure pets have access to food and clean water during severe storms
Have a portable crate for transporting the pet during evacuation, or to use during a stay in a shelter.
A non-retractable leash is safer than a retractable leash, which could pose tangle, trip or other
Secure outdoor furniture and other items that might become airborne and strike a pet.
Large, Animal; Ruminant Animals & Equine
Thomas Passler, DVM, PhD, DACVIM
Associate Professor, Farm Animal, Department of Clinical Sciences
Jennifer Taintor, DVM, MS, DACVIM, DACVSMR
Associate Professor, Equine Services, Department of Clinical Sciences
Move livestock, ruminant animals and equine to high ground, taking them out of low-lying fields that could become flooded. Standing in contaminated water can cause health risks and diseases for animals.
Don't always assume a barn is the best shelter as high winds can cause destruction to barns and injure animals that cannot get out of a barn.
Ensure you have additional water supplies so if wells won't work due to no electricity, animals can receive water.
Proper identification tags, including proper paperwork, on animals can assist when trying to rehome animals loose from downed fences. Taking photographs of animals can be a good idea.
If wind gusts are 40 mph or higher, is it is recommendation that you not move animals by trailer.
Other Resources