College of Veterinary Medicine Students Receive High Honors at Conference
Students from Auburn University's College of Veterinary Medicine placed in the top five in all national competitions at the Society for Theriogenology's (SFT) Annual Meeting in San Antonio.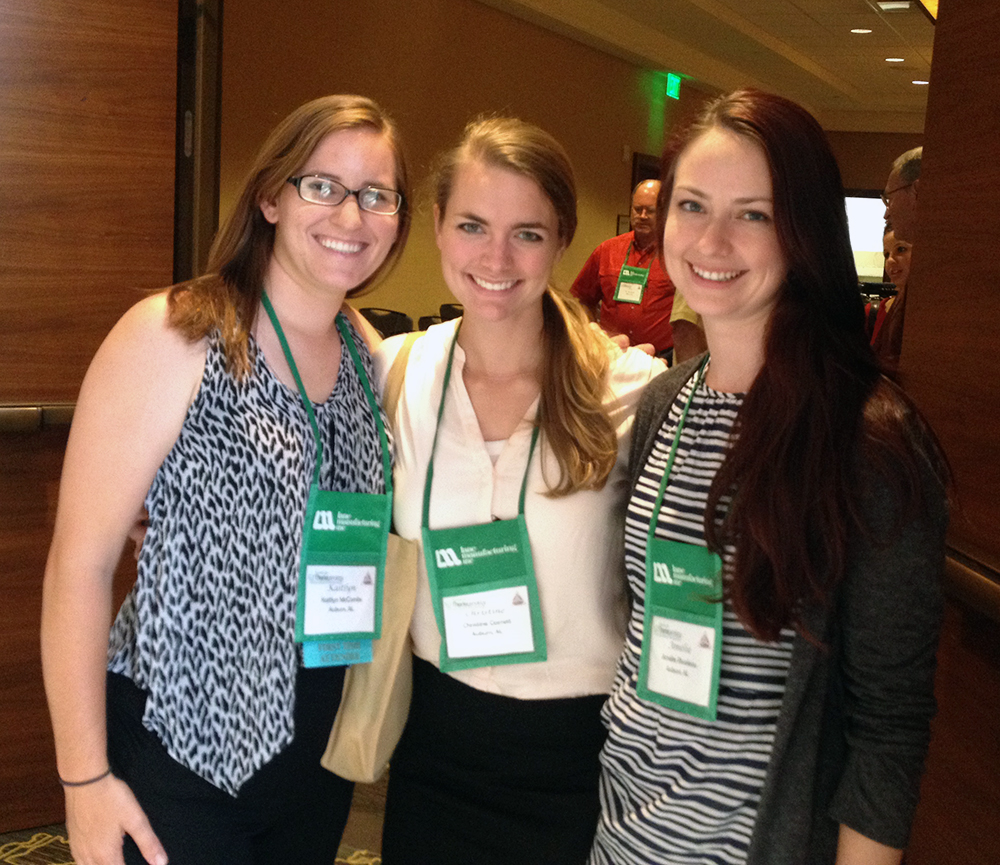 "These students worked hard and I am very proud of them," said Dr. Aime Johnson, an associate professor of equine and small animal theriogenology, and the faculty liaison for the student chapter of the SFT. "The conference is an international event, and an amazing opportunity for our students to meet professionals in theriogenology and learn from them."
Christine Garrett, a third-year student from Albertville, Ala., and the current president of the student chapter of the SFT, won first place in oral presentations for her abstract, "Endometrial Cyst Ablation in a 23-year-old Dutch Warmblood Mare."
Amelie Rivaleau, a third-year student from Charleston, S.C., and the vice president of the SFT Auburn chapter, placed fourth in oral presentations for her abstract, "Treatment for Agalactia in a 2-year-old queen."
Prior to the conference, students submitted an abstract from a case they had seen or research they had conducted. The top six submissions were invited to give an oral presentation of their abstract, while six runner-ups were invited to give poster presentations.
Drew Hested, a fourth-year student from Lexington, Ky., formerly student president and student vice-president of the SFT, placed second in poster presentations for his poster, "Diagnosis and Treatment of an Enlarged Ovary in a Mare."
Kaitlyn McCombs, second-year SFT member from Hueytown, Ala., was the fourth student to attend the conference.
The Auburn student chapter also placed second for the Student Chapter of the Year Award, first in a T-shirt design competition and fifth for a quiz bowl, a game-show style event that tests three-member teams on their knowledge of theriogenology.
During the conference, veterinary medicine students were paired with a professional mentor, which was rewarding for Garrett. "It was great because they really emphasize student involvement. We got to learn from some of the best theriogenologists in the world," she said.
"Theriogenology is a relatively small area of veterinary medicine, and it's a tight knit community, so getting to meet other students and professionals was a great experience."
Hested, who has attended the conference for the past three years, said it is beneficial because "they really involve students in everything that is happening at the conference."