College of Veterinary Medicine Dean Emeritus Receives AVMA Award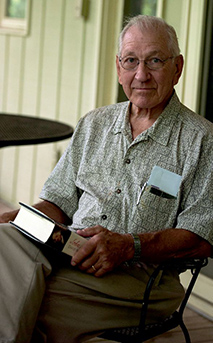 Originally Published in the 152nd AVMA Annual Convention Daily News, Monday, Jul 13, 2015 by Katie Burns
Dr. John Thomas Vaughan came from agricultural roots to lead the Auburn University College of Veterinary medicine during a transitional time. During Saturday's Keynote Luncheon, the dean emeritus received the AVMA Award for his contributions to organized veterinary medicine.
Dr. Vaughan is an Alabama native, born in Tuskegee in 1932. His father raised cattle on farms in the area and kept horses to work the cattle. His oldest brother diversified into other livestock, while another older brother became a physician. Dr. Vaughan said, "My father and my oldest brother said they thought I should be a veterinarian, and that suited me to a tee."
After earning his veterinary degree from Auburn in 1955, Dr. Vaughan practiced briefly in Tuskegee. When he brought a cow to Auburn for surgery, the dean recruited him back to the the college as an instructor in the large animal clinic. The next dean sent him to the University of Pennsylvania to study equine surgery, then assigned him to teach large animal surgery at Auburn. In 1968, Dr. Vaughan passed the inaugural board examinations of the American College of Veterinary Surgeons.
Cornell University recruited Dr. Vaughan to be a professor of surgery and director of the large animal hospital starting in 1970. He returned to Auburn in 1974, accepting an offer to be department head in large animal medicine.
Int he mid-1970's and early 1980's, Dr. Vaughan moved into leadership roles in academia and organized veterinary medicine. He became dean at Auburn in 1977. In 1980, he was ACVS president, and in 1981, he was president of the American Association of Equine Practitioners. Regarding the ACVS and AAEP, Dr. Vaughan said, "I've been greatly reinforced and rewarded through the years for my participation."
From 1977 to 1995, Dr. Vaughan served as dean at Auburn and was an active member of the Association of American Veterinary Medical Colleges. During his tenure as dean, the college expanded its research program and graduate training, clinics, and clinical faculty. He provided leadership during the growth of veterinary colleges in the South and the increase in female veterinary students across the country.
"Dr. Vaughan has uniquely influenced higher education at its interface with the veterinary profession over the last half-century," wrote Dr. Calvin M. Johnson, current dean at Auburn, in his letter nominating Dr. Vaughan for the AVMA Award. "His reputation as a practical scholar, clinical specialist, and public ambassador is recognized throughout the profession."
Dr. W. David Goolsby, a 1982 Auburn graduate, wrote in a letter of support, "Dr. Vaughan, Dean Emeritus, is legendary. He is known both nationally and internationally for his integrity, intellect, service, surgical skills (particularly equine), speaking expertise, and for his depth of knowledge in the areas of management and administration."
After retirement, Dr. Vaughan became active witht he AVMA PLIT, the Trust that provides professional liability insurance. He was a trustee from 1996 to 2009, serving as chair from 2001 to 2003.
Dr. Vaughan has received a number of accolades during his career. Among them, Auburn renamed its large animal hospital as the John Thomas Vaughan Large Animal Teaching Hospital in 2003.
Currently, Dr. Vaughan is working on a history of veterinary medicine at Auburn. The college dates back to 1907, but he started with events as far back as the 16th century. He is up to 1935.
To read the original publication, click here, and go to page 10.