CVM's Kayla Blake Recipient of 2017 Merck Swine Veterinary Scholarship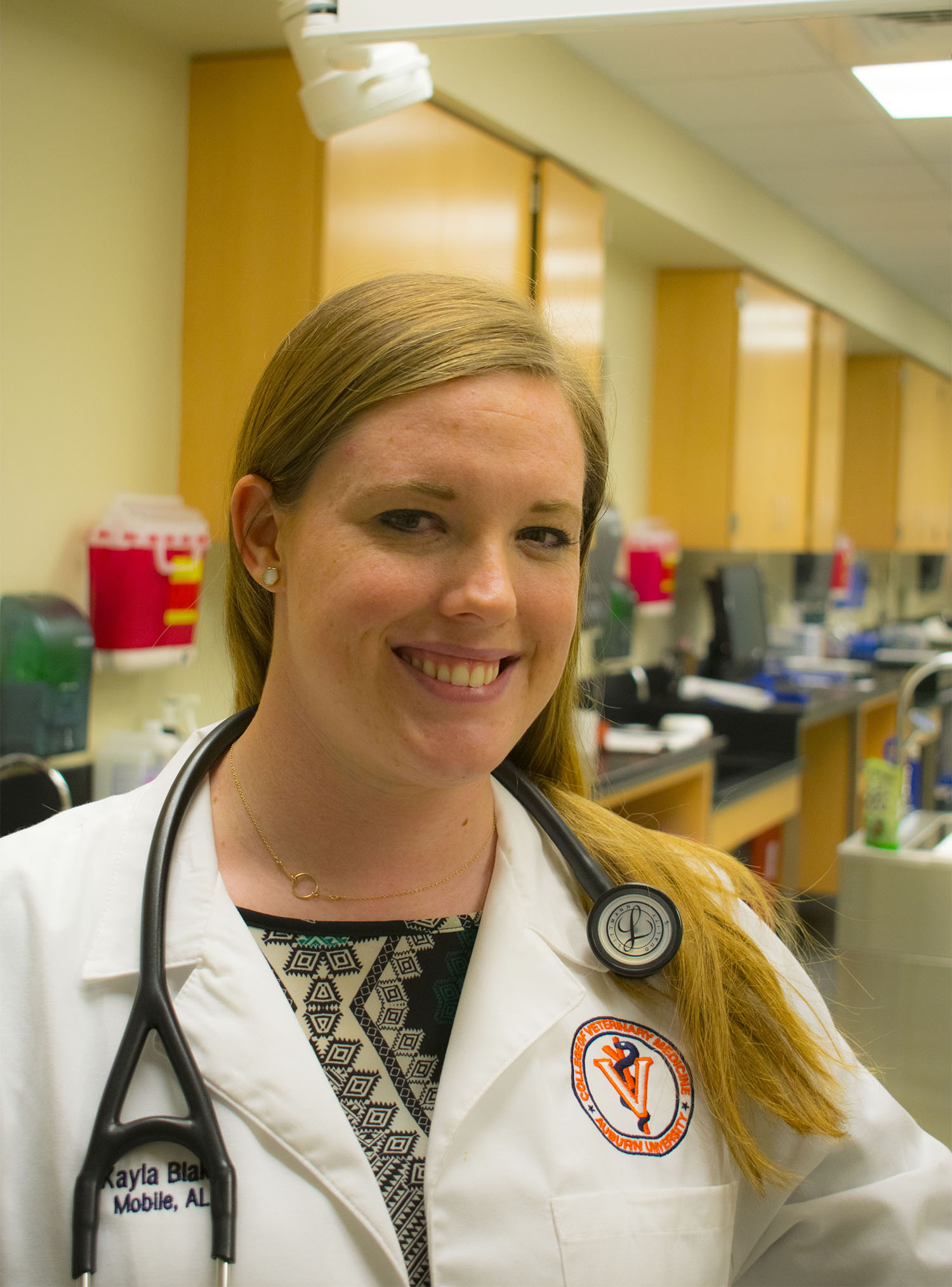 Kayla Blake, a third-year veterinary student from Mobile, Ala., is a 2017 recipient of the Merck Swine Veterinary Scholarship. She is among only five recipients awarded the scholarship worldwide.
Blake is pursuing a swine specialty in production animal veterinary medicine.
"I'm a true pig person," she says. "I just love pigs and being around the people who raise and care for pigs."
Growing up in one of the largest cities in the state of Alabama, Blake doesn't have a farm or large animal background.
"I did not grow up on a farm and I did not have any experience with pigs before I got to Auburn," Blake says.
She says that she always has enjoyed work that let her be outdoors. She acquired a passion for working with pigs as an undergraduate student in AU's pre-veterinary Animal Sciences curriculum. Blake also holds a master's degree from AU in Meat Sciences, focused on pork quality.
Her goal, she says, is to work in industrial medicine and perhaps later, in pharmaceuticals.
"Our college is very pleased to see this recognition of Kayla's focus and accomplishments," said Dr. Dan Givens, the college's associate dean for Academic Affairs. "The first strategic priority of this college is to enhance student success.  Kayla's success is a great example of one of the many unique career paths available to focused and motivated students."
The Swine Veterinary Scholarship is awarded in partnership with the American Association of Swine Veterinarians Foundation, the charitable arm of the American Association of Swine Veterinarians (AASV).
Announcing the 2017 scholarship recipients in a written statement, Joseph Roder, D.V.M. and director of Swine Technical Services at Merck Animal Health, said, "Merck Animal Health recognizes the importance of ensuring that today's veterinary students graduate with the skills they will need to maintain the optimal health of animals in their care, as the work they will do, simply put, will help feed the world."
Recipients of the 2017 Merck scholarship were announced during the 48th annual AASV meeting in Denver. Eligible recipients may be from American Veterinary Medical Association-accredited programs in the United States, Canada, Mexico, South America and the Caribbean Islands. In addition to AU's Blake, other 2017 recipients included one student from Kansas State University; one from the University of Illinois; two from Iowa State University.
-30-
The College of Veterinary Medicine is the South's oldest and nation's seventh oldest veterinary medical program, celebrating 125 years. We prepare individuals for careers of excellence in veterinary medicine, including private and public practice, industrial medicine, academics, and research. The college provides programs of instruction, research, outreach, and service that are in the best interests of the citizens of the state of Alabama, the region, the nation, and the world.
Mitch Emmons (emmonmb@auburn.edu)