Dog with Laryngeal Paralysis Gets a Second Chance at Life
When Merlin, a 10-year-old golden retriever, was found lying on the ground struggling to breathe during a routine walk with his owners, they feared the worst. Their primary veterinarian in Columbus, Ga. told them their beloved pet might not make it and immediately recommended the Auburn University College of Veterinary Medicine.
Prior to arriving at the Wilford and Kate Bailey Small Animal Teaching Hospital at the college, Merlin had multiple episodes of respiratory distress, noisy and harsh breathing and exercise intolerance due to struggling to breathe.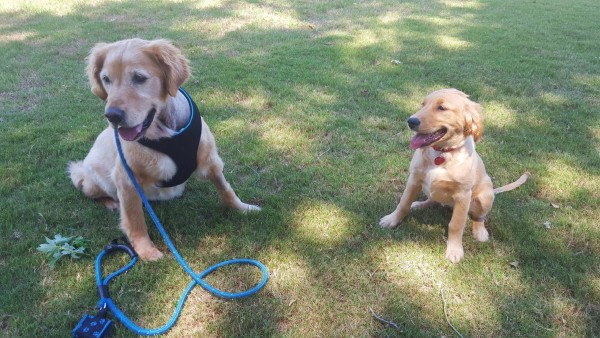 Dr. Rene Lefranc, Merlin's primary veterinarian, noticed Merlin's labored breathing earlier this year. Dr. Lefranc referred Merlin to be absolutely sure of his diagnosis and so that Merlin could receive the type of surgery he believed was needed.
He was evaluated by Dr. Harry Boothe, professor and faculty clinician, and Hayley Pritchard, licensed veterinary technician, in the General Surgery Service for suspected laryngeal paralysis.
"Any one of Merlin's episodes could have been fatal," Pritchard said. "Respiratory collapse is an emergency and can be life threatening."
His owner, Kiki Greenwood, said that residents thoroughly explained his condition and the facilities he would be staying in. It was then that she felt comfortable leaving her beloved pet and knew Merlin was in great hands.
The team performed an upper airway exam to evaluate Merlin's airway, which confirmed the initial suspected diagnosis of laryngeal paralysis, a soft tissue disease that is characteristic for Merlin's age and breed.
Merlin underwent a unilateral cricoarytenoid lateralization, or laryngeal tieback surgical procedure.
"This procedure allows the cartilages/muscles to be pulled back and sutured so that the airway becomes more open," Pritchard said. "As a result, he has less trouble moving air and the patient is able to breathe with much less effort."
"Merlin had two respiratory crises that prompted the Greenwoods to seek veterinary attention," Dr. Boothe said. "Such episodes are fairly typical for dogs with laryngeal paralysis, particularly in the warmer/hotter period of the year."
Greenwood said she was comfortable with Merlin's tests, surgery and recovery because staff kept in constant communication with her. "The team kept me informed at all times, even giving me a cell phone number I could call and text for updates," Greenwood said. "I was texting every few hours and I always got a response within minutes. I can't tell you what that meant to me. It probably saved me a nervous breakdown."
Merlin's surgery was extremely successful, and he was released from the hospital the day after his surgery with careful postoperative instructions, just in time to celebrate his 10th birthday the next day. Merlin's case, pre-operative appointment and evaluation, was handled by Dr. Christopher Lee, a resident in the General Surgery Service.
"For the next four days, I wouldn't leave Merlin's side feeding him wet meatballs, water and lots of love," Greenwood said.  "He bounced back really fast. After two weeks, we went back to get the stitches out and his follow-up, where he received great reviews."
Merlin's recovery was quick and successful, and his quality of life has dramatically improved since his surgery, said Pritchard.
As for the Greenwoods, they are more than grateful that Merlin has returned to his original self.
"I just can't say enough about AUCVM and what they have done for Merlin. They saved his life, and every person I dealt with is in the right occupation," said Greenwood. "They not only save lives, but they care and aren't afraid to show it. Thank you to Dr. Boothe and his team, we are forever grateful and I am now an Auburn fan. War Eagle!"
Written by: Molly Lawrence