Dog Receives Good Prognosis for Recovery Following Near-Fatal Fire Injury
A big dog with an even larger will to live has been given a good prognosis for recovery and a healthy life following a near fatal house fire in early January.
Adler, a four-year-old German Shepherd, owned by Brad and Shannon Mullins of Alexander City, made regional news when first responders pulled him from their burning home on Jan. 3. The couple was at work when the blaze occurred and because of the cold weather, Adler was indoors instead of in his fenced-in run.
Firemen found him near death from smoke inhalation and carbon monoxide poisoning, but medical technicians at the scene were able to revive him by intubating, administering IVs and performing chest compressions.
Adler was taken to the Dadeville Animal Clinic, run by Auburn University College of Veterinary Medicine alumni Dr. Lisa Plaisance '03, owner; Dr. Tommy Poole '16; Dr. Michelle Karagas '13. They stabilized Adler, but because he was critical, referred him to the Auburn University College of Veterinary Medicine.
"We received Adler late that evening as a referral," said Dr. Laura Lowe, a veterinary resident with the Emergency and Critical Care Service of the Wilford and Kate Bailey Small Animal Teaching Hospital, and who attended Adler. "He seemed to be relatively stable initially, but began having seizures."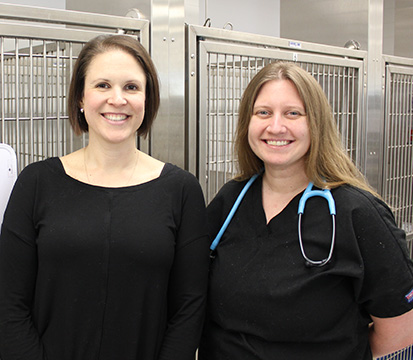 Dr. Lowe and others in the service administered oxygen and medication to control the dog's seizures, and other supportive care. "Once we stabilized him, we conducted a thorough examination," Dr. Lowe said. "In addition to the smoke inhalation and carbon monoxide poisoning, Adler also suffered upper airway inflammation and eye ulceration, and he could not walk."
Adler remained a patient in the Intensive Critical Care Unit for 10 days, undergoing medical treatment as well as rehabilitation to help him recover his ability to walk, before being discharged to his owners. He returned to the veterinary teaching hospital recently for a follow-up examination and received a good prognosis for complete recovery.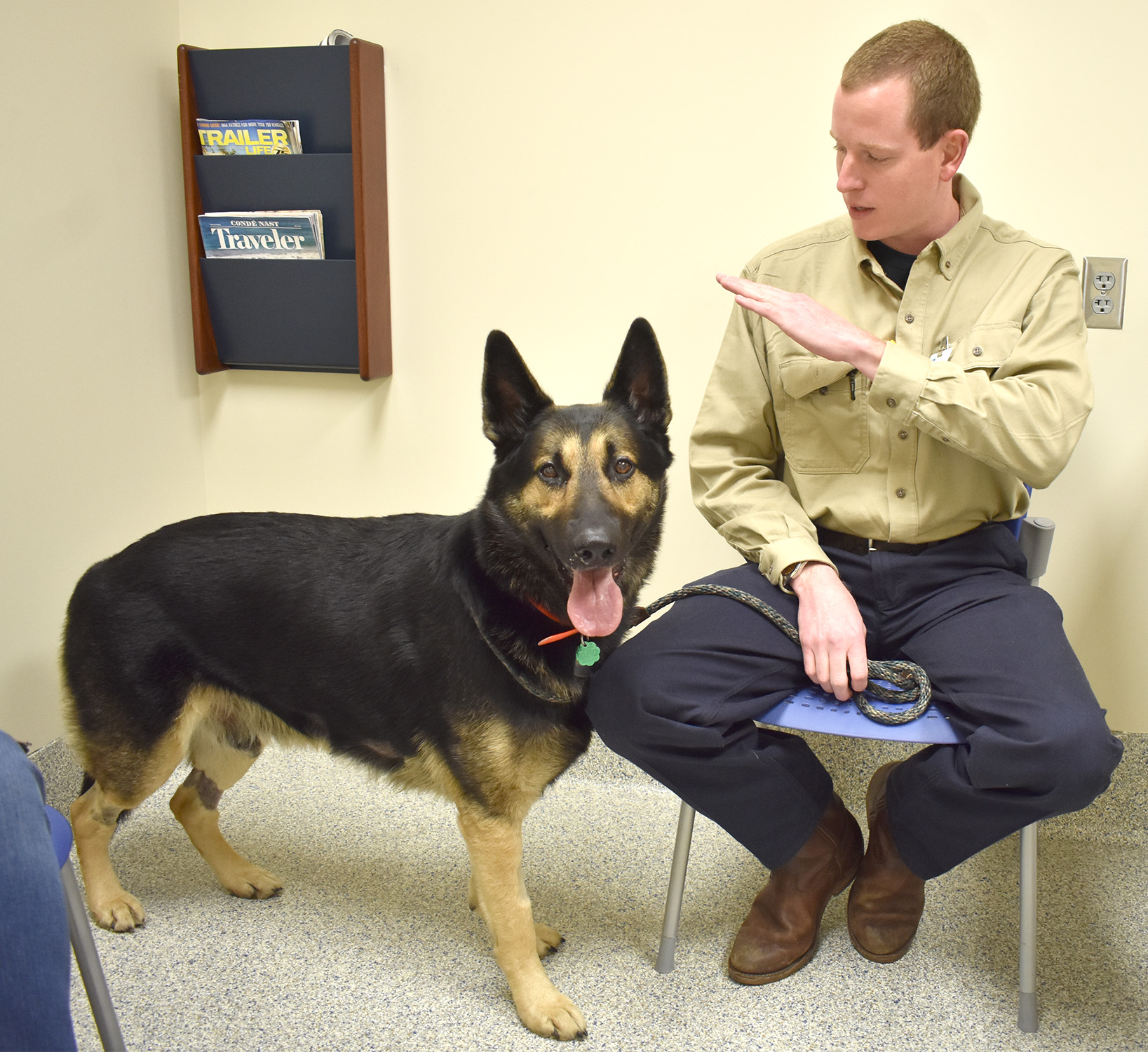 Adler's eye ulcers have healed and he is walking well. Brad Mullins says his pet still shows signs of confusion at times and is a bit more subdued than he was before the accident, but for the most part, Adler is doing well.
"I can't say that he is back to normal, but he is remarkable," Brad Mullins said. "We are so thankful for the firemen and other emergency responders in Alex City who saved Adler from the burning house; we are grateful for the veterinarians at the Dadeville Animal Clinic who were able to get him stabilized so we could get him to Auburn; and we are grateful to the veterinarians at Auburn for everything they have done for him."
Auburn College of Veterinary Medicine faculty clinicians say seizures in animals are concerning, and can mean a life-threatening situation. "Seizures can be a sign of serious conditions," said Dr. Caroline Kate Fallon, a resident in the Neurology and Neurosurgery Service at the teaching hospital. "Adler is doing remarkably well and has not had any seizures since being discharged. He may have other seizures and might have to take medication to control this condition long term, but we are pleased with his progress."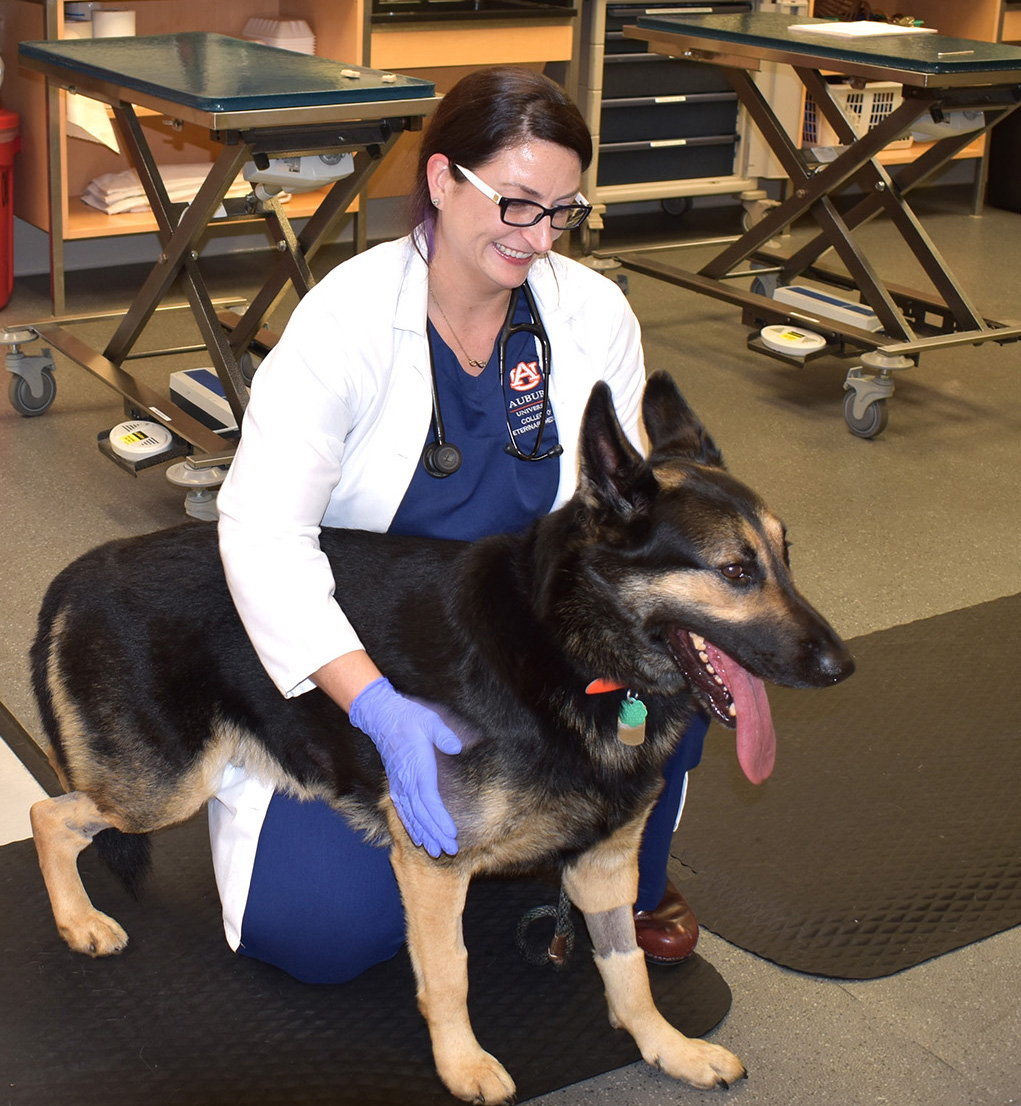 "Adler's case is an excellent example of a team working together to save an animal's life," said Dr. Lenore Bacek, who heads the Emergency and Critical Care Service at the teaching hospital.
"We are particularly grateful that the responding firefighters and EMTs were able to do all that they did for Adler at the scene. Without their prompt and excellent treatment, we would not have been able to do what we did."
Mitch Emmons (emmonmb@auburn.edu)