Dr. Marike Visser Named Outstanding International Graduate Student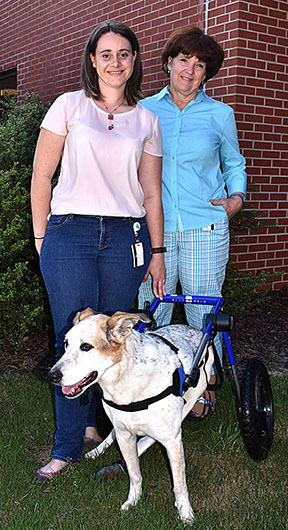 Dr. Marike Visser, a resident in Clinical Pharmacology and PhD student with the Department of Anatomy, Physiology and Pharmacology at the Auburn University College of Veterinary Medicine, is among the 2017 recipients of the Outstanding International Graduate Student Award.
She was nominated by her resident advisor and graduate mentor Dr. Dawn Boothe, professor of physiology and pharmacology and director of the Clinical Pharmacology Laboratory at the college.
A native of South Africa, Dr. Visser has lived in the United States, first settling in Massachusetts with her parents at age 13.
"My dad was a computer engineer and we moved here for his job and stayed," Dr. Visser said.
Dr. Visser received her bachelor's degree in Animal Science from the University of Kentucky and her DVM degree from Auburn in 2012. She has completed a specialty residency in Clinical Pharmacology and will complete her PhD next spring.
As a researcher specializing in the study of drug interactions and drug reactions, Dr. Visser plans to follow a career in the medical industry.
"My research focuses on the study of Cytochrome P450," she said. "This is an enzyme system needed for drug metabolism across all species. My research is focused on the differences among dogs and cats."
Her work is necessary to better predict drug events, adds Dr. Boothe, who calls Dr. Visser "the complete package."
"She does an excellent job in her clinical work and is exceptionally gifted at synthesizing very complex concepts in the clinical environment," Dr. Boothe said. "She does a great deal of extra work and in addition to her studies with dogs and cats, Dr. Visser also has worked extensively with avian species, large cats and exotics animals. This is a rare combination of talent and experience."
Dr. Visser has authored five peer-reviewed journal articles about her research. She also teaches several veterinary pharmacology courses at Auburn and at Tuskegee University and is active in her community with the Boy and Girl Scouting programs and professionally, as a consultant for the Veterinary Information Network – an on-line medical information sharing source used extensively among the veterinary medicine profession. Dr. Visser also organized CVM's first Women's Leadership Workshop, held in October 2016.
The College of Veterinary Medicine is the South's oldest and nation's seventh oldest veterinary medical program, celebrating 125 years. We prepare individuals for careers of excellence in veterinary medicine, including private and public practice, industrial medicine, academics, and research. The college provides programs of instruction, research, outreach, and service that are in the best interests of the citizens of the state of Alabama, the region, the nation, and the world.
-30-
Mitch Emmons (emmonmb@uburn.edu)