Duck Fully Recovered Following Surgery to Remove Penny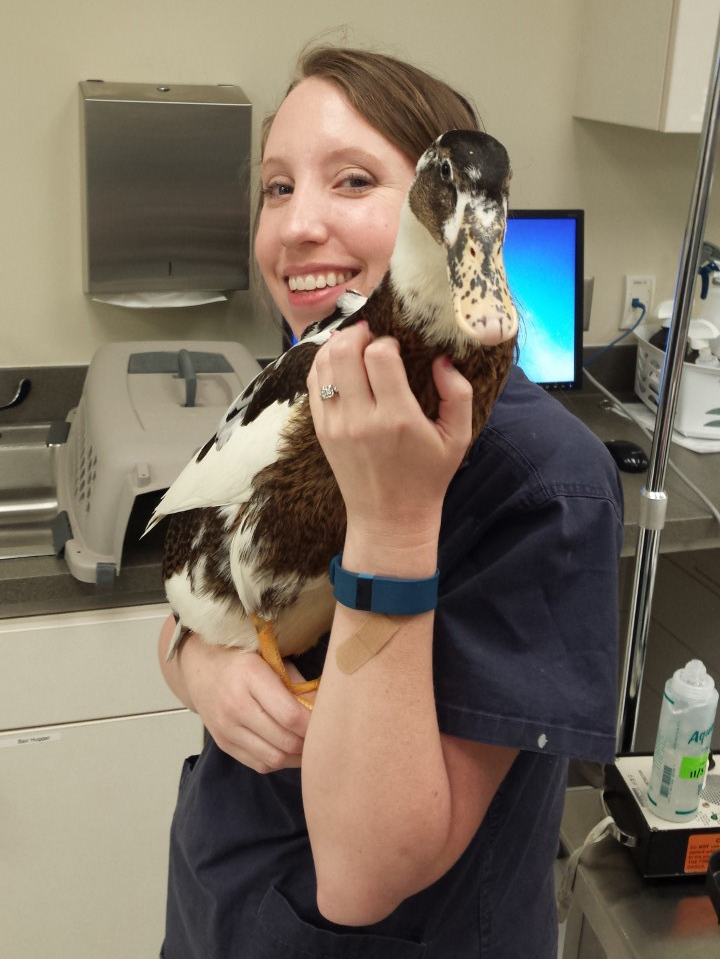 Ducks and coins don't mix, in fact, they can be life threatening as owners Betty and Samantha Trussell of Muscle Shoals found out recently. They brought their pet duck, Puck, to the Avian and Exotic Service at the Auburn University Veterinary Clinic for a medical procedure to remove the coin.
"This type of procedure was done relatively quickly under general anesthesia," said Dr. Oster, an avian veterinarian.
"The other option would have been going in surgically and performing a ventriculotomy to remove the coin.  This involves surgically opening the coelom and then the ventriculus (the muscular stomach of a bird commonly called a gizzard).  This procedure would carry more risks and a longer recovery than endoscopic removal."
The penny had to be removed because as it was destroyed by the duck's GI tract, it would begin to release zinc into Puck's system. Most pennies have a core made of zinc, which is toxic to birds, causing destruction of red blood cells and multiple neurologic abnormalities.
The Trussells brought Puck to the Avian and Exotic Service to discuss the options of removing the penny after a local veterinarian confirmed the presence of the coin in the duck's gastrointestinal (GI) tract.
"In five days, Puck's ventriculus was able to grind the penny to the point that you could no longer see any writing or details," Dr. Oster said.  "The ventriculus is designed to grind food items against small rocks that a duck eats.
"Puck appeared normal on examination when she arrived. She was a very happy and social duck. After discussing the case with the owners, Puck was anesthetized and we performed a set of radiographs to confirm the location of the penny. At that time, it was still present in the ventriculus," Dr. Oster said.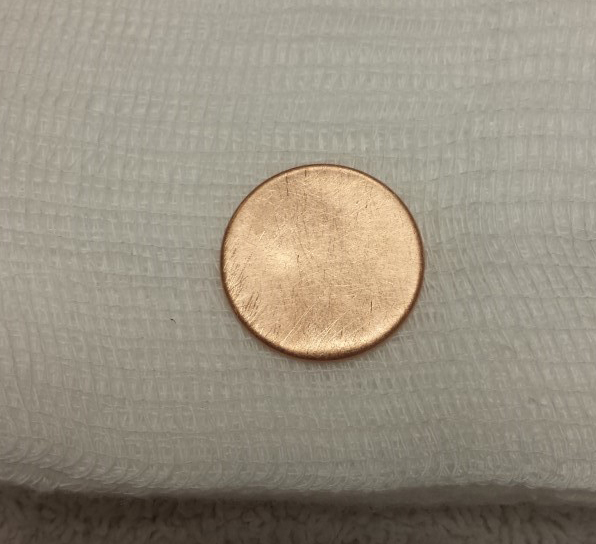 Dr. Annabel Botsford, a resident in the Internal Medicine Service, performed the endoscopic examination on Puck's GI tract. The penny was located and successfully removed with the endoscope.
"Endoscopic examinations are a common diagnostic tool for avian medicine," Dr. Oster said. "This was a case of an upper GI examination, but we are also able to examine the trachea, air sacs, lungs, and lower GI tract. We can also obtain biopsies of most organs with this tool.
Puck was discharged that afternoon after recovering from anesthesia, and was able to return to her normal routine that evening.
"This case was a good example of collaboration between services providing an effective solution to a patient's problems. Four different services were involved in the care of this case (Avian and Exotic Service, Internal Medicine, Anesthesia, and Radiology). I think this collaboration is instrumental in resolving patient conditions quickly and effectively," Dr. Oster said.
The Avian and Exotic Service provides wellness care, specialized diagnostic testing, medical treatments, surgical options, and emergency care for exotic companion animals. Appointments are currently being accepted on Monday, Wednesday, and Friday mornings. To schedule an appointment for your exotic pet, call (334) 844-9966.
To learn more about the Avian and Exotic Service, click here.
Written by Morgan McAbee '16