Employees Recognized during 7th Annual Staff Awards Ceremony
College of Veterinary Medicine staff and administrative employees were recently recognized for their dedicated work and support of the college.
Dean Calvin Johnson thanked employees for pursing excellence and noted that "employees set the culture and tone of the team." He recognized all CVM employees who play a vital role in the strategic plan of the College, noting that all employees are important to the mission of the college.
Recognizing that administrative and employees are vital to the college's success in educating students, animal health care and research initiatives, the College of Veterinary Medicine established an employee committee to recognize and honor employees who consistently and consciously go beyond their normal work activities in support of the college. Winners are nominated and selected by CVM employees.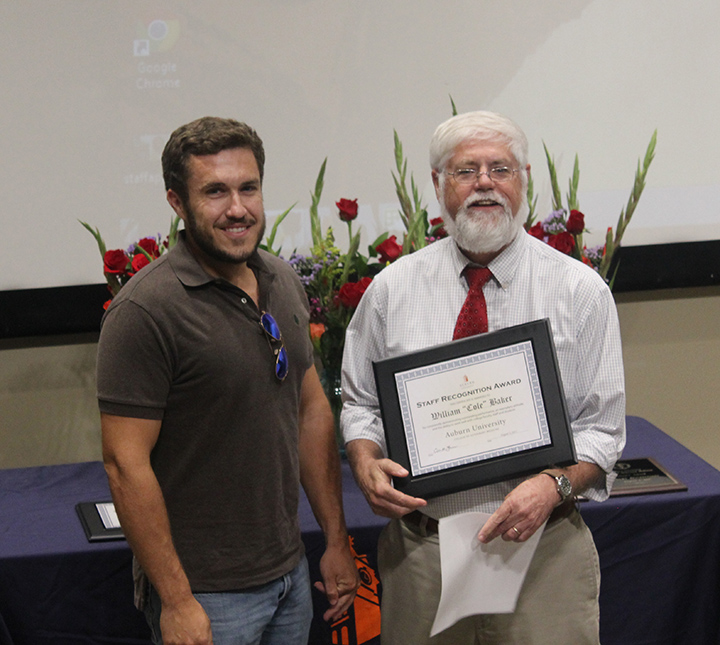 Staff Recognition Awards
The Staff Recognition Awards were given to:
Teri Dunaway, a coordinator of business and administrative services in the Department of Clinical Sciences (LargeAnimal)
Cole Baker, Necropsy laboratory supervisor in the Department of Pathobiology
Kevin Arnold, an information technology specialist in IIT
Lisa Parsons, a histological technician in the Department of Pathobiology
Dean's Award
The 2014 Dean's Award was given to Rob Buchanan, head of the Cary Veterinary Medical Library at the CVM. The Dean's Award is given to a non-CVM employee who performs outstanding duties for the college.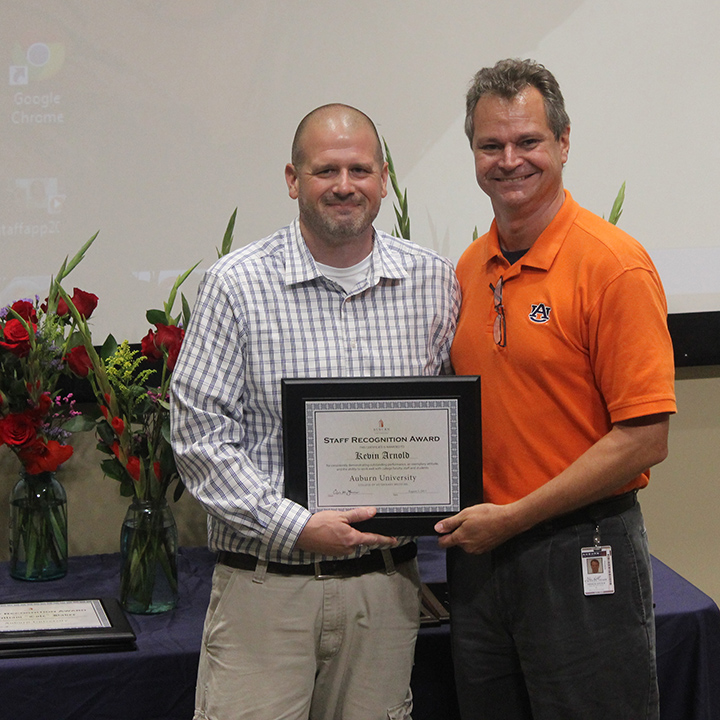 Regina Rodriguez Williams Award
Jeanne Brock, a chief canine trainer for Canine Performance Sciences, received the Williams Award.
The Deborah Hatch Czerkawski Award
Pam Haney, a research assistant and coordinator of the puppy development program for Canine Performance Sciences, received the Czerkawski Award.
It Takes a Village Award
Jackie Myers, lead custodian with Centaur, was recognized for being an integral part of the CVM's Veterinary Education Center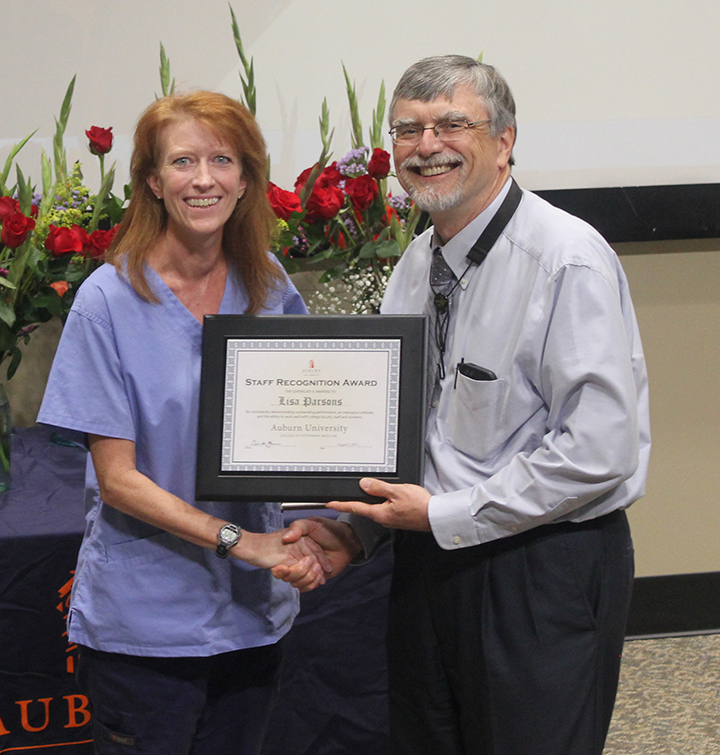 Dr. Charles Hendrix, a professor in the Department of Pathobiology, was presented with a special, one-time award to recognize his "dedication to the promotion of the Auburn Spirit and the preservation of the Auburn veterinary family through years of exemplary leadership" for the staff awards and Staff Appreciation Ceremony.
The program also recognized employee's longevity service.
Staff Recognition Committee members are Missy Streicher, Amelia Pendleton, Merrilee Holland, Charles Hendrix, Betty Files, Derrick Calloway, Fred Caldwell, Barbara Kemppainen, chair, and past chair Pete Christopherson.