Faculty, Alumni, Students Attend Veterinary Leadership Experience
Ten Auburn faculty, students and alumni attended a national veterinary conference aimed at bringing together those in the profession to develop skills in leadership, communication, self-awareness, and self-care.
Held in Post Falls, Idaho, in June, the Veterinary Leadership Experience (VLE) is a weeklong intensive leadership training program that encourages participants to think outside the box for personal and professional growth and it helps them learn the skills necessary to be healthy and resilient in a demanding and stressful profession. VLE is a program of the nonprofit Veterinary Leadership Institute.
Three faculty—Drs. Brandon Brunson, Erin Groover and Lindsey Starkey—and current students Rachael Lander, Jonathan Tubbs and Brandon Weyhing attended VLE. CVM alumni included Drs. Carolyn Henry '90, Anna Richburg '13 and Emily Tincher '16.
Veterinary Leadership Experience learn skills necessary to be healthy and resilient in a demanding and stressful profession.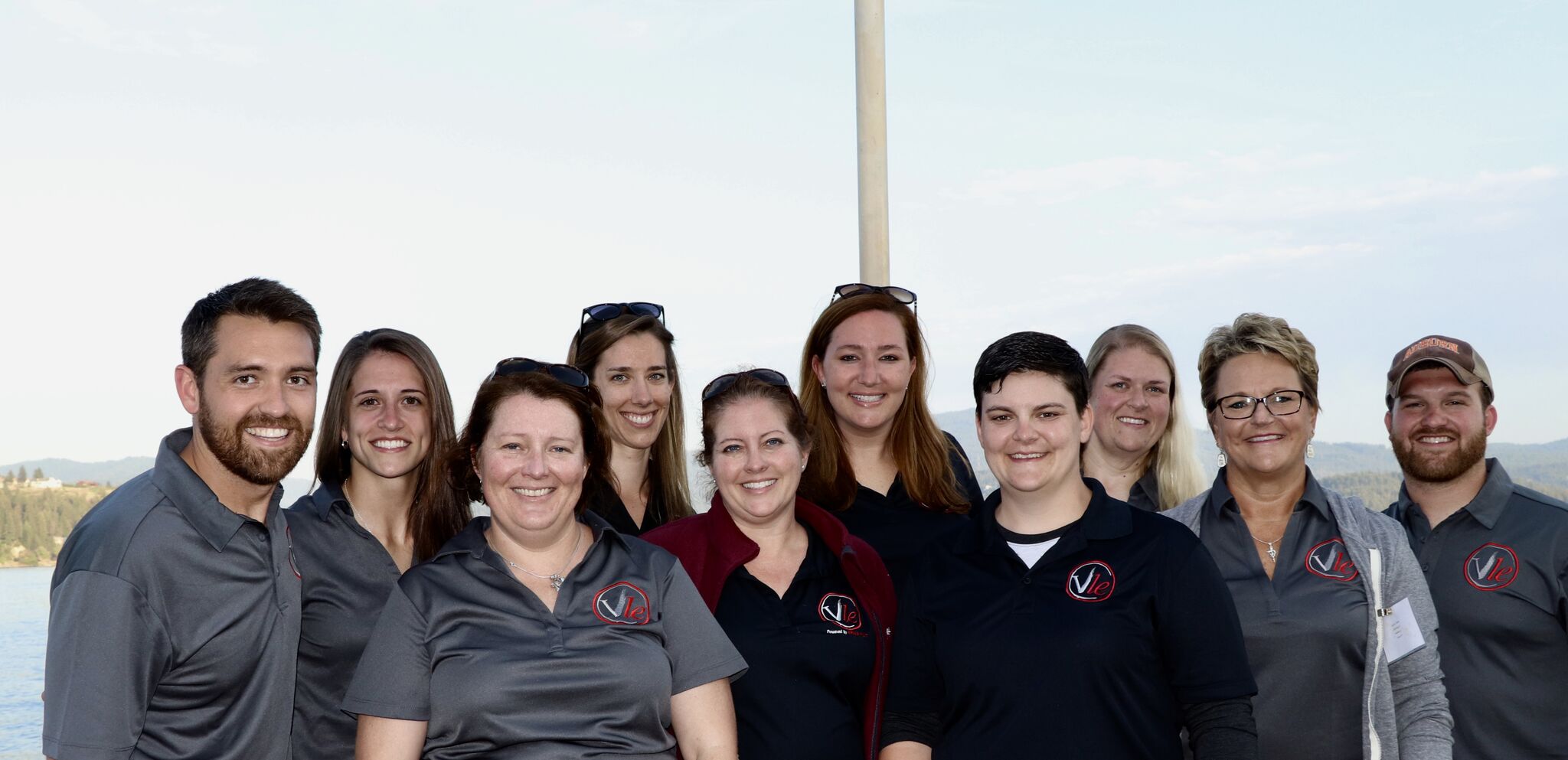 Dr. Brunson, a histology lecturer in the Department of Anatomy, Physiology and Pharmacology, has attended VLE in the past and returned this year as a facilitator.
"VLE gave me vital experience in experiential learning and servant leadership, two skills you don't often associate in veterinary medicine but are crucial to the profession," Dr. Brunson said.
"I apply those skills daily in our curriculum in teaching students, and in my interaction with colleagues. VLE allows you to ask yourself 'who you are', 'why are you the way you are' and how to develop skills to become a stronger, more effective communicator."
Through large- and small-group settings, the 117 participants and more than 35 VLE staff and facilitators challenged and encouraged one another to explore issues such as self-awareness, social awareness, communication skills and conflict resolution.
Dr. Groover, an assistant clinical professor of equine internal medicine in the Department of Clinical Sciences, said, "VLE allowed me to evaluate and advance my skills in these areas, but more meaningful to me was exploring my skills with working in a new team environment.
"It was really enlightening, and I brought home skills that can be applied to my role at AU CVM.
"I also absolutely loved seeing our students shine at VLE. I was so proud of how open they were to the experience and the enthusiasm they brought home to the college. It's inspiring."
Dr. Starkey, an assistant professor of parasitology in the Department of Pathobiology, said she would recommend the experience. "It is an immersive and, at times, mentally and emotionally exhaustive week.
"But it wasn't sitting and learning the skills, it was living them and putting them into practice in an environment conducive for being vulnerable to allow for personal growth. Every scenario led to open and honest conversations in small group setting—I never thought I'd feel so comfortable with 11 strangers so quickly, but, on just our second full day, we all worked together to hoist/pull every single person over a 12-foot wall!"
Dr. Starkey said attending VLE will make a difference in her teaching and professional work. "My biggest take-away [is] to practice active listening when in conversations with others, to increase my awareness of nonverbal communication and to practice servant leadership. I consider myself fortunate to have had the opportunity to attend as an Auburn faculty member, and I am grateful for the eye- and heart-opening experience."
Third-year class president Brandon Weyhing said it is difficult to explain how impactful the program has been. "With two years down and two to go, it could not have occurred at a better point during my journey as a veterinary student," he said. "VLE really reminded me of the power of communication and the importance of meaningful relationships with our peers. In a world full of noise and stressful coursework, it was rejuvenating to escape and put the real focus on developing as a leader for our profession.
"Each day brought new adventures physically and mentally, encouraging us to get out of our comfort zones to understand those around us and ourselves. I was able to hear what others are doing at their colleges, as well as share what we are doing here at Auburn.
"It was an incredible opportunity to brainstorm ways to develop by enhancing relationships and attitudes. If we can lead by example and give people a glimpse of what we experienced at VLE, we will have the opportunity of having lasting effects within the college and profession."
Rachael Lander, third-year class vice president, said attending VLE was a life-changing experience. "Never in my life have I encountered such openness of mind and hearts. Everyone there was so influential, not only in regards to my sense of leadership, but who I am as a person.
"I learned that leadership includes many components, [and] one that resonated most strongly with me was a sense of self-awareness."
Jonathan Tubbs, who attended as an officer and representative of the National SAVMA Executive Board, said, "The training and experiences that I had as well as the people I met during VLE made me a better leader. I look forward to using what I learned for the betterment of our profession and the CVM."