Leapin' Lemurs! Zohdy Highlights First "Wild Science" Lecture
In hope of bringing wildlife and natural resources to the forefront of people's minds, students from the School of Forestry and Wildlife Sciences at Auburn University are bringing "sci-pubs" to the area.
The new series of talks, called "Wild Science," features local scientists and will be hosted once a month at Opelika's Red Clay Brewing Company.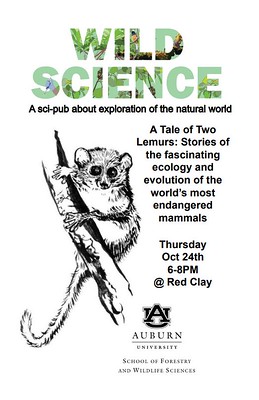 Similar to the "Science Café" model, science pubs, or "sci-pubs," are venues where scientists and the community can gather for informal discussion about topics relevant to our world.
Organized by graduate students Kayleigh Chalkowski and Sara Bolds as part of a new graduate student association in the School of Forestry and Wildlife Sciences, the talks will be aimed at a general audience with the goal of connecting people in the Auburn community with researchers investigating natural history, endangered species conservation and preservation of natural resources.
The first talk, "A Tale of Two Lemurs: Stories of the fascinating ecology and evolution of the world's most endangered mammals" in honor of lemur day, will feature Sarah Zohdy, assistant professor in the School of Forestry and Wildlife Sciences and College of Veterinary Medicine. It will be held Oct. 24 from 6-8 p.m. Zohdy will cover lemur ecology and conservation efforts in Madagascar.
Wild Science sci-pubs are free to the public. All ages are welcome. To learn about future topics, visit https://www.facebook.com/wildscienceAU/.