Merial Summer Scholars Present Research Projects
Seventeen students selected for the Merial Summer Scholars Program at the College of Veterinary Medicine recently presented the culmination of their summer research.
The student scholars spent 10 weeks under the mentorship of a faculty member, who guided them in conducting a research project and participating in research-related activities. The purpose of the program is to introduce students to hypothesis-driven laboratory research.
"Successful completion of this program will certainly help the scholars gain bench research experience and a better understanding of One Medicine," said Dr. Juming Zhong, an associate professor in the Department of Anatomy, Physiology and Pharmacology, and the chair of the college's Merial Summer Research Fellowship Committee.
Seven of the scholars presented their research nationally at the Merial-NIH National Veterinary Scholars Symposium at the University of California-Davis. Those selected for this recognition include an * by their name.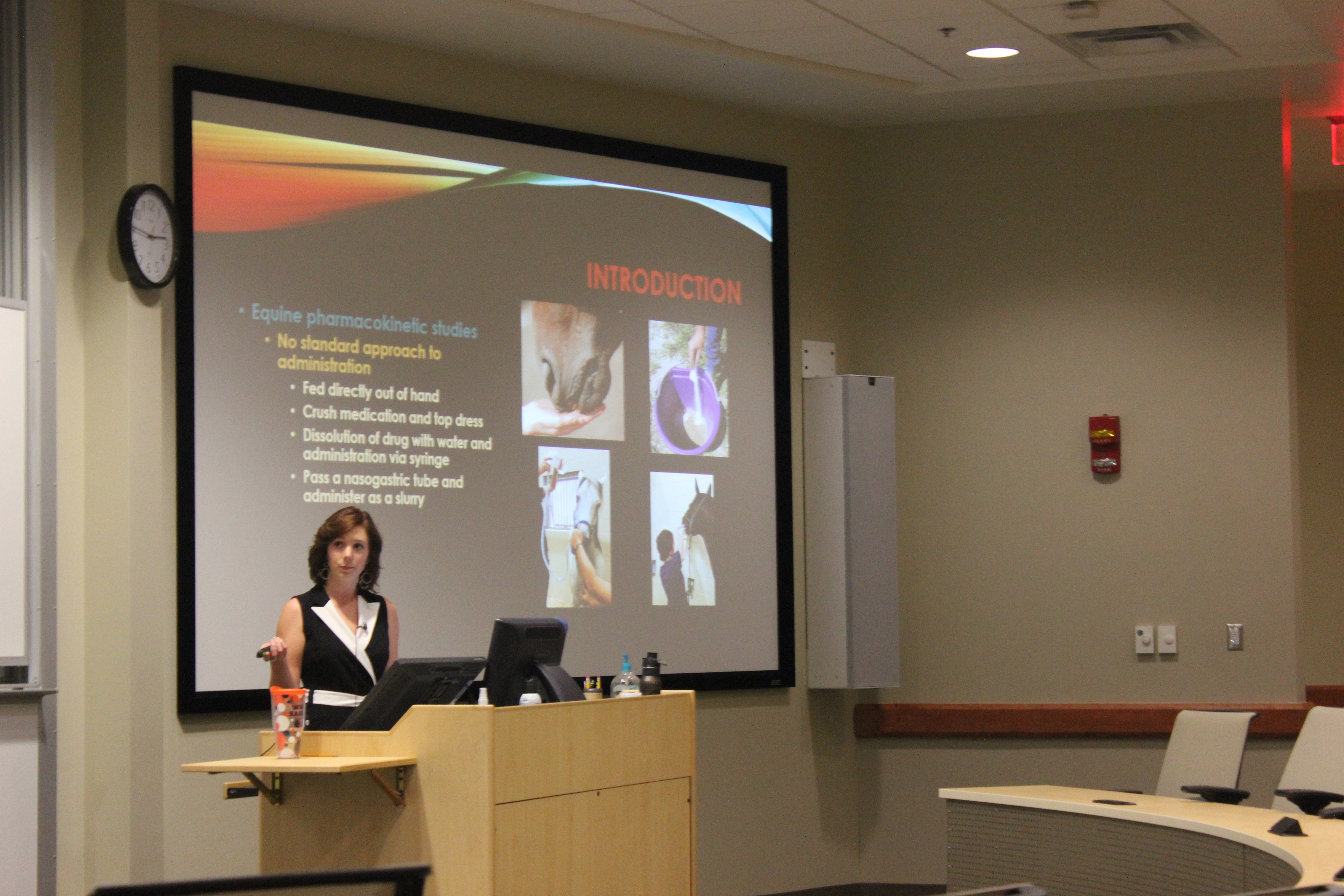 The student scholars, their faculty sponsor, and the title of their research presentation, are:
*Lyndsey Hayden (Dr. Reid Hanson) – "Novel Friction Measurements of Intact Equine Articular Cartilage In Vitro."
*Patrick Jones (Drs. Amelia Munsterman and Reid Hanson) – ""Effects of Abdominal Insufflation on Direct Intra-Abdominal Pressure and Medial Saphenous Venous Pressure in the Standing Horse."
*Jackie Fancher (Dr. Mahmoud Mansour) – "Metal Nanoparticles Selectively Induce Cell Death in Two Human Prostate Cancer Cell Lines."
Charles Rehm (Dr. Robyn Wilborn) – "Pharmacokinetics of Altrenogest (Regu-Mate®) in Lactating Mares and Suckling Foals."
Samantha Morici (Dr. Bruce Smith) – "The Search for a Pan-Tumor Promoter for Use in Conditionally Replicative Adenoviral Vectors."
Megan Schnuelle (Dr. Julie Gard) – "Clinical evaluation of Vetericyn Plus™ Pinkeye Spray in calves with experimentally induced Infectious Bovine Keratoconjunctivitis."
*Rebecca Kennerly (Drs. Mary Boudreaux and Pete Christopherson) – "Identification and characterization of Glanzmann Thrombasthenia in a beagle-mix dog." *
*Kelsi Anderson (Dr. Seung-Woo Jung) – "Circulating Plasma microRNAs as Novel Biomarkers for Congestive Heart Failure." *
Jaida Reeves (Dr. Dawn Boothe) – "The Effects of Analgesic and Anesthesia Drugs on Sperm Motility."
Amanda Crouthamel (Dr. Dawn Boothe) – "Does Varying Route of Oral Administration Impact Overall Absorption of a Drug?"
Elizabeth Yanchak (Dr. Bruce Smith) – "Monitoring Humoral Immune Response to Viral Vector and Canine Osteosarcoma Tumor Antigen."
Emily Tripp (Dr. Jey Koelhler) – "In Vitro Sensitivity of Canine Glioblastoma Cells to Temozolomide."
Megan Hataway (Dr. Dean Schwartz) – "Redox Responsive MRI Contrast Agents for the Detection of Doxorubicin-Induced Oxidative Stress in the Heart."
Kate Stewart (Dr. Michael Irwin) – "Modulation of Beclin Activity by Carnitinoid Compounds in a Cellular Model of Mitochondrial Complex I Dysfunction".
*Ashley Sharpe (Dr. Anne Wooldridge) – "Microsphere encapsulated ECFCs and wound vascularization in the horse."
*Bryan Murdock (Dr. Doug Martin) – "Gene therapy injection route variations for treatment of feline GM1 gangliosidosis."
Annie Maguire (Dr. Doug Martin) – "Myelin Properties in Feline Neurodegenerative Disease."