Modifications to the Equine Ambulatory Service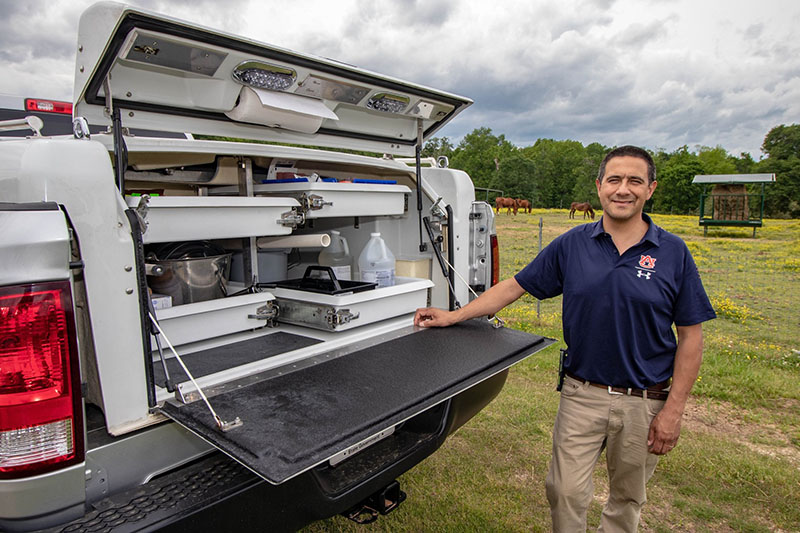 Due to a recent faculty member departure, coupled with realized profession-wide shortages, the Auburn Large Animal Hospital Equine Ambulatory Service is implementing operational modifications within the Equine Ambulatory Service effective immediately and continuing until further notice. Our goal is for these modifications to be temporary and we will post updates as they occur.
Moving forward, the Equine Ambulatory Service will have the following modified operations:
APPOINTMENTS:
For December 12th, 2022 – January 2nd, 2023, the Equine Ambulatory Service will be on an emergency-only basis. Scheduled on-farm appointments will not be made during this time. If you require a scheduled appointment for medical care of your horse, you are welcome to make an appointment for care at the main hospital with the appropriate service. If your horse needs emergency, on-farm care, you can call to speak with the doctor covering services at that time.
In January 2023, you will see two new faces that will be helping offer equine ambulatory services. These experienced equine practitioners will be available for appointments on the farm as usual. Please give them a warm welcome as they briefly join our team to provide care for your horses.
In February 2023, services will be offered as usual with Dr. Alfredo Sanchez.
Starting in March 2023 and until another veterinarian is hired for the Equine Ambulatory Service, Dr. Sanchez will offer a modified appointment calendar. More information on appointment scheduling will be provided as we enter the new year.
EMERGENCY SERVICES:
Moving forward, after-hours and weekend/holiday emergency services will only be offered to our established clients. An established client is one who has either used services at the Veterinary Teaching Hospital in the last two years, or one who has pre-registered with the hospital in advance. To pre-register with the hospital if you are a new or non-established client, please call 334-844-4490.
NOTE: Please be aware that emergency services at the main hospital will be available. If you do not have a trailer for your horse, you can call the main hospital and ask for the list of local horse-owners that may be available to trailer your horse to the hospital.
Our goal is, as always, to provide exceptional care for your horses and a great client experience for you, with limited disruptions. We appreciate your understanding and patience as we work through the changing situation with our personnel and the profession. We aim to have a fully operational Equine Ambulatory Service in the months to come. If you have any questions, please feel free to reach-out to the Associate Dean of Clinical Affairs, Dr. Baird, at your convenience.