Neo's "New" Chance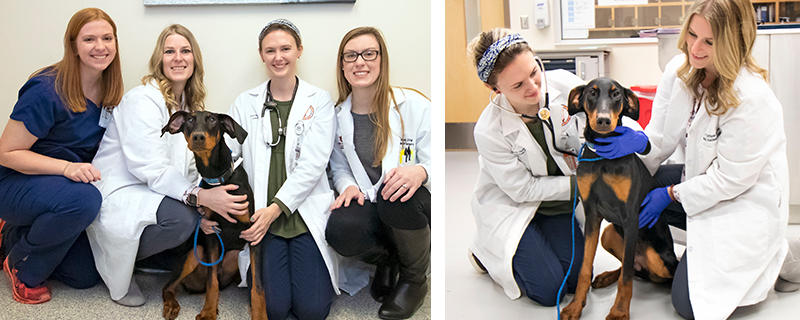 ---
When the operators of Sweet Home Doberman Rescue in Enterprise, Ala., recently rescued a young male puppy with a problem, they knew exactly who to call. Neo, a Doberman puppy, was found as a stray and turned into an animal shelter before ending up at Sweet Home. Once there, it was discovered he had a relatively unusual congenital defect called hypospadias—very possibly the reason someone abandoned him—that required a surgical procedure to correct.
According to Sweet Home Vice President Haley Rich, following an evaluation and recommendation for surgery from a local veterinarian, Neo's next destination was an easy choice. "We have been blessed with several fosters and volunteers who work with the Auburn College of Veterinary Medicine and have received care at Auburn on several occasions for some of our more specialized cases. It has been a true blessing to be able to find a place with great care and people who love our dogs as much as we do."
Neo's surgery, performed by Dr. Michael Tillson, Arthur and Louise Oriole Professor in Small Animal Surgery in the CVM's Department of Clinical Sciences, involved removing non-functional tissue and rerouting Neo's urinary anatomy to a surgically created opening. The recent procedure went exactly as expected and Neo's recovery is well underway. "We feel that the surgery went really well and I expect Neo to have a full and happy life with an adoptive family," said Tillson.
Part of Neo's rehabilitation after surgery, according to Rich, involves "relearning his bladder." She adds that the process is going well. "Neo is doing wonderfully. He is your typical puppy who is full of curiosity and energy. He is a very sweet puppy and has done well with the dogs and people who have been involved in his care so far. He is still young and easily moldable into a wonderful life companion for a family. If anyone is interested in adopting, or fostering Neo, they simply need to visit our website to complete an application.  Our adoption fees and requirements are also listed on our site. www.sweethomedobermanrescue.org."