Outstanding Young Alumni Recognized
Two outstanding alumni were recently honored with 2016 Young Achiever Awards, signifying their success in the first 10 years of their veterinary medical professional careers.
The alumni are recognized among their peers for their accomplishments in veterinary medicine, outstanding community service, and the advancement of animal health. The awards were announced during the 109th Annual Conference earlier this month.
Based on nominations, the awards committee of the college's Alumni Advisory Council selected Dr. True Baker and Dr. Jay Price from the class of 2006.
Dr. True Baker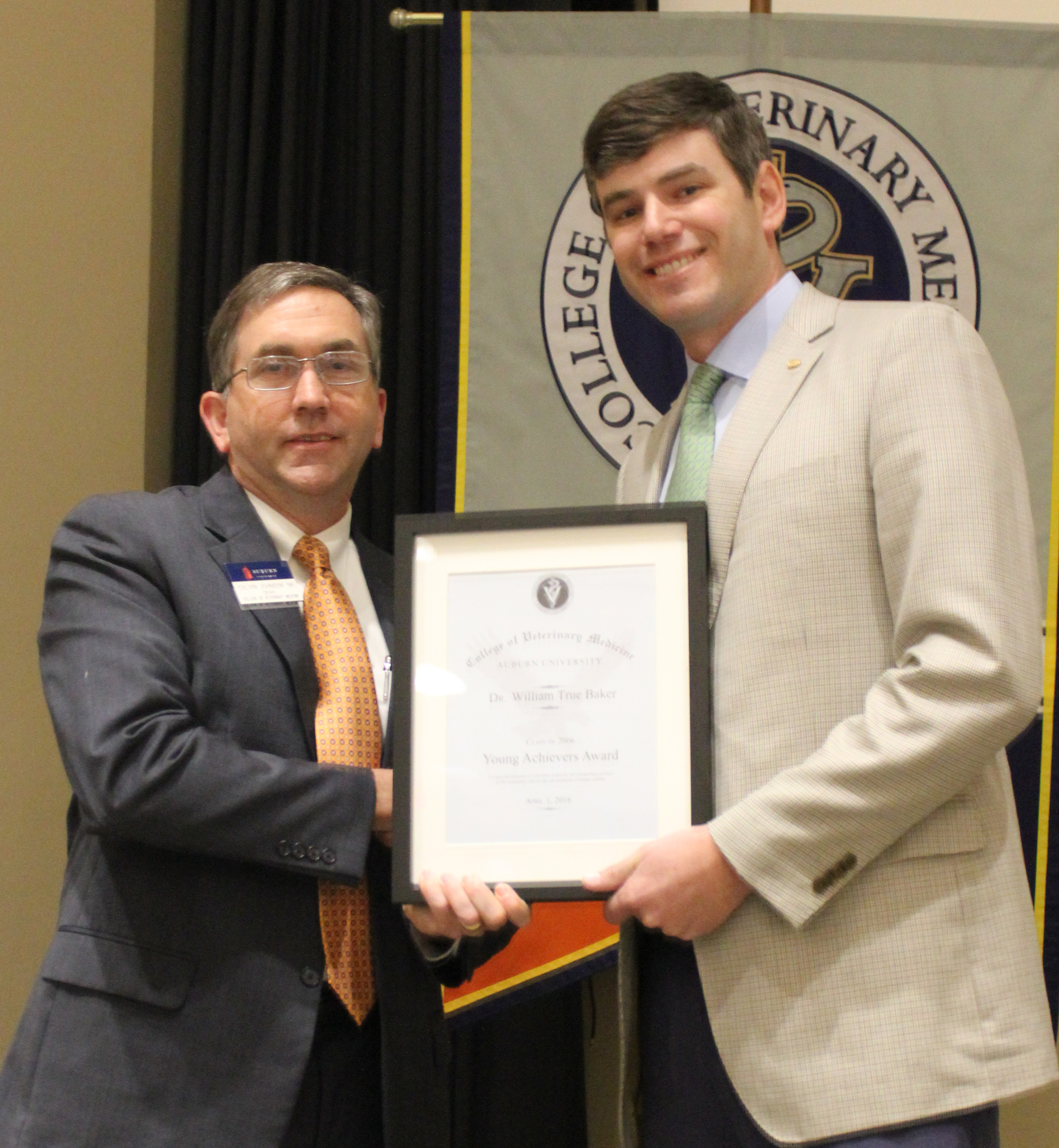 Dr. William True Baker grew up in Woodford County, Ky., in the heart of horse country. His early experience with horses came from both his father, Dr. Bill Baker, a veterinarian at Woodford Equine Hospital, and his stepfather, Michael H. Bell, a thoroughbred trainer at Churchill Downs.
Instilled with the love of horses at an early age, he began a goal of being an equine veterinarian, and graduated with honors from Auburn. After graduation, Dr. Baker furthered his education through an internship and surgical residency at Peterson and Smith Equine Hospital in Ocala, Fla.
After concluding his residency in 2010, he joined his father at Woodford Equine Hospital in Versailles, Ky.  and is currently with Hagyard Equine Medical Institute. Dr. Baker is board certified as a Diplomate in the American College of Veterinary Surgeons.
Dr. Baker has published research on conformation and angular limb deformities, as well as equine colic. He is pursuing ongoing research in the equine acute abdomen and the effects of osteochondral lesions on racing performance.
One of his passions is his work at the Maker's Mark Secretariat Center where he volunteers his expertise to help rehabilitate and re‐train retired thoroughbred racehorses for new careers in dressage, jumping and three‐day eventing.
Dr. Jay Price
A native of Phenix City, Dr. John "Jay" Price found his love of animal care while spending summers on his grandparents' farm helping to tend and care for many animals.
Following graduation from Auburn, Dr. Price became a practice owner in Birmingham, becoming an integral part of the community, partnering with local animal control organizations to provide services to residents and partnering with several animal rescue organizations to provide service and advice.
From there, he ventured into owning multiple practices and, in 2014, founded Southern Veterinary Partners, a premier network of veterinary hospitals in the South providing the highest quality of care to companion animals. He currently serves as CEO of the company, which has acquired seven veterinary hospitals.
His areas of professional interest include oncology, internal medicine, surgery and dermatology
.
He is a member of the Alabama Veterinary Medical Association, American Veterinary Medical Association and a board member of the Hope 4 Paws Foundation, a nonprofit organization dedicated to helping pet owners afford treatment for life-threatening illnesses affecting their pets.
Dr. Price is the veterinary advisor for both the Adopt-A-Golden Foundation in Birmingham, as well as the Alabama Boston Terrier/French Bulldog Rescue.