Pit Bull Puppy Makes Miraculous Recovery; Featured in Billboard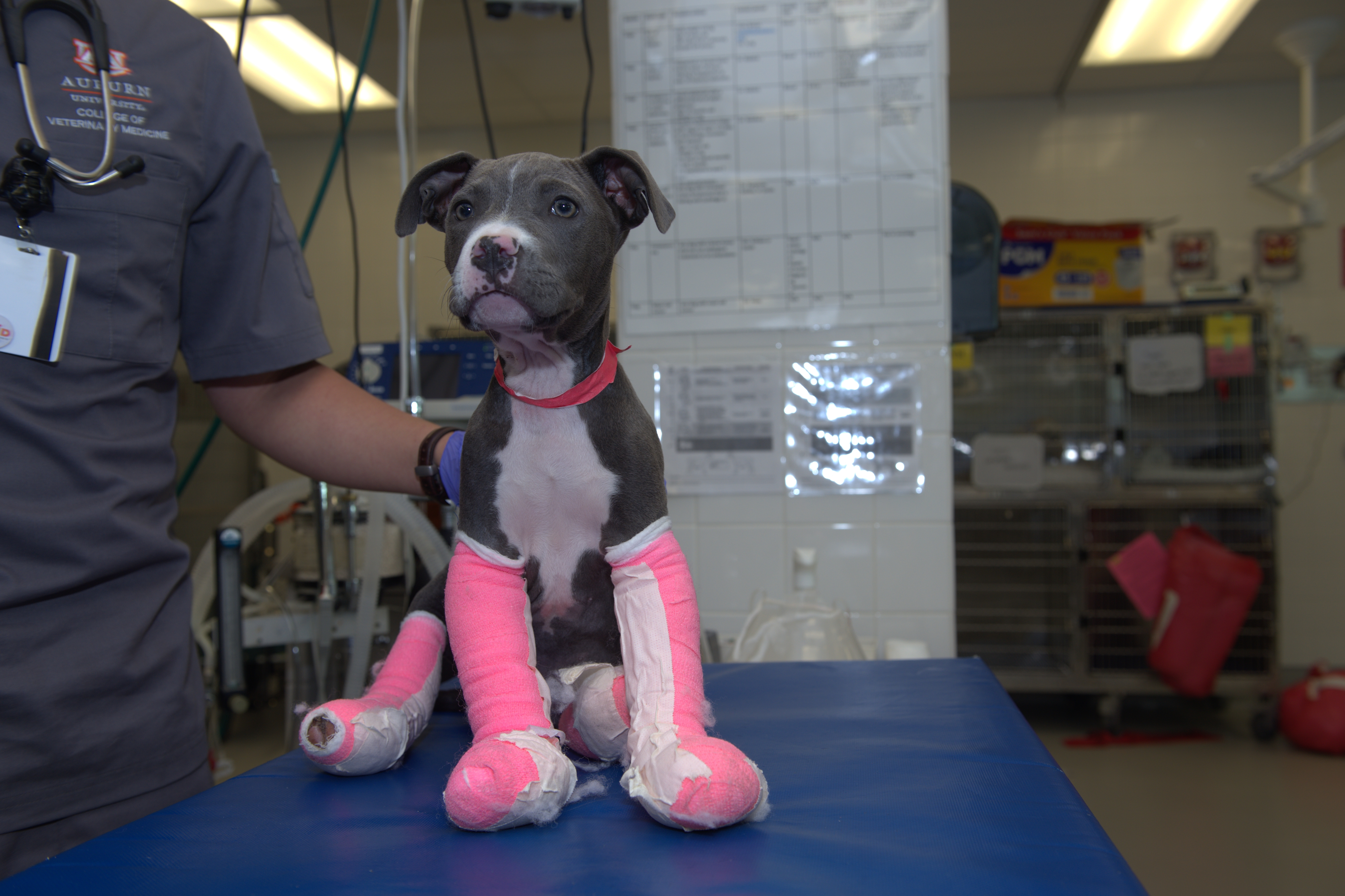 At Auburn University College of Veterinary Medicine, many clients become family. That is exactly what happened when Frida Honeybee, a 13-week-old female pit bull, came through the doors of the Emergency and Critical Care Service at the Wilford and Kate Bailey Small Animal Teaching Hospital in May earlier this year.
Frida was in critical condition after suffering injuries from falling out of the back of a pick-up truck. Her injuries were extensive — her feet were nearly stripped of soft-tissue and she suffered damage to her paw pads and nail beds.
Because the owner could not pay for her care, he surrendered her to the teaching hospital, and its Good Sam fund provided financial support and left her in the capable hands of staff to care for her and find a new owner who would adopt her and pay her medical bill.
The puppy became a well-loved addition to the Auburn CVM family, so much so that staff would volunteer to spend time caring for her when not working on shift.
Faculty, staff and students at the teaching hospital grew fond of Frida and named her the Emergency and Critical Care mascot of sorts. Frida appears on a billboard just off I-85 on College Street to promote the service to gameday fans traveling with pets into town this fall.
"So many fans travel with small pets and we want them to know that if they need assistance with their pet, the Auburn University Veterinary Teaching Hospital can help," said hospital administrator Kristina Photakis.
Frida received the specialty care she needed without any limitations at the teaching hospital, including a blood transfusion and various surgeries to repair the damaged skin and bones.
Every surgery and procedure was successful, and when it came time to finding an owner, Frida's lovable spirit made it an easy decision.
Kelly Foltz, a veterinary technician supervisor in the Emergency and Critical Care Service and self-proclaimed pit bull lover, volunteered to adopt Frida to join her three other pit bulls at home.
"She made a full recovery and is now six months old," Foltz said. "She's beautiful, healthy and has never met a stranger."
For more information on Auburn University's College of Veterinary Medicine and the Wilford and Kate Bailey small animal teaching hospital, visit www.vetmed.auburn.edu.
Written by Molly Lawrence