Pogo the 'Super Pony' Overcomes Traumatic Amputation, Begins a Healing Mission
Pogo is a tiny pony—a "miniature" horse to be exact—with a very big will to live and apparently, a large destiny to fulfill.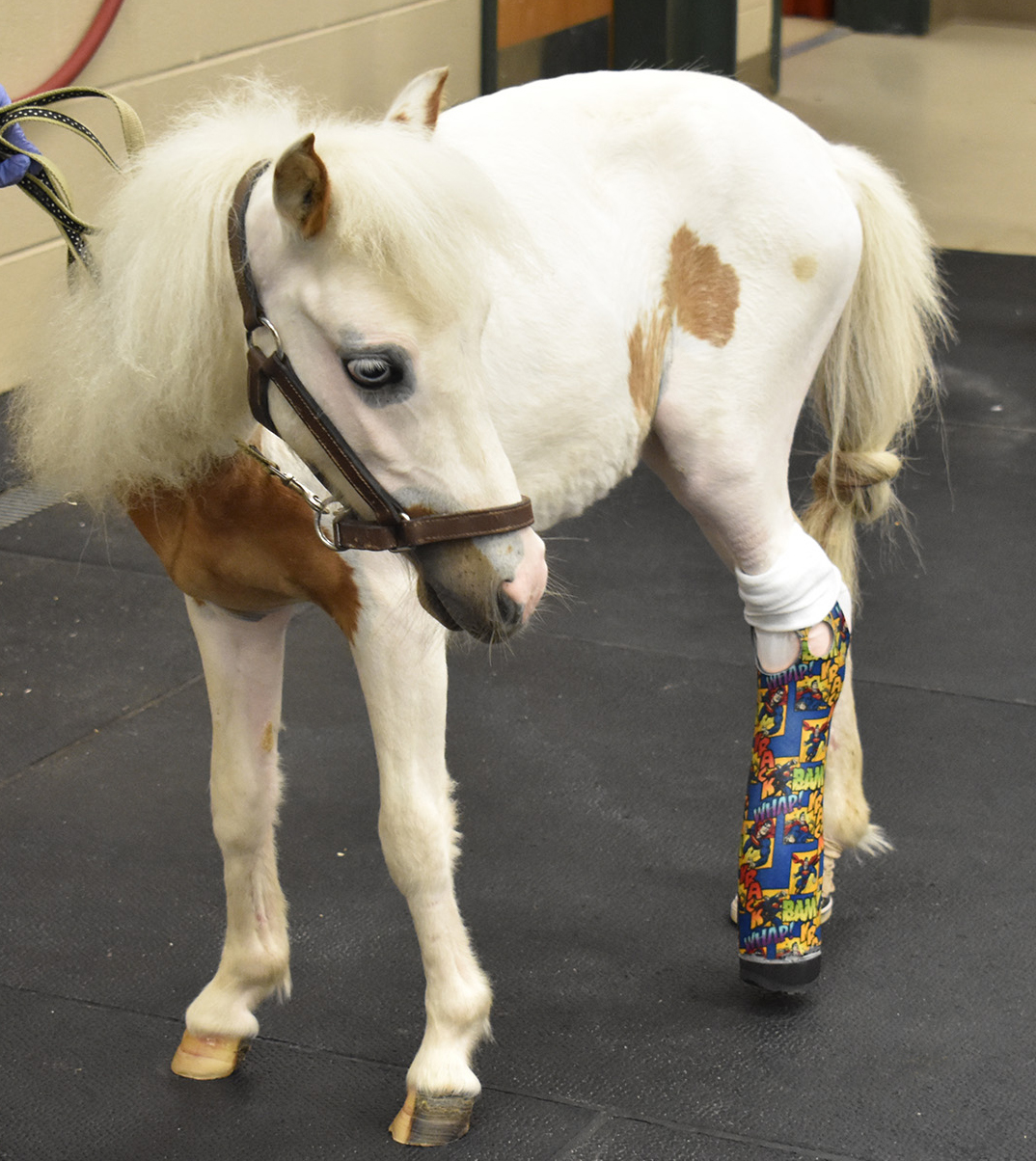 He was found by a Birmingham-based equine rescue organization this past June and brought to the Auburn University College of Veterinary Medicine for treatment following traumatic amputation of the left hind limb.
Shelley Jones, of the Helping Horses of Alabama organization, rescued Pogo when he was spotted roaming free along a highway in rural Alabama.
"The pony was in really poor condition," Jones said. "He was essentially wild and had apparently been running loose for a long time, was filthy, malnourished, and overall, in very bad shape."
Moreover, the little pony had been surviving on its own with a severe and terrible leg wound that had left him surviving on only three hooves.
Pogo and two other miniature horses, it was learned, had been attacked by a pack of dogs, according to Jones.
"Two of the ponies were killed in the attack," Jones said. "Pogo had lost his left rear hoof and had been surviving for several months unattended and untreated with a severe and really terrible-looking wound."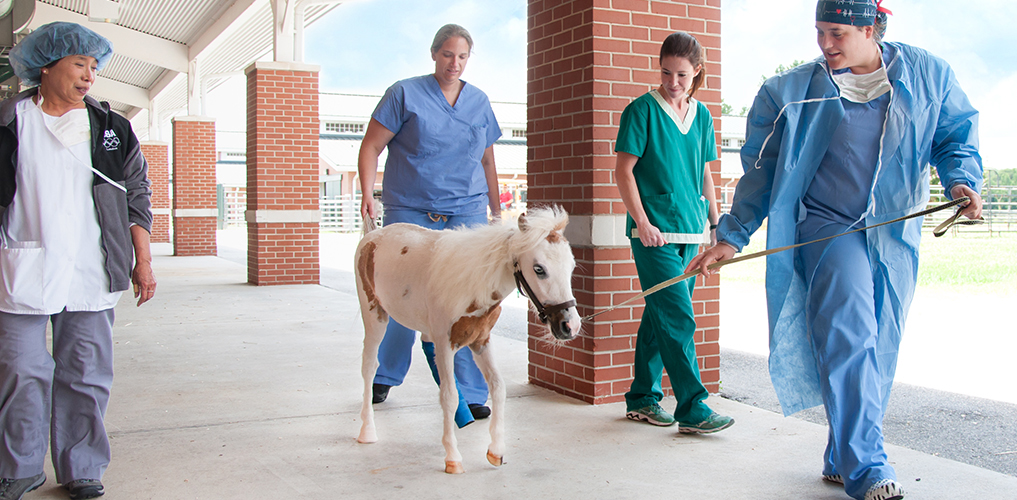 Jones said they first believed the pony would have to be euthanized. "He was in such bad shape that we did not think he could survive," she said.
But Pogo's determination and will to live soon changed their belief. "We saw that Pogo was a strong and determined fighter," Jones said. "We were determined at that point to do whatever we could for him."
Pogo was evaluated by the college's Equine Sports Medicine and Surgery Service in June for "traumatic amputation of the left hind limb from his fetlock down to his hoof," said Dr. Lindsey Boone, an assistant clinical professor and an equine surgeon in the Department of Clinical Sciences in the College of Veterinary Medicine.
When evaluated by the equine surgery team, it was noted that the amputation had left exposed bone with
out adequate soft tissue protection. In order to save Pogo, faculty recommended surgical revision of the amputated limb and preparation for application of a permanent prosthesis.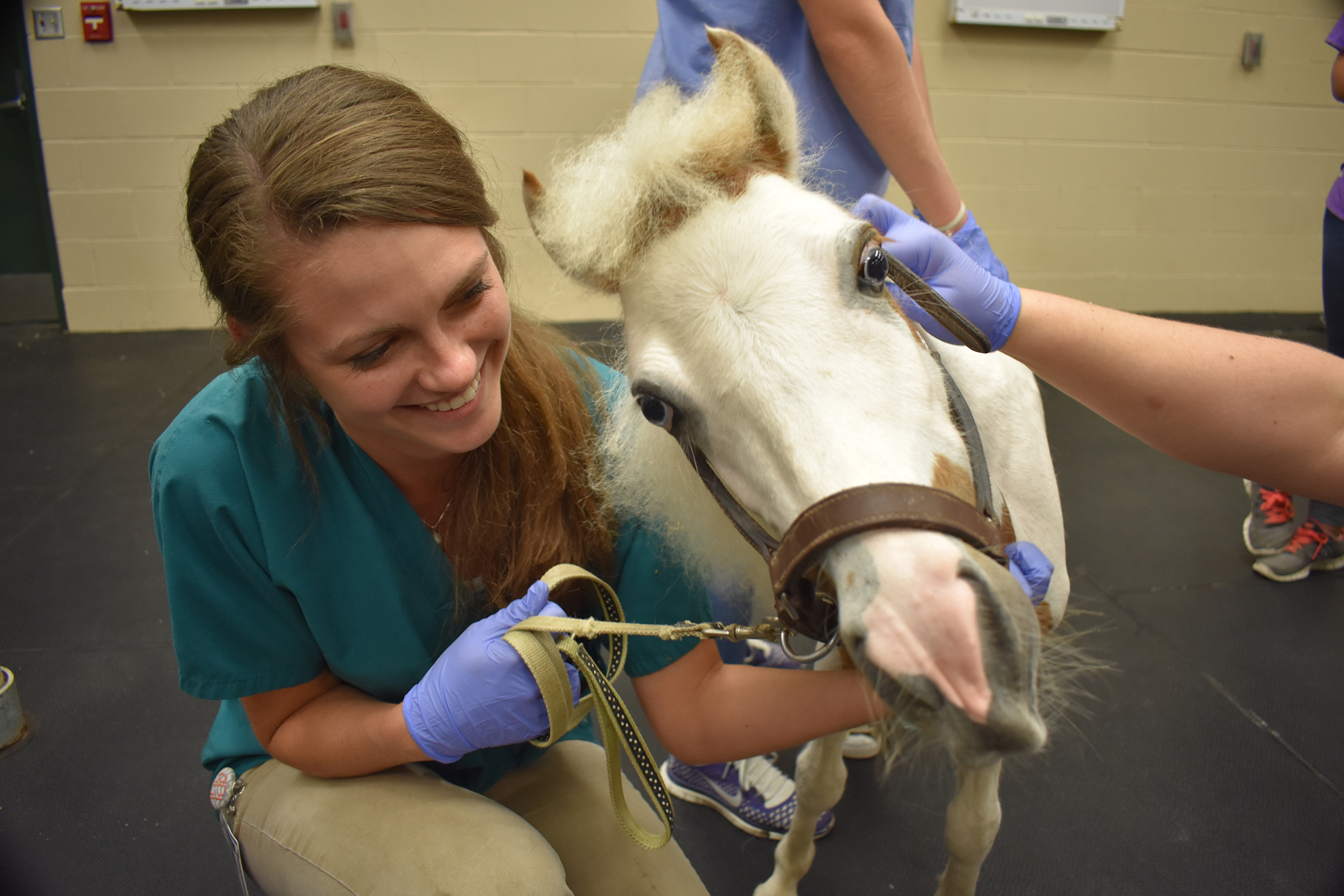 Boone and her surgical team in the college's J.T Vaughan Large Animal Teaching Hospital performed the surgery to repair Pogo's badly damaged leg. "We removed the exposed bone, created a new skin flap to protect the amputation site and allow the site to heal properly," she said.
The procedure took about an hour and it was a successful operation. Pogo was fitted with a temporary prosthetic while his wound healed and, in July, he was fitted with his permanent prosthetic leg and is doing very well. The little super pony is presently receiving rehabilitation treatment under the college's Physical Rehabilitation Service.
"Pogo was reluctant to use the prosthesis originally, but through the hard work of our Rehabilitation Service, Pogo is using the limb well," Dr.  Boone said.
"Pogo is an amazing story," Jones said. "I have never seen a horse fight so hard for its life. He apparently has a purpose and a reason for being alive."
Jones says their plans for Pogo, once he is fully recovered and rehabilitated to his prosthetic leg, will be to use him as a therapy animal.
"We think he will make an excellent therapy animal and that he can do a lot to help people who have undergone limb amputations," Jones said. "He will not be a pet. He has a much larger mission than that."
Mitch Emmons (emmonmb@auburn.edu)