Standing CT Machine Assisting in Diagnosing Complex Diseases in Large Animals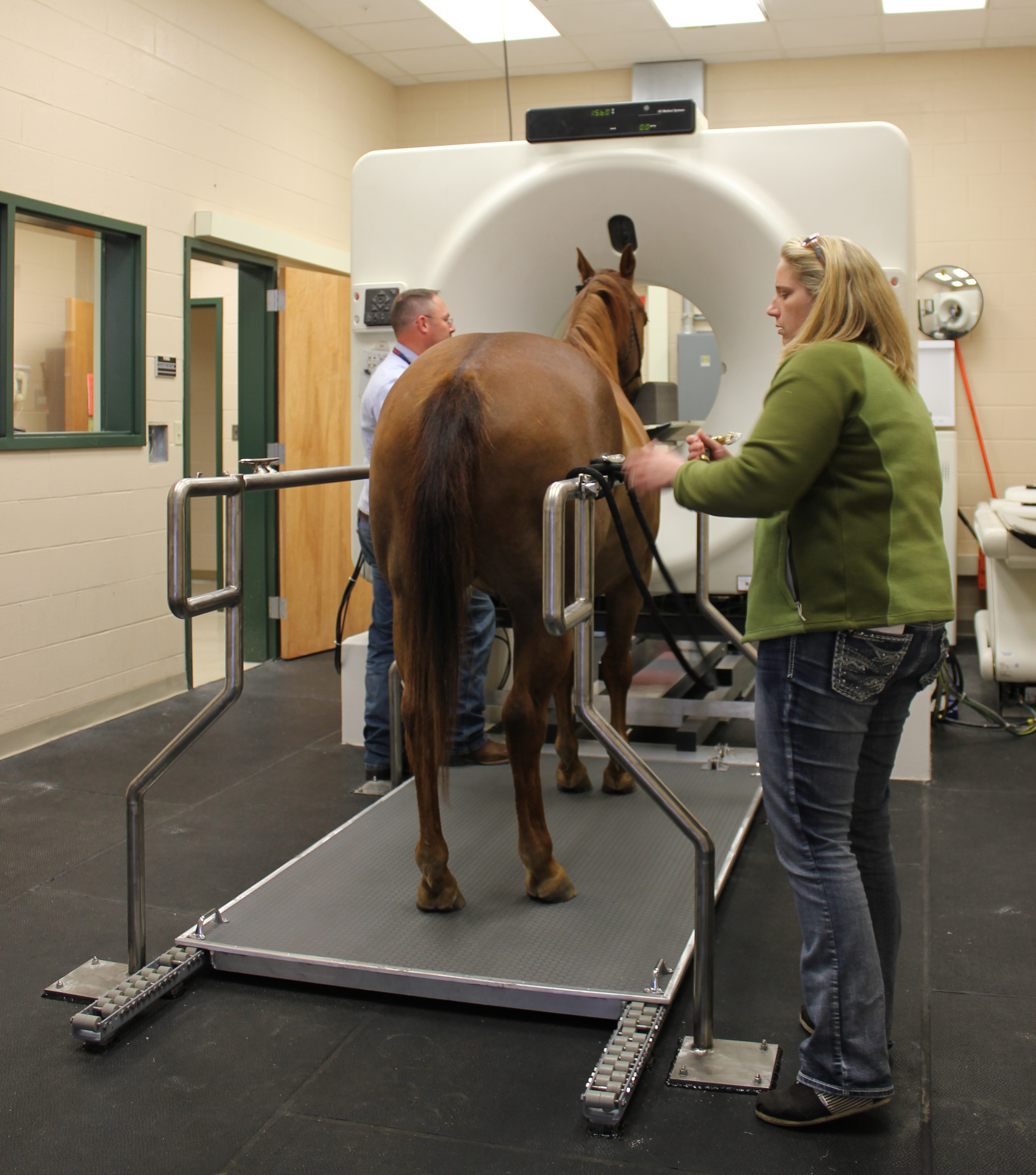 The Auburn University College of Veterinary Medicine's addition of standing CT machine — one of a handful in the U.S. — is allowing veterinarians to more accurately diagnose and treat complex diseases in the neck and skull of equine patients.
For radiology and equine faculty, this advanced diagnostic tool has already proven to be a significant difference in diagnosing and treating complicated diseases found in a horse's neck and skull.
"The horse's head is an extremely complex anatomical structure," said Dr. Lindsey Boone, assistant professor of equine surgery. "A radiograph is a two dimensional picture of what is going on in the head. Sinuses and teeth in particular can sometimes be difficult to identify exactly what is going on just from a radiograph.
"The CT adds to our diagnostic capabilities to know what's going on in the sinuses or what's going on with a tooth root," she said. "Those are the two most common scenarios."
Dr. Robert Cole, an assistant professor of radiology, said the concept behind standing CT was to "allow us to do cross sectional imaging of the horse's head without having to go through anesthesia. That is the real the benefit.
"Without CT machine, you are left with two options: make a diagnosis with radiographs, which can be challenging depending on the disease progress, or put the animal under general anesthesia (typical for a CT), which means inserting IV catheters, withholding feed and postpone things for 24 hours. And while the risk is low, there is always some risk involved. If we can avoid that, all the better."
While the standing CT is limited to cross sectional images of the skull and upper part of cervical spine, "we have a fairly high case load of referral surgeries for sinus diseases, and this gives us a way to image those and have a lot more information from base line radiographs."
Dr. Cole said the machine is allowing surgeons to understand "exactly what is going on before the surgery takes place. Typically, on a lot of cases, a horse may present with a nasal discharge," he said.
"We'd start with radiographs traditionally and we might see fluid in the sinus but we couldn't tell why it was there or the origin. The surgeon would go in and explore that sinus, not knowing exactly what they were getting into.
"With the standing CT, in the same amount of time or less time, we can have that cross-sectional imaging and say 'here is exactly the boundary of this disease process and here is what the likely diagnosis would be'. The surgeon now knows exactly how to plan and know what they are up against."
Dr. Boone said the new technology is be incorporated into the college's teaching mission, as senior-level students on clinical rotation have the advantage of seeing first-hand how the machine will assist radiology and equine faculty better diagnose problems.
"Being aware of extreme diagnostic modalities or those that can benefit our ability to know exactly what is going on is really important from a student perspective," she said. "Seeing a horse with skull radiographs and then seeing that horse get a CT, they will have a much better understanding of the anatomy of a horse head and sinus and have a better understanding of the disease processes."