Successful Medical Procedure Returns Chester the Duck to a Normal Lake-Living Lifestyle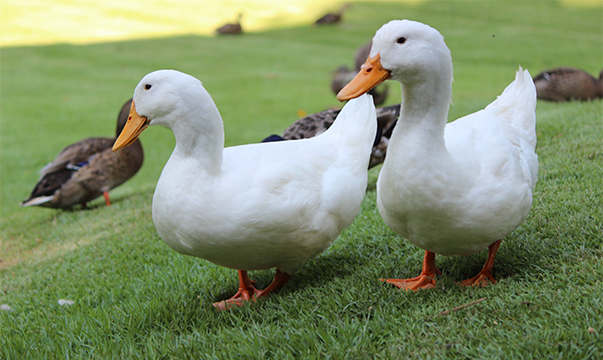 It is not every day that surgeons and clinicians perform a medical procedure on a pet duck at Auburn University's College of Veterinary Medicine, but in the case of Chester, a 1-year-old white domestic neighborhood duck from Newnan, Ga., their work successfully returned the webbed-footed wonder to a normal lake-living lifestyle.
Known as "Chester Schulz" in his medical records, the injured duck was brought to the college's avian veterinarian when concerned residents near a 300-acre lake where Chester lives noticed an apparent wound at the base of his neck.
"I looked at Chester, who is named for the old "Gunsmoke" western TV series character, and noticed the wound," said Bob Schulz, the neighborhood resident who brought Chester in for treatment. "Once I could see him better, I could tell that it was crusty and caked with food, and it appeared to be leaking."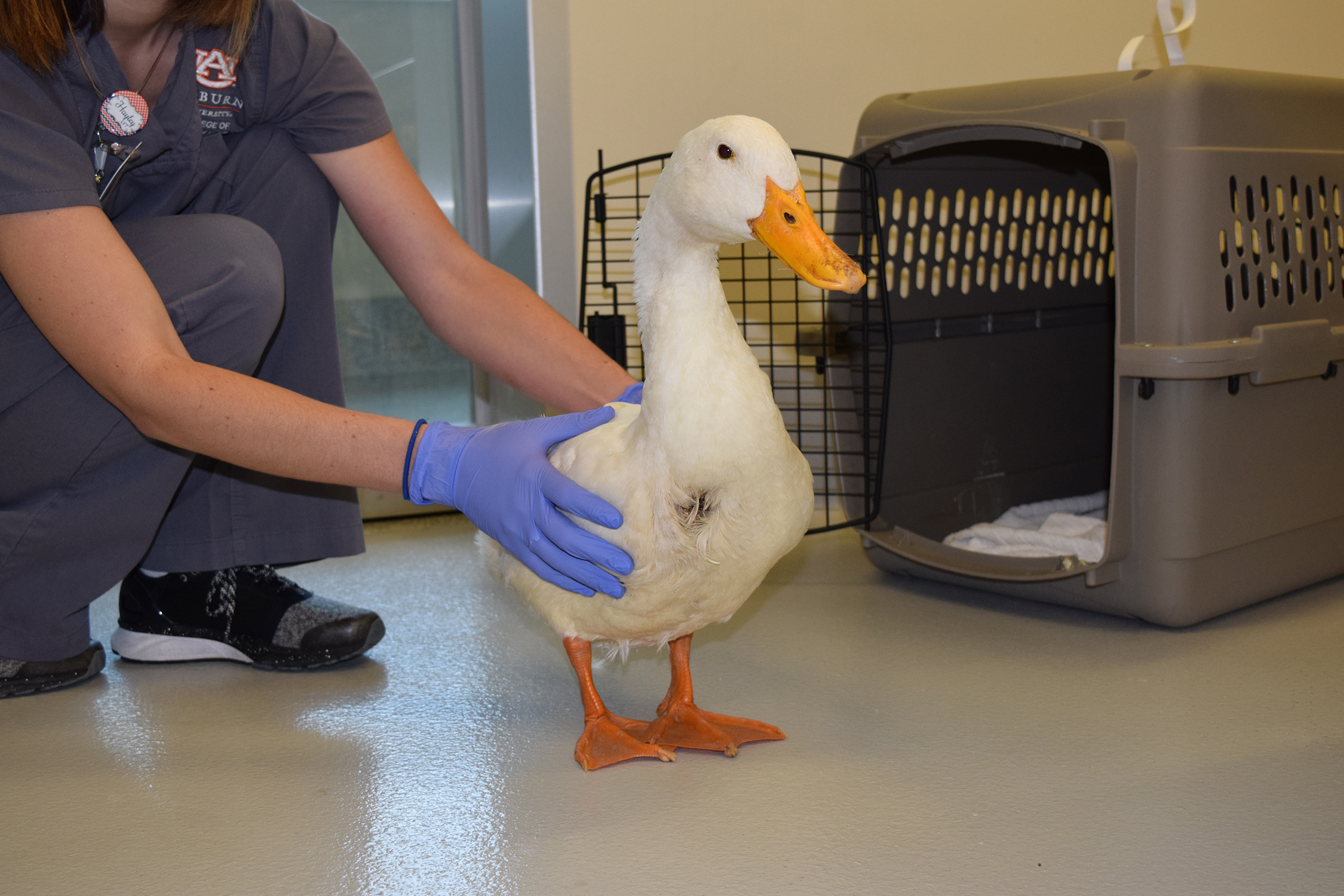 Schulz and his neighbors keep the ducks and treat them as pets, he said. "When we found him to be injured, we all were concerned," Schulz said. "No local veterinarian would take the case, but we called Auburn, and they told us to bring him in."
Chester was examined by Dr. Seth Oster, an assistant professor in the Department of Clinical Sciences and the college's avian veterinarian in the Wilford and Kate Bailey Small Animal Teaching Hospital.
"I first saw Chester in June," Dr. Oster said. "He had what appeared to be a puncture wound at the base of his neck and was losing food and water. Once we got the wound well cleaned, we found that the injury went completely into the esophagus."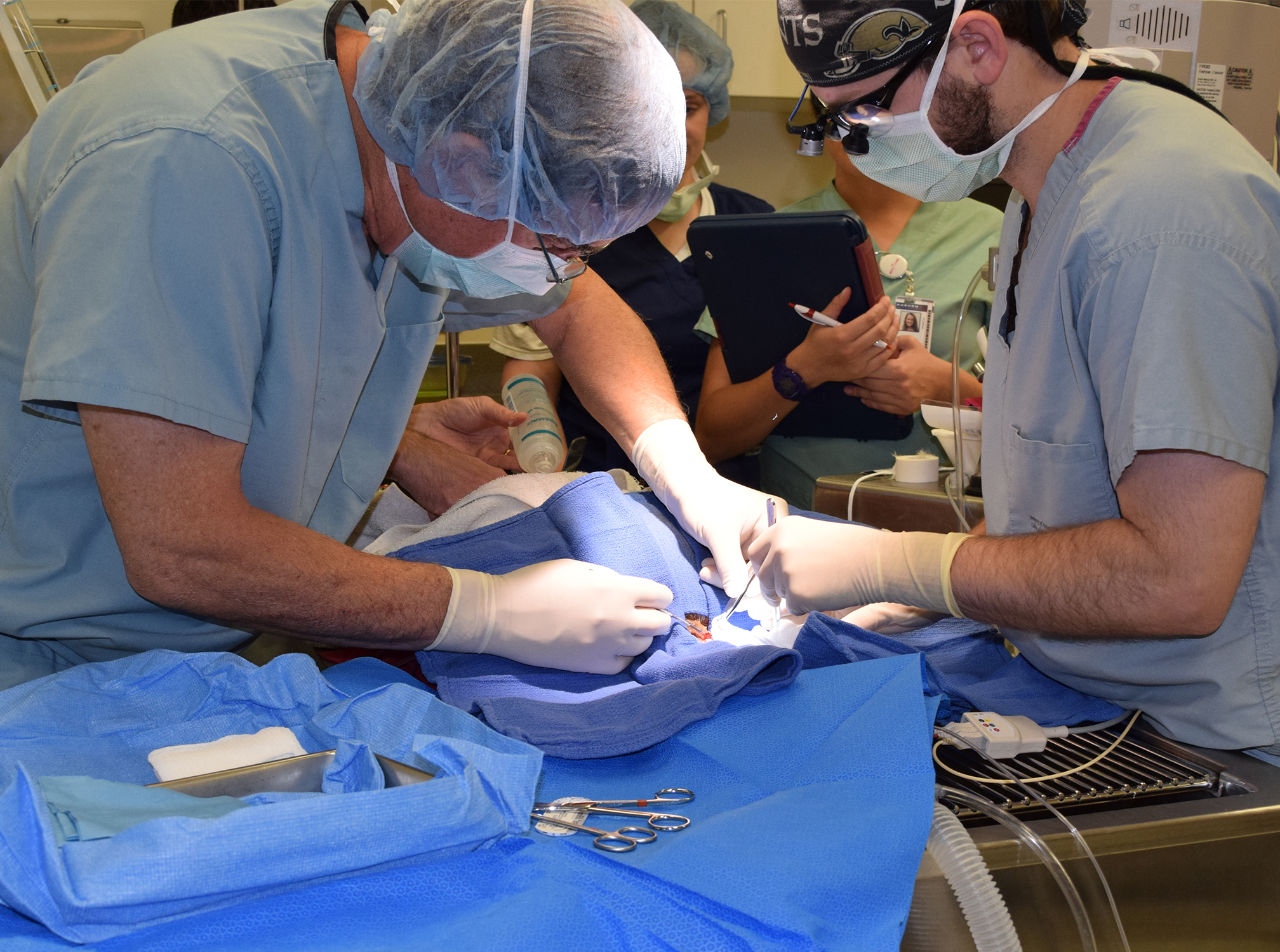 Dr. Oster said that the wound had begun to heal, but not in a normal manner.
"The wound had started to heal, fusing the torn skin to the esophagus and the esophagus to the feathered skin, but not closing the opening," Dr. Oster said. "The only way to correct the injury required surgery."
Dr. Oster consulted his colleague, Dr. Harry Boothe, a professor in the Department of Clinical Sciences and a soft tissue surgeon. Dr. Booth agreed the surgical procedure was needed to restore Chester to normal healing.
During a 45-minute procedure, Dr. Boothe successfully separated the skin tissue from the esophagus and closed the neck wound.
Chester recovered and was returned to Schulz and his concerned neighbors. Following two weeks of isolation and loving care, the duck has been given a clean bill of health and allowed to return to his waddling pals in the lake.
"He is doing great, Schulz said. "To look at him now, you cannot tell that he was ever injured."
Neither Schulz nor the veterinarians know exactly how Chester was injured. They speculate that it may have been caused by a protruding nail or other sharp object on the lake's seawall.
"We have inspected the seawall, but as of yet, we have not found anything that looks like it might have punctured Chester's neck," Schulz said.
"We see this type of injury among raptors in the wild, who are injured fighting, but it is pretty uncommon to see an injury like this in a duck," Dr. Oster said.
Schulz said he is most pleased with the care and treatment Chester received at Auburn.
"We all are quite happy with the outcome," he said. "I would recommend Auburn's College of Veterinary Medicine to anyone."
-30-
The College of Veterinary Medicine is the South's oldest and nation's seventh oldest veterinary medical program, celebrating 125 years. We prepare individuals for careers of excellence in veterinary medicine, including private and public practice, industrial medicine, academics, and research. The college provides programs of instruction, research, outreach, and service that are in the best interests of the citizens of the state of Alabama, the region, the nation, and the world.
Mitch Emmons (emmonmb@auburn.edu)