Summer Veterinary Scholars Program Underway at College of Veterinary Medicine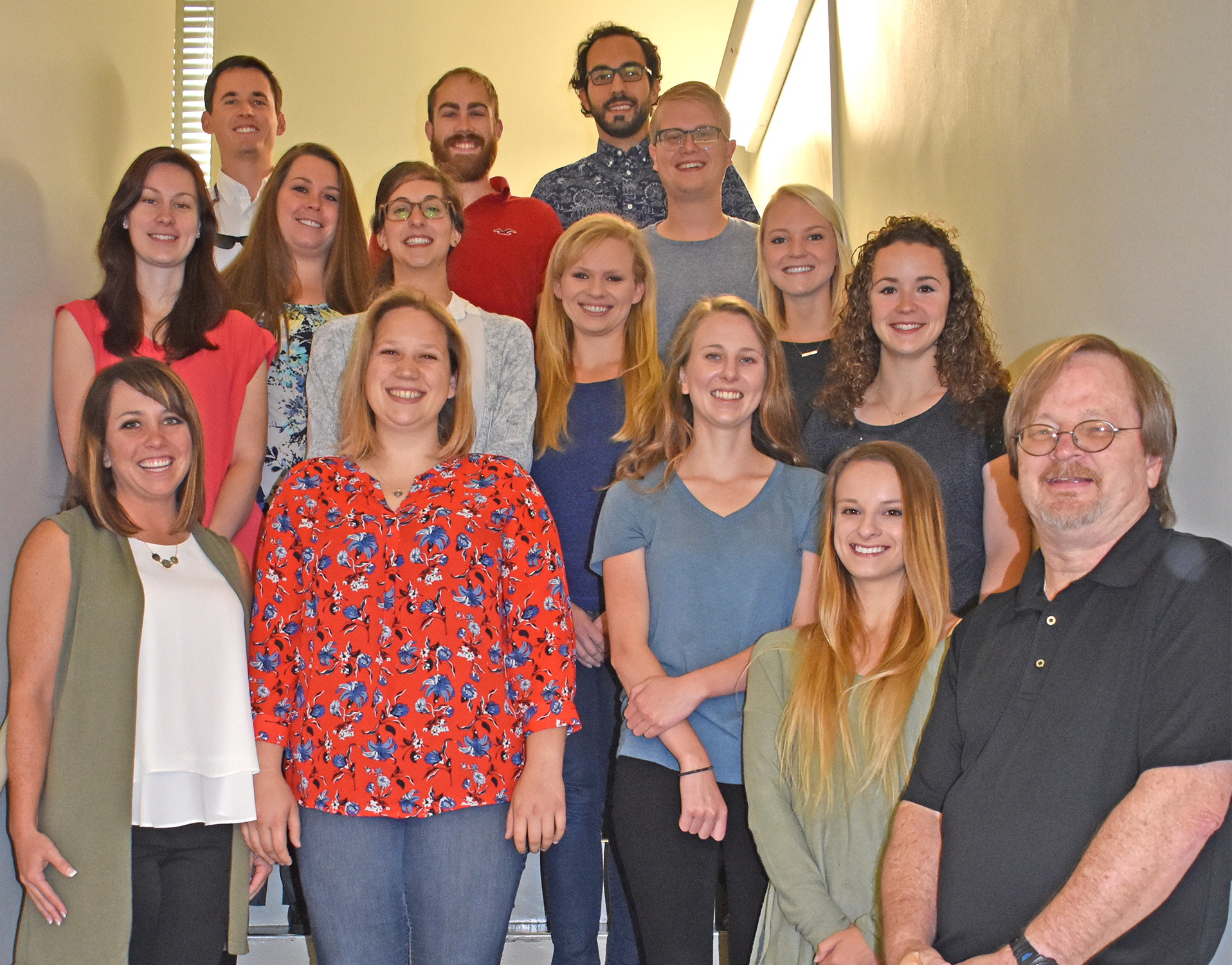 Auburn University College of Veterinary Medicine faculty are teamed with 18 students this summer for the Boehringer Ingelheim Veterinary Scholars Program.
Formerly the Merial Veterinary Scholars Program, its mission since 1999 is to provide a hypothesis-driven laboratory research experience for veterinary students. The 10-week program runs from mid-May through July and involves Auburn veterinary students as well as students from the Tuskegee School of Veterinary Medicine.
"We also accept a small number of students from other vet schools," said program director Dr. Michael Irwin, a research professor and director of the Transgenic Facility in the Department of Pathobiology. "We try to give preference to students who have not had any research experience, so lack of experience is actually a plus.
"The focus for the students is performing a research project in the laboratory of a mentor at the college," Dr. Irwin adds. "This includes studying the current scientific literature, learning and performing the techniques involved, and putting together both a PowerPoint and a poster for presentation in front of their peers and for the CVM Research Day in November. For the second consecutive year, we have a student performing research in Madagascar, under the guidance of one of our faculty mentors who studies lemur populations."
Mentors and students are teamed through an interview and mutual selection process, according to Dr. Irwin. The program also includes seminars, journal clubs and field trips.
"Seminars cover everything from safety and compliance in research to standard and cutting edge-research technologies," Dr. Irwin said.
Field trips this year include visits to the Southeastern Raptor Center, the state Diagnostics Laboratory and the Georgia Aquarium, where the students get a behind-the-scenes tour with one of the aquarium veterinarians.
At the end of the program, a select few students will attend the national symposium at the National Institutes of Health (NIH) in Bethesda, Md., Dr. Irwin adds.
Participating in the program for the second year, AU CVM student Melissa Crepps, from Cox Creek, Ky., says it is the research opportunity that attracted her.
"The opportunity to experience research in the veterinary setting originally attracted me," Crepps said. "I have returned for a second summer because I enjoy working with Dr. Bruce Smith and his post-doctoral student Dr. Payal Agarwal (in the Scott-Ritchey Research Center) and I feel the experience challenges and teaches me."
Sarah Excaro of Montgomery, Ala. says, "I never had the opportunity to participate in undergraduate research because of the time commitment required from collegiate sports and students jobs, so a program that provided a strong mentor in my field of interest that could teach me the ins and outs of scientific research and its presentation modalities proved extremely appealing. This is my second year in the program, and now that I have gained experience by working on a previously developed experimental design, I plan to start, complete, and successfully present the findings of a self-proposed experimental protocol I developed this spring alongside my mentor and our collaborators in another department."
"Almost everything we do as veterinarians is based on previous research," says Brett Story, of West Palm, Fla., who plans to become a specialist in veterinary neurology.
"I hope to learn and see hands-on how we develop these new techniques, procedures, and medications that are utilized by clinician's every day," Story adds.
Gaining more research experience in the area of dermatology is the draw from student Kimberly Smart, of Somerset, Ky.
"I have a strong interest in dermatology, but have very little research experience," Smart said. "I was not sure how to participate in research while in vet school. This program gives me the opportunity."
Students are paid a stipend for their participation, Dr. Irwin said. The program is overseen by the Summer Research Fellowship Committee, and is administered by Dr. Frank "Skip" Bartol, Teresa Logiotatos and Amelia Pendleton in Office of Research and Graduate Studies (ORGS).
"Amelia is indispensable because she handles all the logistics and makes sure that everything gets done on time," Dr. Irwin said.
Financial support comes from Merial (now Boehringer Ingelheim) and from several units within the college: the Dean's office, Auburn University Research Initiative in Cancer (AURIC), ORGS, Scott-Ritchey Research Center, and the college three departments: Pathobiology; Anatomy Physiology and Pharmacology; and Clinical Sciences.
"This year we had a very nice contribution from a private donor that allowed us to take several extra students that otherwise would not have been able to participate," Dr. Irwin noted. "We're profoundly grateful for that, and for all of our support over the years."
-30-
Mitch Emmons (emmonmb@auburn.edu)
SIDE BAR
The 18 veterinary students participating in this summer's Boehringer Ingelheim Veterinary Scholars Program are paired with faculty-research mentors through an interview and mutual selection process to form strong mentor-student teams.
This 10-week summer scholars program's mission, since it began in 1999, is to provide a hypothesis-driven laboratory research experience for veterinary students. Faculty/Mentor-Student teams in this year's program include:
Faculty Mentor

Student

 

Dr. Lindsey Boone, assistant professor, Department of Clinical Sciences

Brooke Alnwick

Dr. Dawn Boothe, professor, Anatomy Physiology & Pharmacology and director, Clinical Pharmacology Laboratory;

Dr. Amelia White, assistant clinical professor, Dermatology, Department of Clinical Sciences

Matthew Miller

Dr. Dawn Boothe, Professor, Anatomy Physiology & Pharmacology and director, Clinical Pharmacology Laboratory;

Dr. Amelia White, assistant clinical professor, Dermatology, Department of Clinical Sciences

Kimberly Smart

Dr. Pete Christopherson, associate professor and director, Hemostasis Laboratory; co-director, Clinical Pathology Laboratory

Amanda Hill
Dr. Heather Gray-Edwards, post-doctoral fellow, Scott-Ritchey Research Center
Brett Story

Dr. Reid Hanson, professor, Equine Sports Medicine & Surgery; Dept. of Clinical Sciences

Sarah Escaro

Dr. Michael Irwin, research professor and director of the Transgenic Facility in the Department of Pathobiology

Sarah Christie

Dr. Jey Kohler, assistant professor and director of the Histology Core Laboratory, section chief, Surgical Pathology Service

Sophia Castello

Dr. Mahmoud Mansour, professor, Anatomy , Anatomy Physiology & Pharmacology

Natasha Taylor

Dr. Nancy Merner, assistant research professor, Harrison School of Pharmacy, Drug Discovery & Development

Carlos Lloveras-Fuentes, Tuskegee School of Veterinary Medicine

Dr. Satya Pondugula, assistant professor,  Anatomy Physiology & Pharmacology

Edwin McElroy

Dr. Bruce Smith, professor, pathobiology and director of AURIC

Melissa Crepps

Dr. Bruce Smith, professor, pathobiology and director of AURIC

Paulina Platten, Texas A&M College of Veterinary Medicine

Dr. Elizabeth Spangler, associate professor, Pathobiology

Matthew Pate

Dr. Anne Wooldridge, associate professor, Equine Internal Medicine, Dept. of Clinical Sciences

Caroline Parker

Dr. Anne Wooldridge, associate professor, Equine Internal Medicine, Dept. of Clinical Sciences

Kaitlyn Bello

Dr. Sarah Zohdy, assistant professor, Dept. of Pathobiology

Michon Martin

Dr. Sarah Zohdy, assistant professor, Dept. of Pathobiology

Victoria Crabtree