U.S. Attorney General visits Auburn to Examine Initiatives Addressing Nation's Public Safety Threats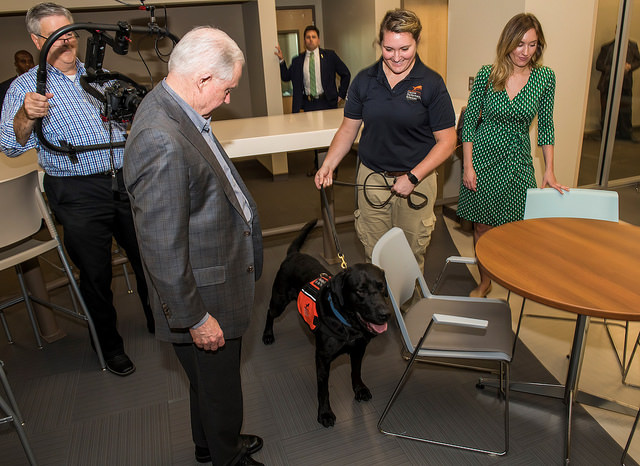 The nation's top law enforcement official, U.S. Attorney General Jeff Sessions, visited Auburn University  Friday to examine two Auburn initiatives designed to protect the public—one focused on the national opioid crisis and the other involving the world's most advanced detector dogs.
Sessions visited Auburn's College of Veterinary Medicine for a look at its Canine Performance Sciences program, which is internationally known as the preeminent provider of canine detection technology.
"It's classic of Auburn's practical contribution to making this a better world," Sessions said after examining the canine program. "We need to protect this country from terrorist attacks.  How do you do it? One of the best systems whatsoever is these fabulous dogs. They're training them. They're raising them. They're breeding them. They are the best dogs in the world."
The Auburn-led program is widely recognized by government and industry and supports a national initiative to advance canine sensor capabilities for the interdiction of chemical, biological and explosive threats to public safety and national security.  Auburn is using its wealth of research talent and capability across campus to provide a blueprint to breed and train the best detector dogs in the world.  One example of a recent university-wide collaboration is the use of MRI scanning to non-invasively study dogs' brain activity to possibly pinpoint—prior to expensive training—whether dogs can become top detectors.
In 2015, Auburn was granted a patent for its Vapor Wake®technology that applies the physics of fluid dynamics in which people in motion leave an aerodynamic plume in their wake. Vapor Wake®dogs can detect hand-carried and body-worn explosives in persons and follow the plume of vapor and chemical particulates entrained in the person's wake until the target is identified. The dogs are trained for 15-18 months, compared to only two to four months for standard explosive detection dogs.
Auburn University President Steven Leath thanked Sessions for his visit and said he looked forward to continued collaboration on such areas of vital national importance.
"We're pleased to show the Attorney General how Auburn is leading the way on key initiatives that protect the public," Leath said. "Teaming with government leaders, we are advancing research toward life-saving solutions that include a focus on the national opioid epidemic and making our public spaces safer with the world's most advanced canine mobile detection system."
Sessions began his tour Friday morning at the Harrison School of Pharmacy, being offered a presentation on Auburn's approach to effective opioid response and treatment. Auburn's Harrison School of Pharmacy is working to combat the national opioid epidemic through innovative and collaborative research, teaching and outreach programs spanning detection, prevention, treatment and emergency response.
"We've got to confront the opioid crisis," Sessions said while at Auburn. "It's the number one surge in deaths in America. Opioids alone are responsible for the declining life expectancy of Americans. The deaths we're seeing – it's that large. So, we need lifespans going up, not down. And you're right here on the cutting edge of many of the key things that can help us reduce that threat to America."
Auburn's Harrison School of Pharmacy has a one-of-a-kind forensic chemistry program with a history of working with the Department of Justice to ensure law enforcement can anticipate and detect new drugs that are being abused.  Among other solutions, the school also has developed a naloxone rapid response program, and its collaborative education of healthcare providers, state law enforcement and emergency response serves as a model for the nation. Naloxone, also known as Narcan, is an opioid overdose reversal medication.
Auburn University is a nationally ranked land grant institution recognized for its commitment to world-class scholarship, interdisciplinary research and an undergraduate education experience second to none. Auburn is home to more than 29,000 students, and its faculty and research partners collaborate to develop and deliver meaningful scholarship, science and technology-based advancements that meet pressing regional, national and global needs. Auburn's commitment to active student engagement, professional success and public/private partnership drives a growing reputation for outreach and extension that delivers broad economic, health and societal impact. Auburn's mission to educate, discover and collaborate drives its expanding impact on the world.