Veterinarians Connect with the College through the Practitioner Sabbatical Program
Dr. Lynn Hagood isn't letting the fact that he earned his DVM from Auburn University's College of Veterinary Medicine in 1988 stop him from continuing to learn and grow as a veterinarian.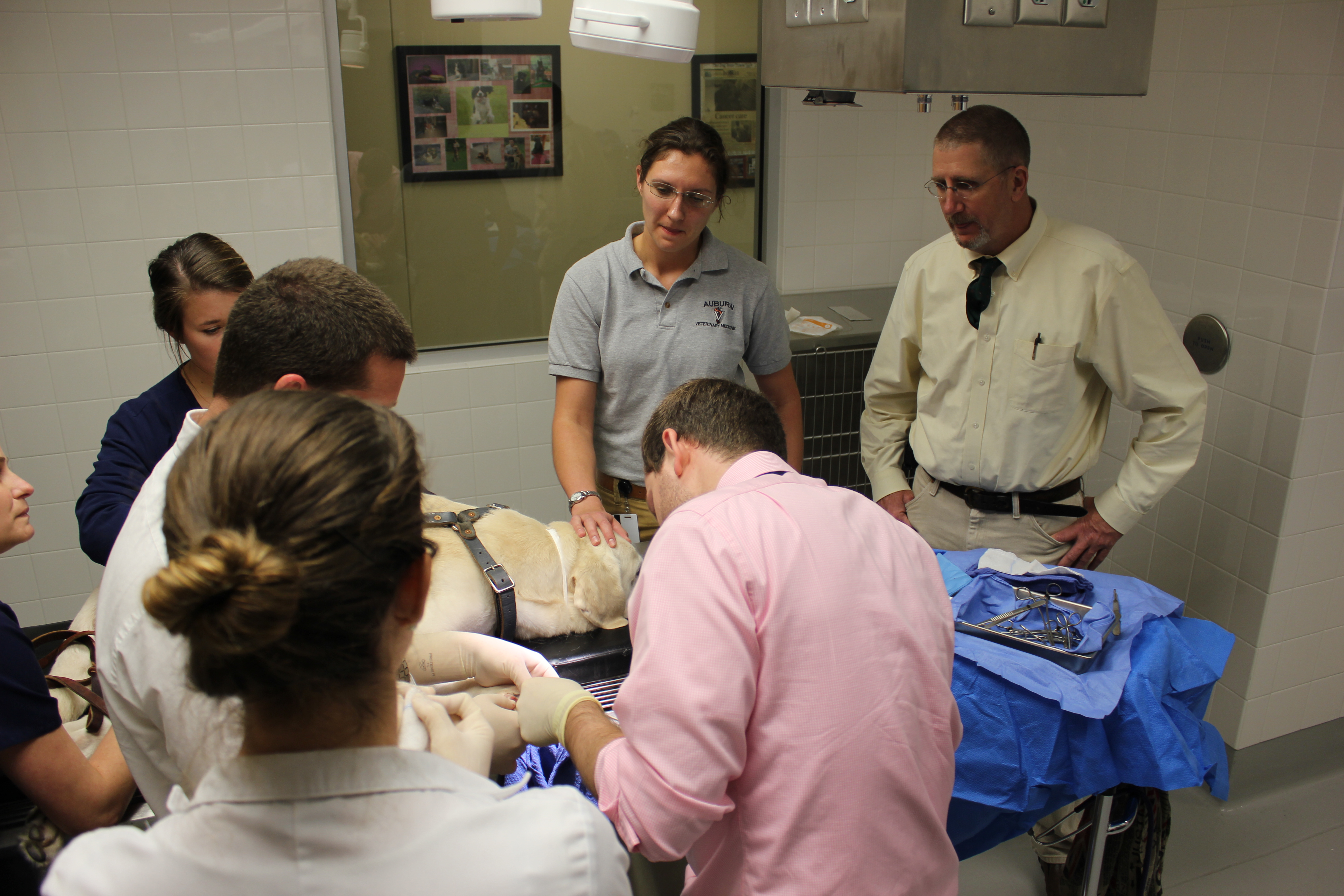 A general practitioner at North Florida Animal Hospital, in Tallahassee, Fla., Dr. Hagood has a particular interest in oncology. In order to learn more, and keep up with the constantly evolving field of veterinary medicine, Dr. Hagood took advantage of the Practitioner Sabbatical Program offered through the college's Office of Continuing Education.
"Oncology cases involve interacting extensively with clients, and constantly following up with them on their pet's status," Dr. Hagood said. "That is my favorite part of veterinary practice."
The sabbatical program allows a licensed veterinarian to 'shadow' a faculty clinician at either the Bailey Small Animal Teaching Hospital or the JT Vaughan Large Animal Teaching Hospital, observing cases and interacting with staff and students.
Applicants to the program select the specialty field they want to study during their time at the college, and pick their schedule. The program allows up to five days of hands-on experience in their chosen field, while also earning continuing education credits.
The program is open to any licensed veterinarian, and costs range from $125–$200 per day, depending on the chosen field of study. Applications are due at least 45 days in advance of the proposed starting date, along with a $25 registration fee.
"I much prefer it to a classroom or lecture session for getting my credits, because it's hands-on, practical experience, and it allows me to stay close to the college and the veterinarians I refer patients to," Dr. Hagood said. "Because of the relationships I've made during my time at school and on sabbatical, I'm very comfortable referring my clients to Auburn."
The benefits of the sabbatical program are mutual to both parties. Dr. Stephanie Schleis, an associate clinical professor of oncology, is Dr. Hagood's sponsor for his sabbatical, and said that having the veterinarians complete the program offers value to all participants.
"The program is great because you're building rapport with your referring veterinarians and the veterinary community, while they gain additional experience," Dr. Schleis said. "It's been aweso
me having Dr. Hagood with us; he actively listens and asks relevant, applicable questions while doing whatever he has to  do to help us out and get the most out of his time with us."
Dr. Hagood has already completed several sabbatical sessions at the college, including a rotation in veterinary cardiology.
"What sets Auburn apart to me is the level of priority that patient and client care is given," Dr. Hagood said. "The clients here leave feeling like both they and their pets have been taken care of. That's always been a tradition here, and that's not a bad thing."
To learn more about the Practitioner Sabbatical Program at Auburn, click here.
To register for a sabbatical, contact the continuing education coordinator, Kris Street, at roberkr@auburn.edu.