VetMed Student Recipient of 2017 Outstanding International Graduate Student Award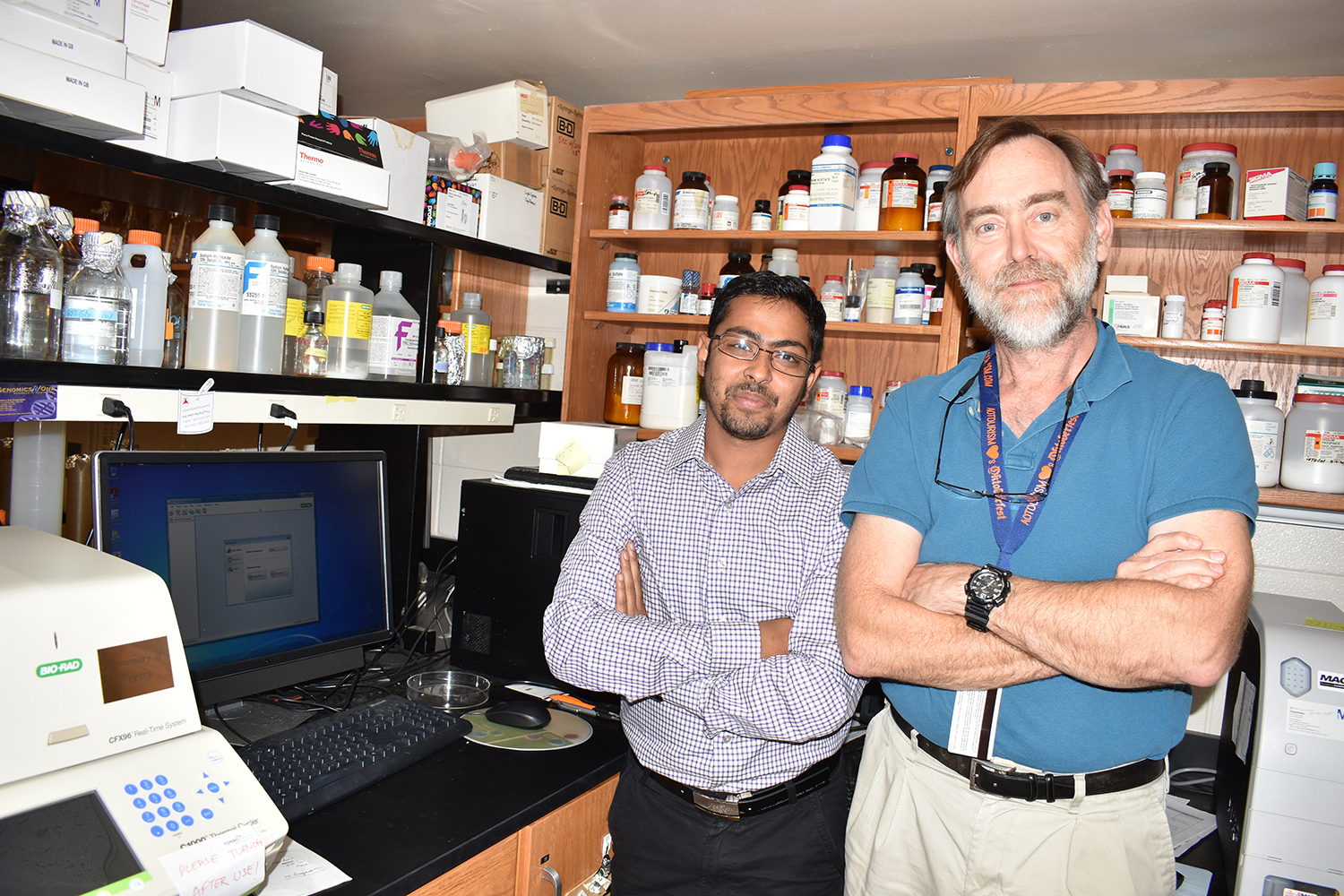 Abdul Mohin Sajib, a student in the College of Veterinary Medicine's Biomedical Sciences graduate program, is a 2017 recipient of Auburn University's Outstanding International Graduate Student Award.
Sajib is mentored by Dr. Bruce Smith, a professor in the Department of Pathobiology and director of the Auburn University Research Initiative in Cancer (AURIC). He has worked with Dr. Smith in the laboratory setting for four years as he completes his doctorate degree in Biomedical Sciences.
"Sajib's research is in the area of genetically engineered approaches to treat Non-Hodgkin Lymphoma using Recombinant DNA technology," Dr. Smith said. "His work focuses on the design of new, genetically engineered, viruses that will attack and kill cancerous cells while sparing normal cells."
Recombinant DNA technology is widely used in biotechnology, medicine and research, Dr. Smith explains. Recombinant DNA (rDNA) molecules are DNA molecules formed by laboratory methods such as molecular cloning, to bring together genetic material from multiple sources, creating sequences that would not otherwise be found in the genome.
Sajib has completed most of his doctoral work – including co-authoring a significant peer-reviewed paper about his research in Recombinant DNA and cancer studies – and now is putting the pieces together with a graduation target of next summer.
"I hope to stay in academia," Sajib said. "But I may go into industry."
"Sajib's contribution to the paper helped to explain why current adenoviruses that are presently used in cancer treatments will not infect lymphoma cells," Dr. Smith said. "The paper defines a missing receptor on these cells that is required for present adenovirus treatment technology and this finding is critical in that it tells us how to redesign those viruses to attack lymphoma cells."
A native of Bangladesh, Sajib holds a master of sciences degree in genetic engineering and biotechnology from Shahjalal University of Science and Technology (SUST). Founded by the Government of Bangladesh in 1986, SUST is the first university in that country to adopt the credit system used in the United States and is one of 16 Ph.D.-granting universities in Bangladesh.
Sajib says he was drawn to Auburn because of colleagues who already were studying here.
"I had some colleagues who already were attending Auburn," he said. "They had told me much about the university, so I applied, and I was accepted."
-30-
The College of Veterinary Medicine is the South's oldest and nation's seventh oldest veterinary medical program, celebrating 125 years. We prepare individuals for careers of excellence in veterinary medicine, including private and public practice, industrial medicine, academics, and research. The college provides programs of instruction, research, outreach, and service that are in the best interests of the citizens of the state of Alabama, the region, the nation, and the world.
Mitch Emmons (emmonmb@auburn.edu)