Ashley Smith, DVM, MS, DACVIM-O
Assistant Clinical Professor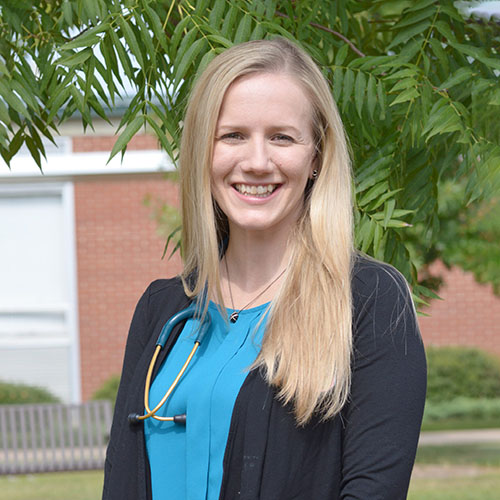 Contact
Department of Clinical Sciences
Auburn University
College of Veterinary Medicine
1130 Wire Road
Auburn, AL 36849
Education
DVM, Tufts University, 2014

Biography
Dr. Ashley Smith is originally from Baltimore, Maryland. She attained her DVM from Tufts University in 2014 and completed a rotating internship in small animal medicine and surgery at University of Florida. She joined Auburn in 2015 and has since completed an oncology specialty internship, master's degree, and a medical oncology residency. She was awarded diplomate status with the American College of Veterinary Internal Medicine (Oncology) in 2019.
During her residency, Dr. Smith headed a clinical trial to investigate the use of bisphosphonates for the treatment of metastatic osteosarcoma (bone cancer) in dogs. Her clinical interests include lymphoma, osteosarcoma, electrochemotherapy, and palliative care/improving quality of life for cancer patients.
Publications and Links
Smith AA, Frimberger AE, Moore AS. Survival time and prognostic factors for canine small Intestinal adenocarcinoma: an exploratory retrospective study of 29 dogs (2006-2016) treated by surgery with and without adjuvant chemotherapy. Journal of the American Veterinary Medical Association. 2019; 254(2):243-50.
Smith AA, Lejeune A, Kow K, Milner RJ and Souza CHM. Clinical response and adverse event profile of bleomycin chemotherapy for canine multicentric lymphoma. Journal of the American Animal Hospital Association.  2017; 53:128-34.
Borns-Weil S, Emmanuel C, Longo J, Kini N, Barton B, Smith A, Dodman NH.  A case-control study of compulsive wool-sucking in Siamese and Birman cats (n=204). Journal of Veterinary Behavior 2015;10(6):543-8.