Serena Ceriotti, DVM, MS, PhD, DACVIM-LA
Clinical Lecturer, Equine Emergency Medicine & Surgery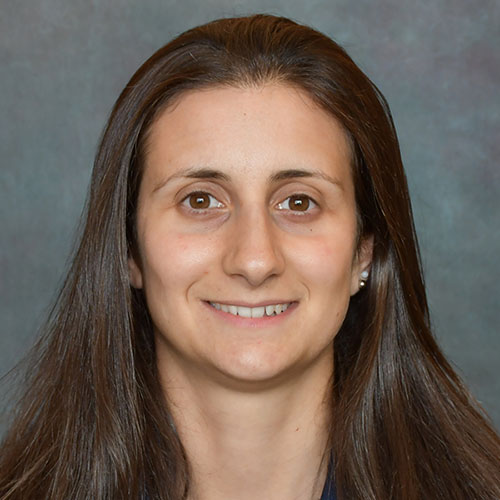 Contact
Department of Clinical Sciences

Auburn University
College of Veterinary Medicine
1500 Wire Road
Auburn, AL 36849
Education
MS, Auburn University, Biomedical Sciences, 2023
PhD, University of Milan (Italy), Veterinary Sciences, 2018
DVM, cum laude, University of Milan (Italy), 2013

Biography
Dr. Ceriotti's journey began in Italy, where her love for horses ignited at a young age. Graduating as a Doctor of Veterinary Medicine with honors from the University of Milan in 2013, she focused her experimental thesis on the use of ultrasound for diagnosing inflammatory bowel diseases in horses.
Her passion for science and horses led her to pursue further graduate studies. During her Ph.D. in Veterinary Sciences (2014-2018), which she completed in collaboration with the University of Montréal (Canada), Dr. Ceriotti solidified her interest in equine respiratory medicine and translational research. Her Ph.D. thesis investigated pulmonary vascular remodeling in severe equine asthma. She then earned a Master's degree in Biomedical Sciences from Auburn University in 2023, exploring age-related changes in β2-adrenergic receptor expression and activity in the equine respiratory tract.
Dr. Ceriotti has also dedicated herself to clinical medicine. After working as a locum equine field practitioner in Northern Italy, she realized her aspiration to specialize in Equine Internal Medicine. This led her to complete two consecutive equine rotating internships at the University of Montréal (Canada, 2017-2018) and Fethard Equine Hospital (Ireland, 2018-2019), followed by a residency in Large Animal Internal Medicine at Auburn University (2019-2022). In 2023, Dr. Ceriotti became a diplomate of the American College Veterinary Internal Medicine in the specialty of Large Animal Internal Medicine.
Since 2023, Dr. Ceriotti joined the Auburn University faculty as a Clinical Lecturer in Equine Emergency Medicine and Surgery. Her primary focus is providing after-hours emergency care to horses referred to the JT Vaughan Large Animal Teaching Hospital. She also contributes to the equine emergency ambulatory service. She is currently a member of the American and Italian Veterinary Medical Associations (AVMA and ANMVI) and  the American College of Veterinary Internal Medicine (ACVIM), and is a licensed FEI (Fédération Équestre Internationale) Permitted Treating Veterinarian.
In addition to horses, Dr. Ceriotti embraces various passions and hobbies. She enjoys competitive swimming, snowboarding, hiking, practicing martial arts, and exploring her culinary skills by cooking Italian dishes.
Research Interests
Dr. Ceriotti's clinical interests include therapeutic management and intensive care of critically ill adult horses and foals. In her research, she focuses on equine and translational respiratory medicine, particularly in the areas of pulmonary remodeling, receptorology, and pharmacology in health and disease.
Publications and Links
Brinker E, Ceriotti S, Naskou M, Spangler E, Groover E, Neto E. Cancer of unknown primary in a mare: a case report and comparative pathology review (2021). Journal of Veterinary Diagnostic Investigation, Nov 33(6):1142-1146
Ceriotti S*, Westerfeld R, Bonilla AG, Pang D (2021). Use of clinical audits to evaluate timing of preoperative antimicrobials in equine surgery at a veterinary teaching hospital. Frontiers in Veterinary Sciences vol 8 article 630111
Zetterström S, Horzmann K, Yin J, Moon R, Boorman S, Ceriotti S, Wooldridge A, Boone L (2021). Paratracheal air cyst in a foal. Equine Veterinary Education doi: 1111/eve.13460
Ceriotti S*, Bullone M, Leclère M, Ferrucci F, Lavoie JP (2020). Severe asthma is associated with a remodeling of the pulmonary arteries in horses. Plos One 15(10): e0239561
Boorman S, Lascola K, Mora Pereira M, Ceriotti S, Boone L (2020). Internal fixation of a complicated mandibular fracture in a filly using a string-of-pearls locking plate assisted by a 3D printed model. Veterinary and Comparative Orthopaedics and Traumatology open vol 03(02): e90-e95
Ceriotti S*, Lange Consiglio A, Casati L, Cremonesi F, Sibilia V, Ferrucci F (2018). The ghrelin paradox in the control of equine chondrocyte function: the good and the bad. Peptides vol. 103 pp 1-9.
Stucchi L, Zucca E, Serra A, Stancari G, Ceriotti S, Conturba B, Ferro E, Ferrucci F (2017). Efficacy of the administration of a natural feed supplement in the management of equine gastric ulcer syndrome in 7 sport horses: a field trial. American Journal of Animal and Veterinary Sciences vol 12 issue 3 pp 104-110.
Ceriotti S*, Zucca E, Stancari G, Conturba B, Stucchi L, Ferro E, Arslan HH, Ferrucci F (2016). Sensitivity and specificity of ultrasonographic evaluation of small intestine wall thickness in the diagnosis of inflammatory bowel disease in horses: a retrospective study. Journal of Equine Veterinary Science vol. 37 pp 6-10.